We Regret To Inform Side-Part Supporters That The Middle Part's Reign Is Only Beginning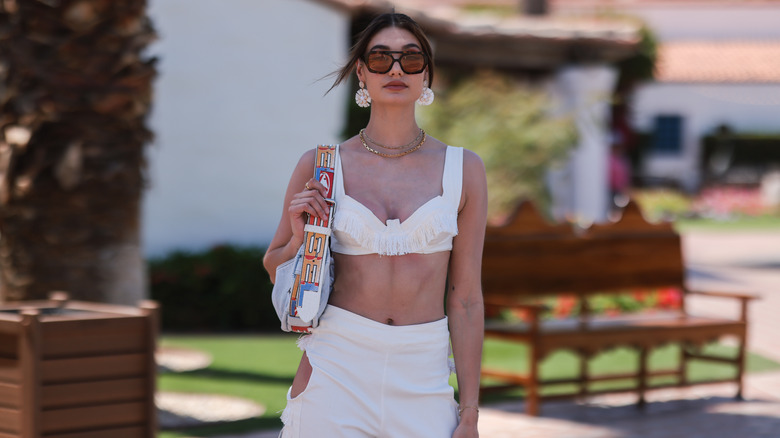 Jeremy Moeller/Getty Images
There's no more divisive debate in the beauty and fashion world right now than that of a side part versus a middle part. With the resurgence of the '90s trends in both fashion and beauty, many believed that now was the time to bring back the nostalgic side part. However, many younger fashion fans have insisted that a middle part is the best way to style your hair. With recent fashion weeks being shown around the world, it seems like this debate has a clear winner.
If various shows from Milan Fashion Week, London Fashion Week, and NYFW are any indication, it seems as though the middle part is here to stay. Despite a few side-part fanatics, the middle part was a clear favorite of many designers, such as Balmain, Dries Van Morten, and more. They each embraced the middle part and all of the various ways you can style it.
Since it looks as though the impact of the middle part is only growing stronger, there are plenty of ways you can style your middle part with fresh and modern hairstyles that will last you for years to come, or at least until the side part trend picks up again.
Ultimate sleek and straight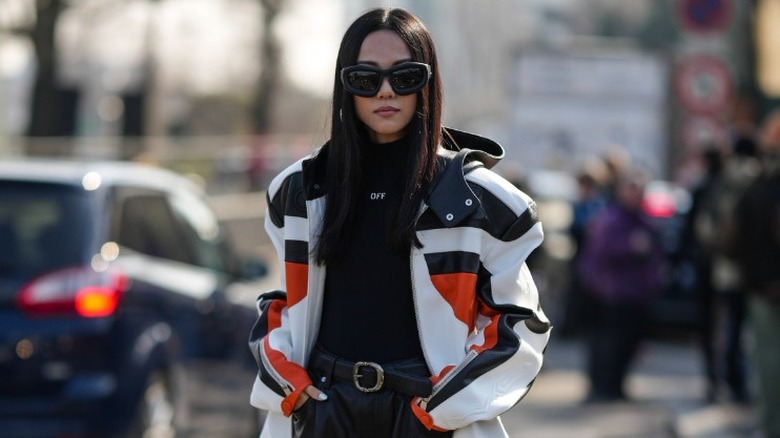 Edward Berthelot/Getty Images
There are plenty of benefits to opting for a middle part. For starters, the middle part can give a slimming effect, particularly for those with round faces, as it elongates by an optical illusion.
A middle part also allows you to look sophisticated and polished, especially when styled with sleeker hairstyles. Going for pin-straight hair with a middle part will give you a striking look that will seem as if it is straight off the runway.
Timeless styling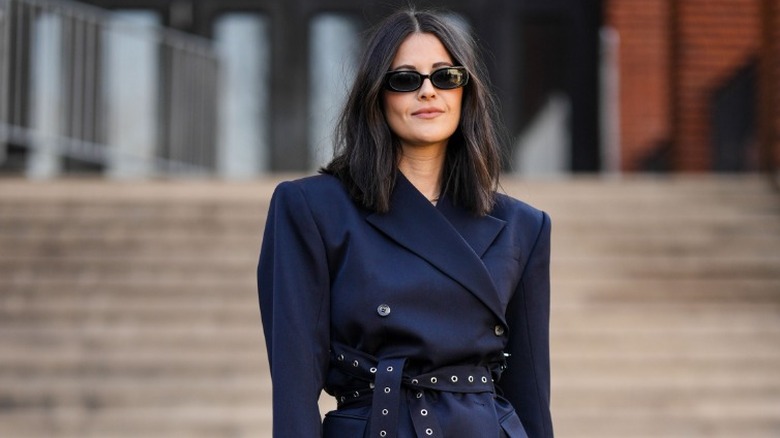 Edward Berthelot/Getty Images
Even though there was a moment in time in which side parts reigned supreme, the middle part has always been a classic. Because it is so versatile, it will never go out of style. Many classic hairstyles and haircuts feature middle parts, such as lobs, bobs, and slightly messy shags. 
So while a side part's popularity will ebb and flow, the middle part is a safe bet that can create dramatic and statement looks.
A perfect updo companion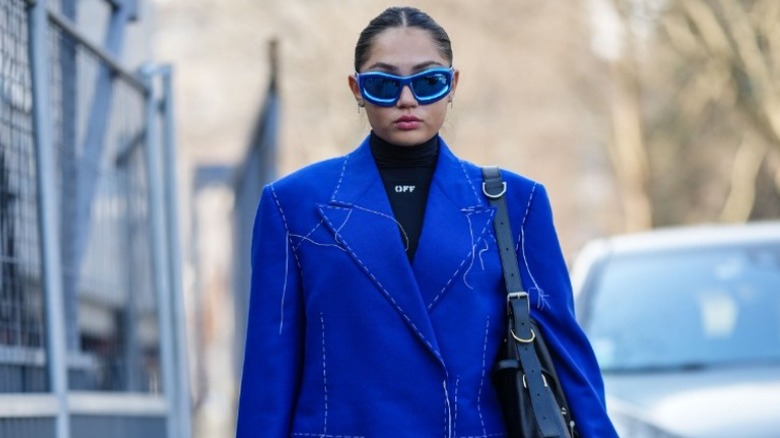 Edward Berthelot/Getty Images
Even if you aren't a fan of the middle part, it's hard to deny that they are the best option when creating sleek updos. Unless you go with a 'no-part' look, middle parts are ideal for creating certain looks. Take ballerina buns, for example. They have become a classic hairstyle recently, which has made the middle part even more on-trend.
Besides buns, there are many updos — such as sleek ponytails — that look best with a middle part. If you're a fan of these hairstyles, a middle part is bound to be essential.
Versatile for all hairstyles
Edward Berthelot/Getty Images
Besides buns and ponytails, a middle part will make it easier to create almost any hairstyle. From the most subtle braids to the most dramatic and artistic hairstyles, a middle part is typically going to be the starting base for creating even the most out-of-the-box styles. 
Because it is so versatile, it can be styled in many different ways to suit different occasions. Being able to section off your hair down the middle will give you plenty of options when creating your dream hairstyles.
Perfect for all hair textures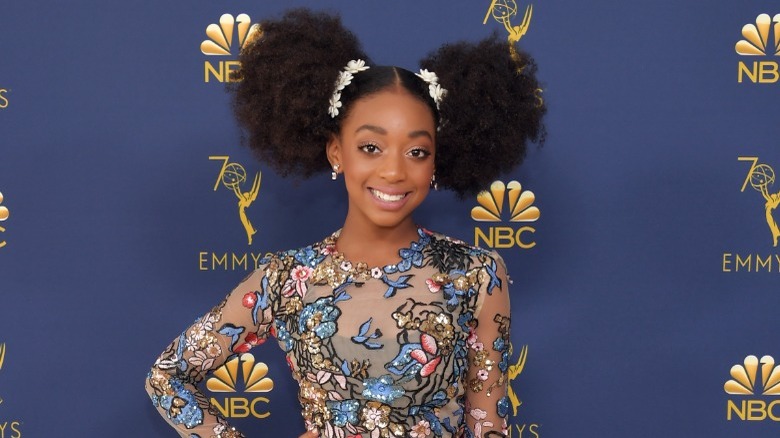 Neilson Barnard/Getty Images
A huge plus when styling your hair in a middle part is the fact that it can easily work on any hair type. Unlike the side part, there is an ease and simplicity when it comes to parting hair down the middle. This flexibility makes it a great look for every texture, from fine and thin hair to thick and coily hair.
A low-maintenance winner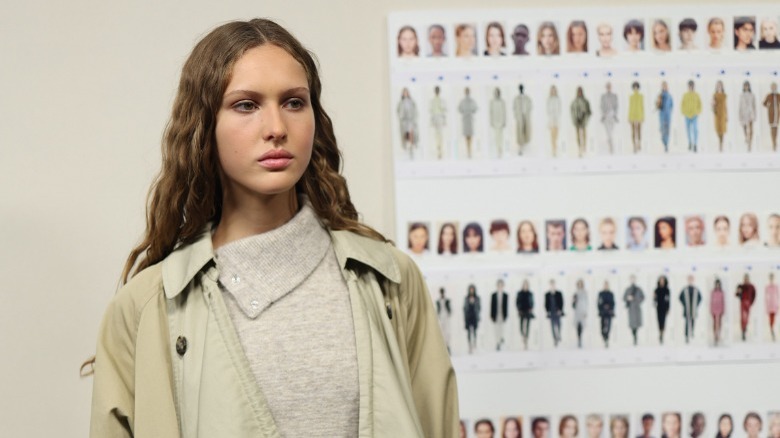 Vittorio Zunino Celotto/Getty Images
Unless your hair naturally parts on the side, a side part — especially a deep side part — will only happen with some work. Because you likely have something closer to a middle part naturally, it is easier to maintain.
Typically the only thing required is ensuring that your middle part goes down in a straight line and doesn't take a detour. With just a comb or a brush, it's easy to move away the few strays to regain your middle part.
Chic and symmetrical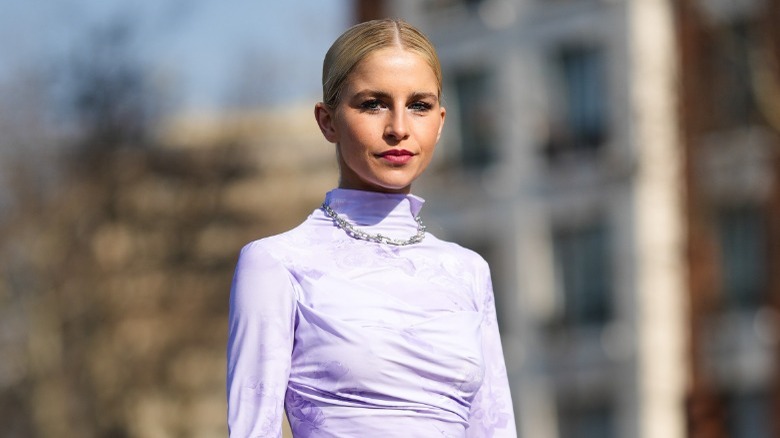 Edward Berthelot/Getty Images
There's no denying that the most obvious benefit of a middle part is the symmetry it provides. Besides helping to elongate your face, a middle part creates symmetry on the face, making it look more balanced and proportionate.
When styled with other symmetrical hairstyles, you can achieve a more sleek and chic look. As simple as it may seem, adding symmetry to your hair via a middle part will help you look more polished and sophisticated, whereas side parts tend to look more casual.