One Color Can Make A Tan Leather Trenchcoat Perfectly Pop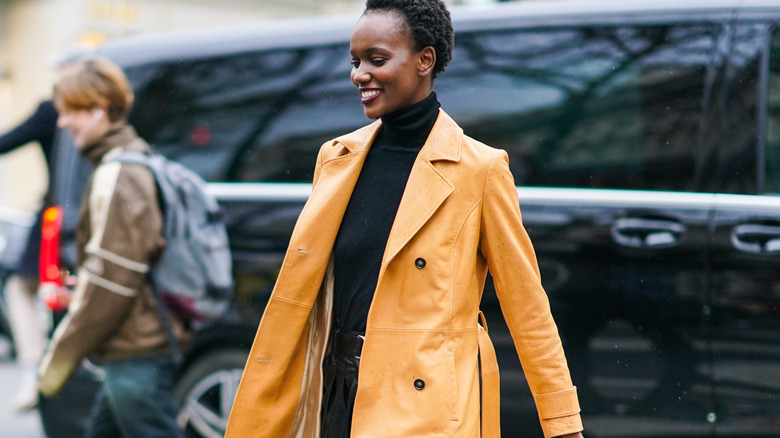 Edward Berthelot/Getty Images
We may receive a commission on purchases made from links.
The trenchcoat, once a symbol of military prowess, has evolved into an iconic representation of utilitarian glamour. Jane Tynan says it best in her book, "Trench Coat," writing, "At once playful, but also deadly serious, sinister, yet covetable, both mundane and extraordinary, trench coats are a seemingly permanent presence." In other words, a classic tan, leather trenchcoat is one of those pieces loaded with cultural meaning, and instantly amps up your style presence.
Wearing a tan leather trench alone can give off experienced or moody, but when you add black pieces into the mix, it adds drama to your world-weary look. Black is a powerful color that exudes sophistication. And tan, with its brown tone, tends to feel mature, earthy, and comforting. When worn with black, it softens it, perhaps making it feel more down to earth. So, when considering all these elements, a tan leather trenchcoat with black accents tend to give off a sophisticated and worldly, yet everyday vibe. If this is what you're going for, here are a few ways to nail this combo.
Give black knee-high hosiery a try
With a long history of being concealed from the gazing eye, knee-high hosiery is finally front and center. We are now officially unbothered and no longer trying to make sure our knee-high stockings are hidden under hemlines. For a sophisticated edge, try sheer black stockings and black platform heels with a tan trench that shows nothing but the stockings. It feels refreshingly retro and slightly risqué, in the most fun possible way. For a youthful or boho look, try black opaque socks with a peak of your outfit underneath.
Pair it with a black neck-tie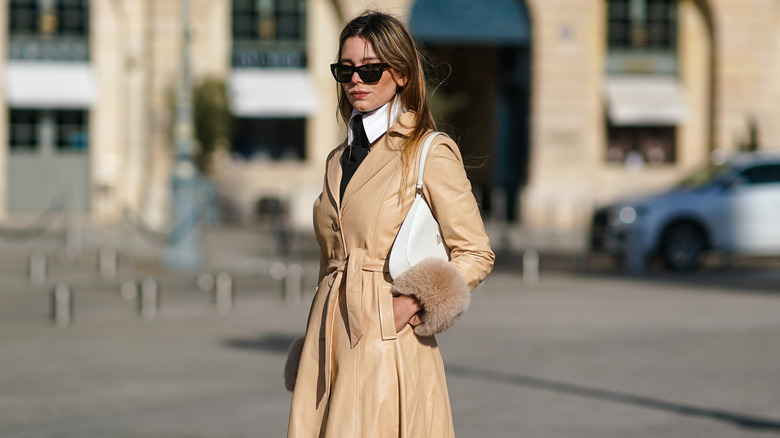 Edward Berthelot/Getty Images
During WWI, trenchcoats were marketed to British officers, most of whom happened to be aristocratic gentlemen. So, wearing a formal black neck-tie with a tan leather trench is kind of like paying homage to a bygone era. And if you decide to wear it, you have an opportunity to give "dashing" a whole new meaning. Add black sunglasses to cement the confident appeal.
Don't overlook a basic black bag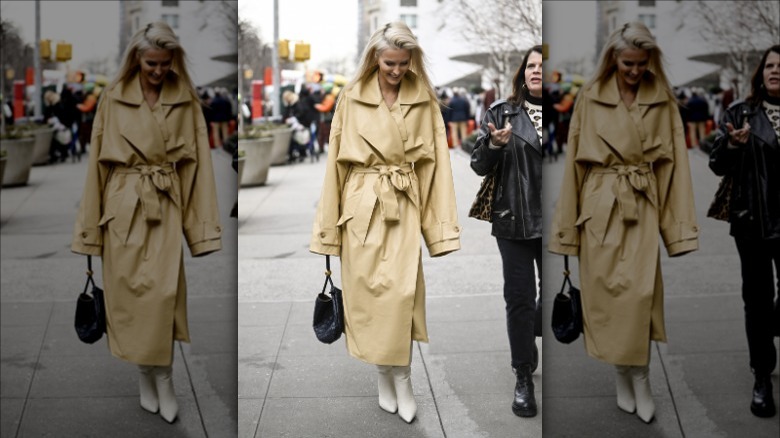 Daniel Zuchnik/Getty Images
An oversized tan, leather trench with pointy white boots feels cool and modern, and the black leather bag gives it the quintessential look. Contrary to popular belief, black bags do not go with everything, but they're a staple accessory for a reason. They're sufficiently versatile, and when paired with the white boots, they give the tan leather coat a minimal and dramatic vibe.
Switch out the belt for a black one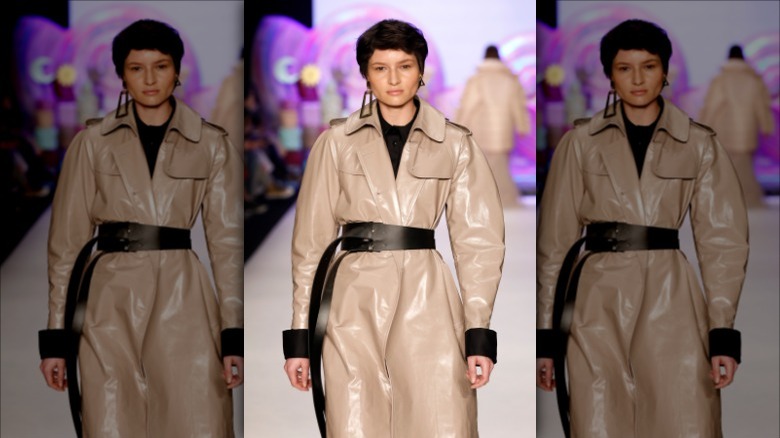 Tristan Fewings/Getty Images
Tan leather coats typically come with their own matching belt. It's classic, functional, and convenient, but if you're looking to make your trench feel a little more custom, it can be fun to switch out the belt. Try adding a black leather one instead. It's unexpected, creates interest, and gives your trench a two-toned flair.
Give your black leggings a style boost
Even if you were slow to jump on the bandwagon, it's hard to deny that leggings are the new go-to pant. Black leggings are modern and comfortable, but if not paired with the right pieces, they can feel a little underwhelming. Wearing a classic leather trench instantly elevates black leggings. Plus, at the same time, black leggings can make a fashionable trench feel sporty (ironically, its original purpose over 100 years ago). Together, they create the perfect, modern classic combo.
Add a black coat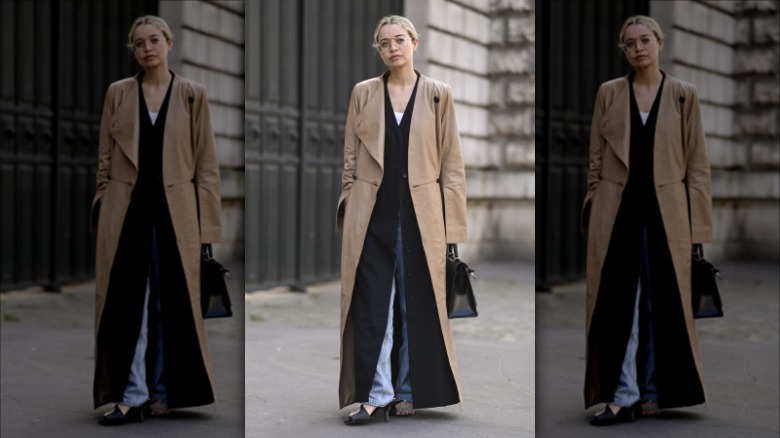 Daniel Zuchnik/Getty Images
Sometimes one coat just won't do it, especially when the weather is cool and you want options. For a little out-of-the-box styling, try wearing a tan leather trench over an equally long black coat for a sensibly layered look. It's a minimal yet impactful color scheme. For melodramatic flair, leave the trench open to show the peek-a-boo black coat underneath.