TikTok's Lip Gloss Blush Hack Is The Easiest Way To Amp Up The Shine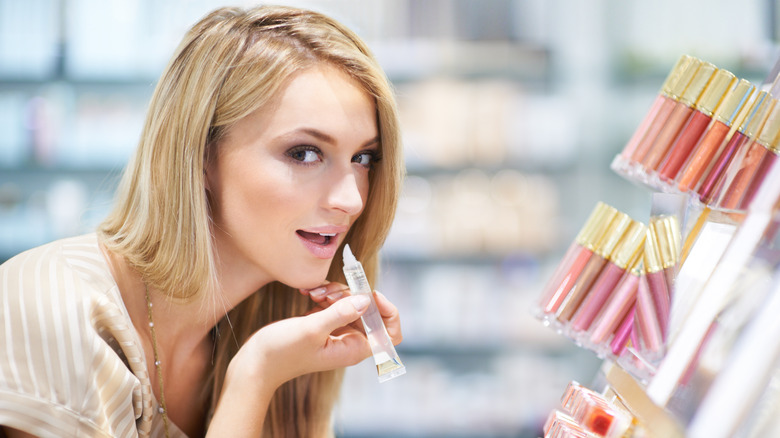 Urilux/Getty Images
Lip gloss is everywhere in 2023, and we couldn't be happier. It's so much fun to wear a flattering lip gloss color like pink or red to make our lips pop or to match our outfits. We also can't forget the magic of clear lip gloss, which can make our lips look glossy and kissable once added on top of our favorite lipstick. As iconic party girl Serena van der Woodsen famously said in an episode of "Gossip Girl:" "Lipstick lasts longer, but gloss is more fun." And when it comes it comes to beauty, who can argue with that stylish and stunning TV character?
Advertisement
Social media users have been channeling their inner van der Woodsen by using lots of lip gloss for a boost of confidence, glamour, and yes, fun. And when we say lip gloss is everywhere, we mean everywhere. As in, people aren't just using the product on their lips anymore. Not only has TikTok taught us a way to determine the perfect blush placement, but the social media platform has also shown us why people have been applying lip gloss to their cheeks.
Why are TikTokers using lip gloss as blush?
Yes, it's true. TikTok says you should use your lip gloss as blush now, too. But before you roll your eyes, we must admit that the results look surprisingly impressive. For example, a TikTok user @atosaaghakhani shared a video where she applied a shiny hot pink lip gloss on her cheeks, blended it with a makeup brush, and then put the same lip gloss on her lips for a shiny pink monochromatic look. Impressed TikTok users commented, "Definitely need to check this out" and "So pretty."
Advertisement
The TikToker who made that video gave credit to user @lexusmperezz, who also posted a video of herself getting a shiny, pink blush effect from the technique. While some pleased viewers commented with kind words such as "Soo pretty" and "Stunning always," other TikTok users shared their concerns, saying, "Does this not break you out?" and "I can feel the stickiness."
So, should you try it? Ultimately, the results seem cute, and provide a glossy, feminine effect. We say if you desire a glass-skin-like alternative to traditional blush because you love all things shiny, it's worth trying. But if you hate the sticky feeling of gloss anyway or are concerned that the lip product could affect your skin, this trend might not be for you.
Advertisement
It doesn't stop there — TikTokers are getting more creative
While those last two videos were quick and results-focused, TikToker @itsleekleeek shared a longer video, walking viewers through a more detailed process as she attempted a slightly more involved version of the hack. She started by applying her shimmery lip gloss to her cheek, acknowledging the stickiness, and blending it with her makeup brush. But rather than stopping there, she also applied a darker lip gloss for more color and dimension and used powder to set the look. Anyone concerned about the hack causing too much stickiness should follow this more detailed video, as the powder will likely help.
Advertisement
Another TikTok user, @shopwithlana, also uses the blush hack technique — but with creamy lipstick. She shared a video where she applied the lip product to her cheek and blended it with a makeup brush. The results appeared soft and silky rather than glossy. So, using lipstick is another blush alternative — we recommend trying both to see which strategy is better for you!