7 Ways To Protect Your Curls While You Sleep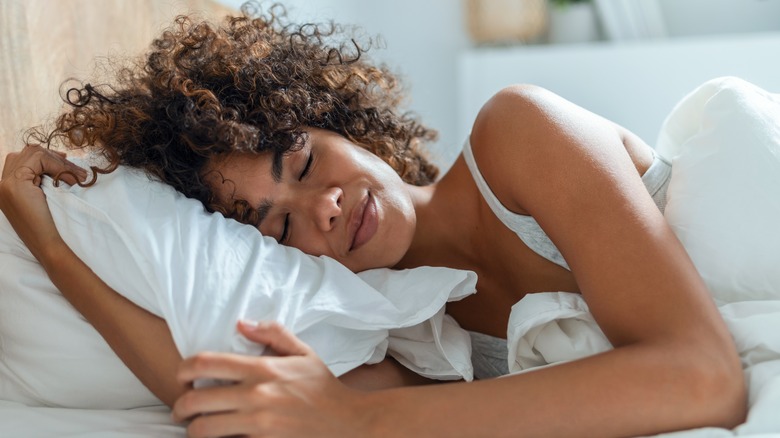 Josep Suria/Shutterstock
Regardless of the type of hair you were born with, you've probably worn it curly at least a few times to give it that voluminous, bouncy appearance. Picture Shakira, Halle Berry, Sarah Jessica Parker, Tracee Ellis Ross, and Julia Roberts — all of whom have natural curls. 
Curling your hair or perfecting your natural curls can be time-consuming, especially if it is long, so styling it every day to get those defined, touchable curls isn't feasible for every woman. Plus, excessive use of heat-styling tools like curling irons, wands, and hot rollers can damage your locks, especially if you don't use a protectant.
So if you want to keep your curls looking fresh and springy for more than one day, you're going to want to protect them while you sleep. These seven tips can preserve your curls and save you styling time in the morning while preventing the need for potentially damaging heat styling. Some can also help you create curls or waves, if you don't have them naturally.
Use a silk pillowcase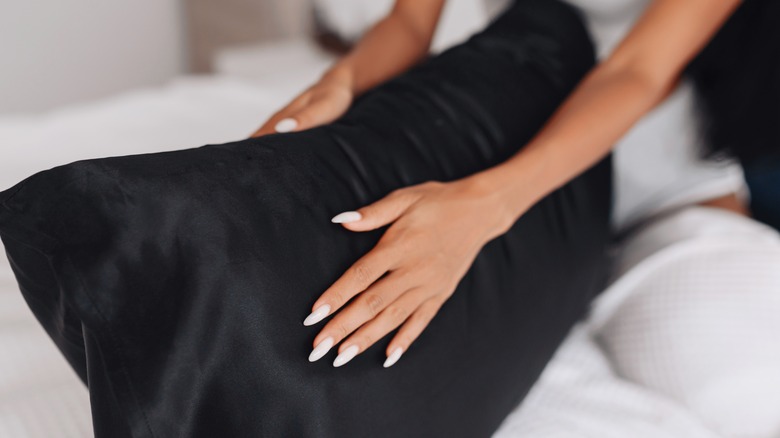 StockFamily/Shutterstock
If you tend to move around a lot in your sleep, the friction from rubbing your hair against a standard cotton pillowcase can wreak havoc on your 'do. You could wake up with a tangled, frizzy mess, and whatever curls you had the day before will be ruined. Silk, on the other hand, is a much smoother fabric, so your hair will glide nicely over the pillowcase and be that much more likely to remain intact overnight. An added benefit is less frizz and breakage overall.
Wrap your hair in a silk scarf
If you want to rock the Alicia Keys headwrap look at bedtime, you could opt for a silk scarf instead of a silk pillowcase. It provides all the same benefits: less frizz, less breakage, and more curl protection. To wrap it, bend forward until your hair is flipped upside down, and wrap the scarf around your head. Make sure to tuck all your hair in and secure the scarf well so it won't fall off during the night. Side note: your hair can be either damp or dry before wrapping it.
Plop your hair with a microfiber towel
Plopping is a hair-drying technique that involves using a microfiber towel or cotton T-shirt to wrap your hair, similar to how you would with a silk scarf. First, unfold the fabric and place it flat on a table or high chair in front of you. Bend forward until your hair touches the fabric and gently wrap your hair within it. Then, lift your head back up and twist the loose ends into a knot. For the best results from plopping, your hair should be damp to start.
Put your hair into protective braids
Braiding is a method of both protecting and creating curls or waves in medium or long hair. This is especially true if you have naturally straight hair, and you want more of a beachy, wavy look the next day. But even if you already have curly or wavy hair naturally, braiding it can give it some extra texture and protect it from other harsh styling methods. Plus, braids can be worn during the daytime in casual styles or even more glammed up 'dos.
Use heatless rollers
Velcro rollers have been around for a long time, which we know simply by watching television shows from the '50s and '60s, such as "I Love Lucy." But new heatless curlers have surfaced in recent years, including flexible rods that you wrap your hair around and spiral hair curlers that you pull your hair through with a special wand. Like braids, these options can both create curls and waves, or define natural curls or waves.
Pull your hair up in a pineapple bun
"Pineappling" your hair involves gathering all your locks and placing it in a high ponytail on top of your head, a few inches from your hairline, making it look like a pineapple. This method can help preserve your curls overnight because it prevents you from crushing them as you sleep. This method works only for those with hair long enough to put in a high ponytail, but if your hair is very long, you might need to add another hair tie to make a loose bun.
Style your hair in Bantu knots
Bantu knots are small, tightly wrapped buns all over the head, famously worn by Rhianna at the 2020 iHeartRadio Music Awards and Jada Pinkett Smith in "The Matrix." To make a Bantu knot, use a rat tail comb to divide your hair into a small square sections. Then gather the sectioned hair, twist it, wrap it around itself, and secure it with a bobby pin. Repeat these steps until all of your hair is twisted and pinned. You should end up with about a dozen sections, give or take, depending on your hair's thickness.