The Best Bras To Pair With A One-Shouldered Top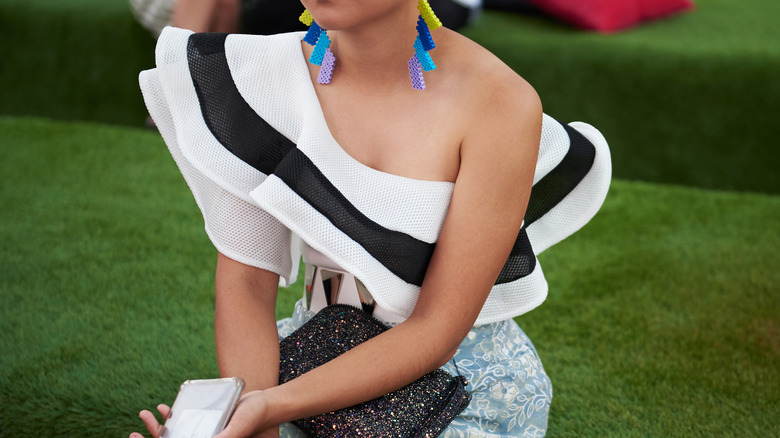 sairamacleod/Shutterstock
We may receive a commission on purchases made from links.
Bras can be a pain, especially when wearing more unique tops. This is why many women have given up bras altogether. While we support the movement, some places and events still require a bit more chest coverage. You shouldn't have to give up your favorite style top, just because a regular bra won't look right under it. Wearing a regular bra that shows and sticks out in the wrong places isn't the best choice, as the designer of Bare Necessities, Eunice Lee-Meldahl, tells Byrdie that "When the bra fits better, her clothes look better, her shape looks better, she feels better."
It can be tricky to find a bra that fits all of your needs, while still looking good under your top. Whether it be comfort, coverage, or support you are looking for, you shouldn't have to sacrifice when it comes to wearing a bra with your favorite one-shouldered look. Luckily, you don't have to. We have curated the top eight bra types to wear with a one-shouldered look, no matter what your needs are.
The staple strapless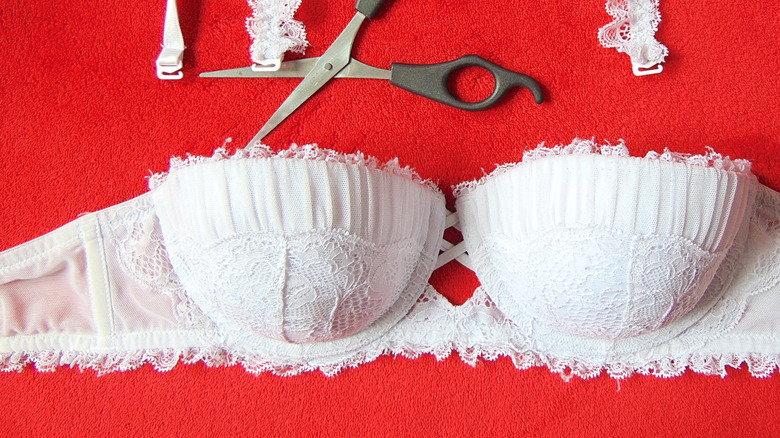 Mary De Vocht/Getty Images
The classic strapless bra is the most traditional route to take when wearing a one-shouldered top. It provides a seamless look with all the coverage and the support you need and no bulky straps peaking through. This choice can sometimes be daunting for those with bigger chests, but reading the reviews before trying out a strapless bra can help! According to Amazon reviews, the Wacoal Red Carpet Strapless Bra is one of the greatest for large chests, with one reviewer even saying "I have tried out and owned dozens of strapless bras, but was never quite able to find one that I actually enjoyed wearing, until now."
A corset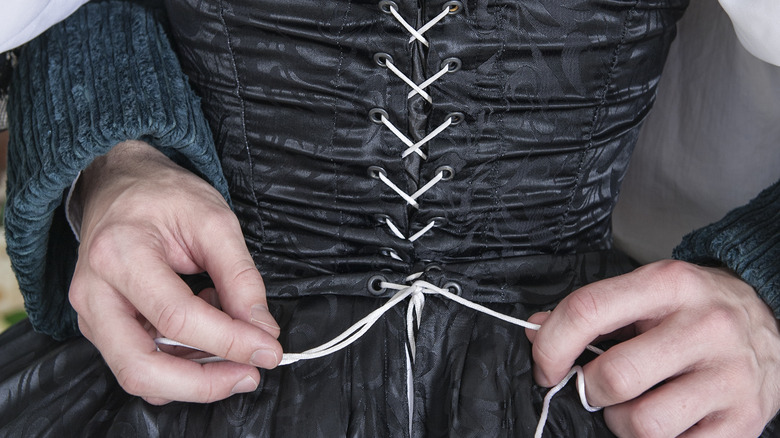 Darkbird77/Getty Images
Corsets solve a number of problems that strapless bras cannot, which is why some people choose them. Often thought of as an ancient undergarment that is no longer worn, corsets are actually still often worn under cold-shoulder tops and dresses. According to Corset Story, some of the top reasons people choose corsets over a regular bra are to avoid the all-day adjusting, define their shape, give their chest a boost, and avoid straps. These are all great benefits when wearing a one-shouldered top.
A comfy bandeau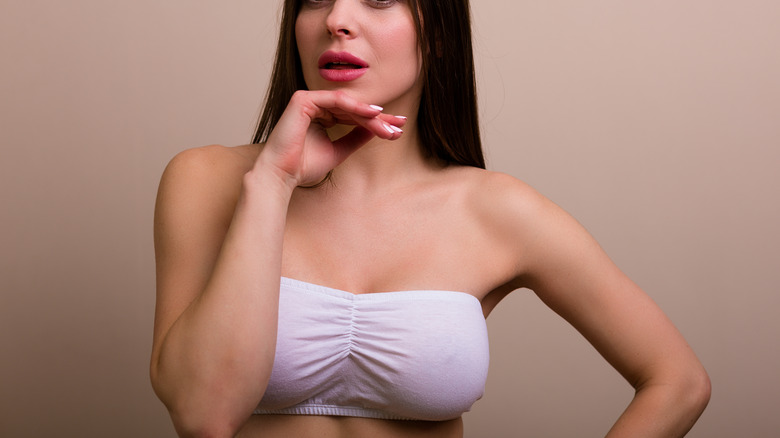 Tinatin1/Getty Images
Bandeaus are another comfortable alternative to the traditional strapless bra. Bandeaus are made of comfortable, stretchy fabric and have a thick band on both the top and the bottom to keep a hold of your body. "Bandeaus are typically pull-on style with no hook and eye back closure and are wireless, designed for easy and comfortable wear," Silvia Campello general manager of Cosabella tells WWD when speaking on the best bandeaus. This makes them perfect for the comfy girl.
The versatile multi-way bra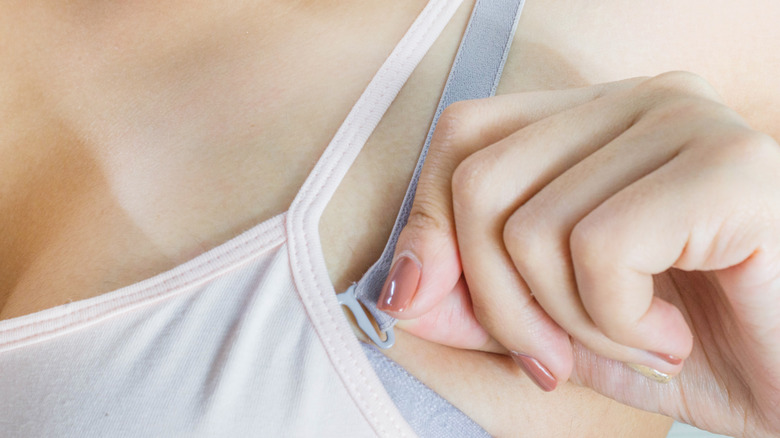 Papavarin Karnjanaranya/Shutterstock
If you're always finding yourself needing a different bra type, the versatile multi-way bra may be best for you. Multi-way bras can also be a great way to save money, as you will only have to buy one bra instead of multiple. These bras can often go strapless, halter, one-shoulder, and more. The Bra Lab is one of many companies that sells completely customizable bras, with multiple ways to clasp and strap, you can always find the perfect fit.
Pasties
Nipple pasties provide just enough coverage, while still allowing you to feel comfortable rocking the "no bra" look. If you are simply looking for coverage rather than support for your one-shouldered look, this is the route for you. They come in multiple shapes, shades, and sizes, so anyone can use pasties. Celebrity stylist Ali Kornhauser tells Vice that she recommends the pricier, but worth it, Bare Necessities Nippies. "They are thin but firm, which gives your boobs a really nice shape," says Kornhauser, which is really all we are looking for in great pasties.
The adhesive bra
A favorite for prom and weddings, the adhesive bra is also great for the everyday, casual one-shouldered top. There are some helpful expert tips to keep in mind to ensure that your sticky bra stays on and looks great throughout the day. Stylist Daniel Gaines tells CNN the adhesive bra works great with "lightweight fabrics like silks where you want a very smooth finish but also need a little added lift or shaping." All stylists generally agree that you should ensure the bra is applied evenly and avoid using body oils or moisturizers before putting on the bra to keep it from slipping.
A lace bralette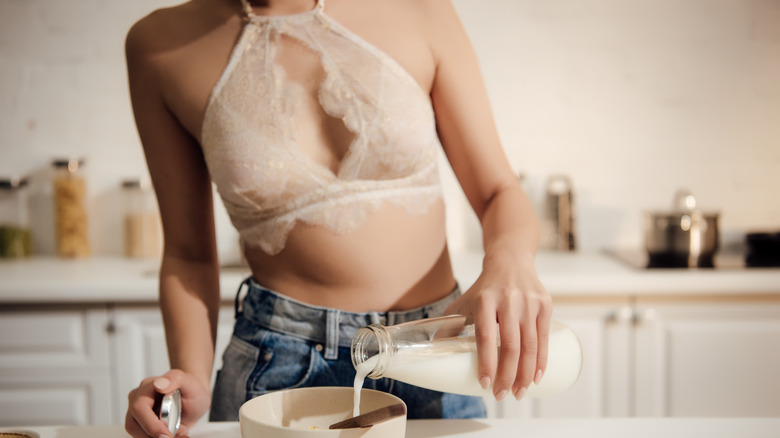 LightField Studios/Shutterstock
If your bra has to show with a one-shouldered top, you may as well make it cute! A lace bralette is a great way to get coverage and support while having cute bra straps. This is a great way to make a fashion statement as well. Online store Glamorous Peach Boutique shared a photo to Instagram of one of their employees rocking a baby blue one-shouldered top with a lace bralette for a fashion-forward look.
A bra with clear straps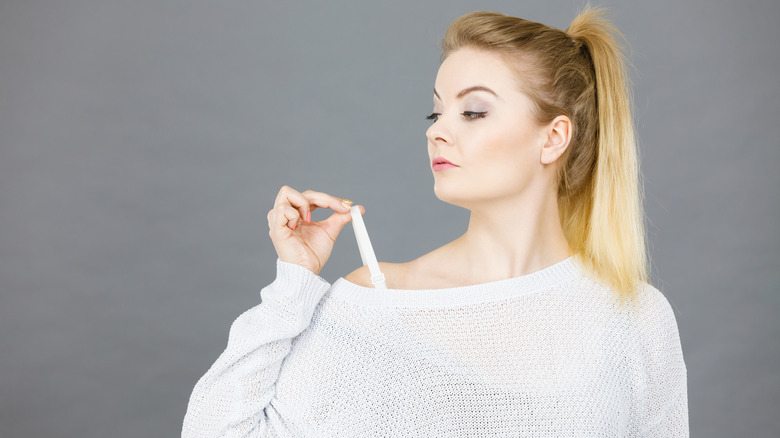 Voyagerix/Getty Images
A bra with clear straps is another great option if you don't feel comfortable going strapless just yet. Clear straps are practically invisible and work no matter your skin tone. The straps also can often be removable, making it easy to wear with a one-shoulder top. You can wear the strap on the hidden side, and not the other. Either way, you have options!