Spring's Best Bun Trend Fuses Balletcore And Rosettes Stunningly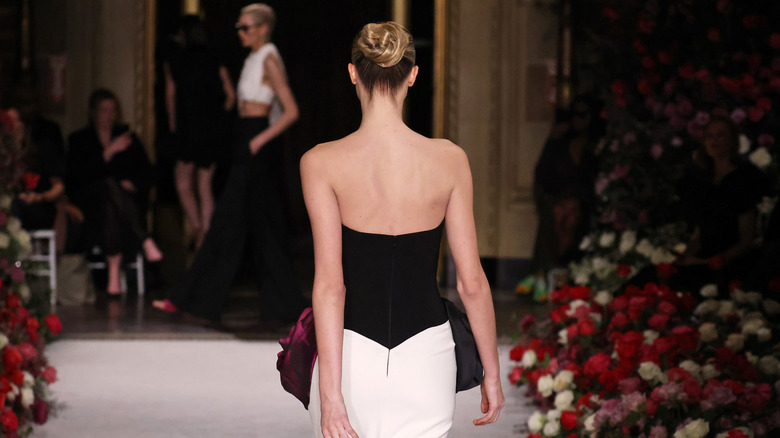 Jp Yim/Getty Images
Spring is the season of trying out new things and what better way to embrace this spirit than by trying out the newest hair trend? The latest hair trend, the rose bun, is a product of two other trends which have swept the fashion and beauty industry. Balletcore and rosettes have paired up to create the newest bun hairstyle you'll adore. This elegant and feminine hairstyle is perfect for any occasion, from a garden wedding to a fancy dinner party. It involves twisting and knotting sections of hair to create a three-dimensional rose shape. The result is a stunning updo that looks like a bouquet perched atop your head. Professional hairstylists have already started to embrace the rose bun trend by showcasing it in full effect at New York Fashion Week, and it's easy to see why. 
There are various ways you can achieve this look. Certain rose buns are more minimal while others are more detailed and contain more steps. As Lacy Redway, hair stylist behind the Christian Siriano Fall/Winter 2023 show, tells Allure, "Just like flowers, each bun should take its personalized form." However, the style of your rose bun will depend on the type of look you want to achieve. This hairstyle is both elegant and playful, and it's the perfect way to welcome spring in style. So why not give it a try and add a touch of romance to your hair this season?
A small rose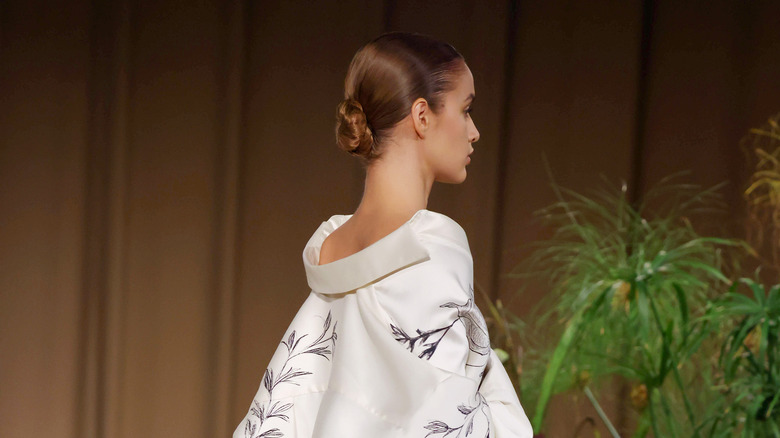 Jp Yim/Getty Images
A low small rose bun hairstyle is perfect for those looking to try this hairstyle without having to create anything extravagant. The low placement of the bun creates a sophisticated and polished look, while the small rose shapes add a touch of femininity and playfulness. This hairstyle is easy to achieve and can be customized to suit any hair type or length. So whether you have short or long hair, the low small rose bun is a chic and timeless choice that's sure to turn heads.
The sweetest hairstyle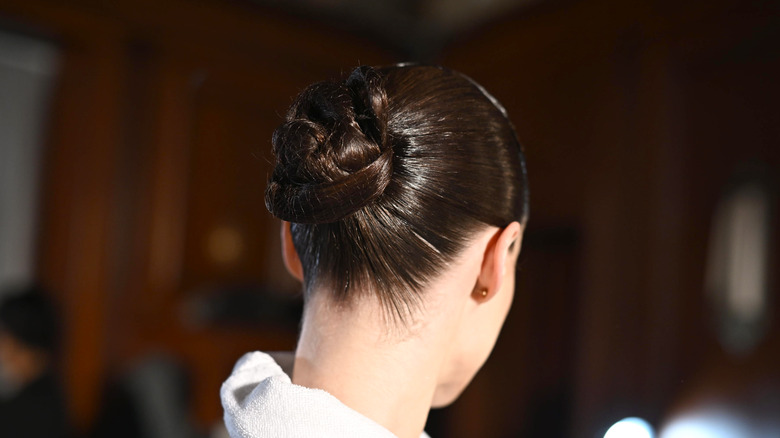 Dave Kotinsky/Getty Images
One of the great things about the rose bun is how unique it is. This hairstyle stands out from other updos with its three-dimensional rose shapes and intricate knotting. It's a true work of art that showcases your hair creatively and beautifully. With a little creativity and experimentation, you can create a unique and personalized rose bun that perfectly complements your features and style. For example, you can play around with the size and placement of the roses to create a look that's either subtle or bold. Regardless, it's a chic high-end hairstyle choice.
Rose bun with an edge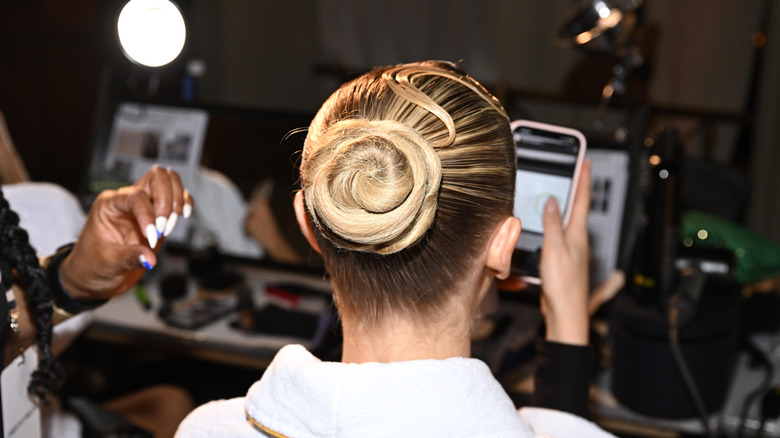 Dave Kotinsky/Getty Images
Not everything about the rose bun needs to be ultra-feminine and soft. The versatility of this hairstyle lets you twist it in a way that can give you an extra edge. Adding an edgy slicked-back base along with tightly twisted roses will help create a rosette that's far from delicate. Mixing feminine details with edgier elements is nothing new in fashion or beauty, but taking it to your hairstyle will make a statement.
Add accessories to your look
Adding hair accessories to your rose bun hairstyle is a great way to elevate the look and make it more chic and unique. There are many different types of accessories you can use, including flowers, pearls, crystals, and hairpins. For a romantic and feminine look, you can add a few small flowers to the bun or weave them into the twists of the roses. Alternatively, you can use sparkling hairpins or crystals to add a touch of glamour and sophistication. By adding accessories to your rose bun hairstyle, you can create a customized look that's truly one-of-a-kind.
An intricate detail
While the rose bun hairstyle may look intricate and complicated, it's a style that can be achieved by anyone. With a little bit of practice and patience, you can create a stunning rose bun that looks like it was done by a professional stylist. You can make your rose bun as complex or as simple as you would like. By adding more twists, or "petals", you can make your rose bun look like a beautiful flower.
Two roses are better than one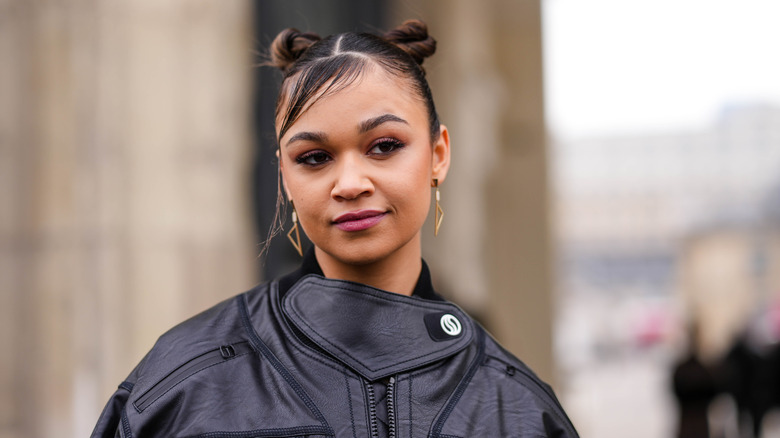 Edward Berthelot/Getty Images
If you are simply in love with the idea of a rose bun, why not make it two? While this variation might be difficult on shorter hairstyles, it's still a funky way of adding some playfulness to a rose bun. Instead of creating a normal rose bun, turn two space buns into delicate roses with just a few more steps. Make your buns as small or as large as you would like (depending on your hair length), and create your garden on your hair.
Make it your own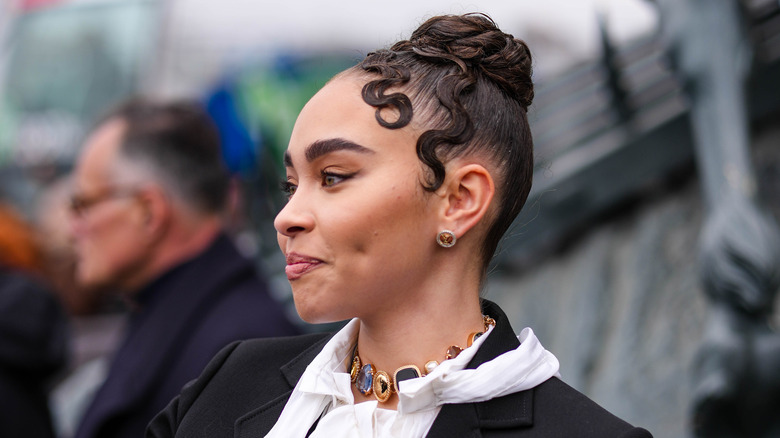 Edward Berthelot/Getty Images
One of the perks of a rose bun is the fact that you can completely make it your own. By adding "stems" or extra twists to form more petals, you can create a rose bun that's all yours. You can also customize your rose bun by opting for a minimal rose design. Like flowers, all rose buns are beautiful in their own way. This hairstyle trend is perfect for those looking to use the same hairstyle in various ways to constantly create new and fresh looks.
Slicked back and minimal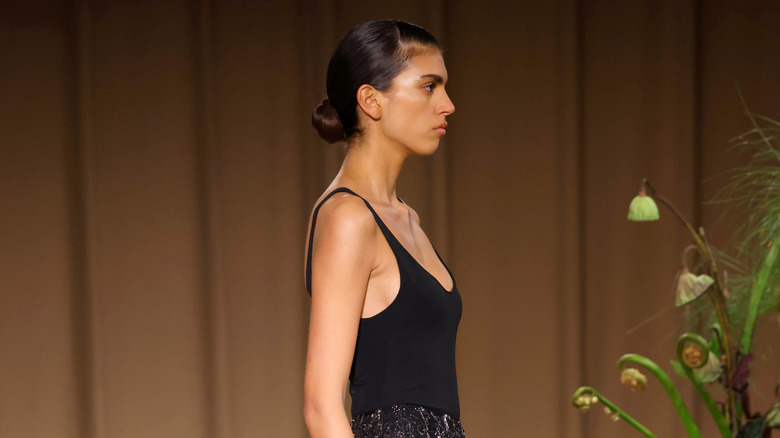 Jp Yim/Getty Images
Not all flowers are made the same, and not every rose bun needs to look alike. Opt for a sophisticated slicked-back and minimal rose bun for a more polished and elegant look. The bun can be created by twisting and tucking the hair very lightly. To keep the casualness, avoid tightly tucking your hair for a laidback look. This style is elegant and minimalist, making it a great option for both formal events and everyday wear. It is also a versatile hairstyle that can be dressed up or down with accessories or makeup.
The perfect rose
No matter how you like your rose bun, it's a great new hair trend that can complement the vibrant and colorful fashion trends of spring. This hairstyle keeps the hair off the face, making it ideal for warm and humid weather. Additionally, the rose-shaped bun adds a touch of femininity and elegance to any outfit, which is perfect for all spring events. Finally, this bun is an easy and quick hairstyle to create, which is perfect for those busy spring mornings when you want to spend less time getting ready and more time enjoying the beautiful weather.