Ways To Support Women-Owned Businesses (& Why It's So Important)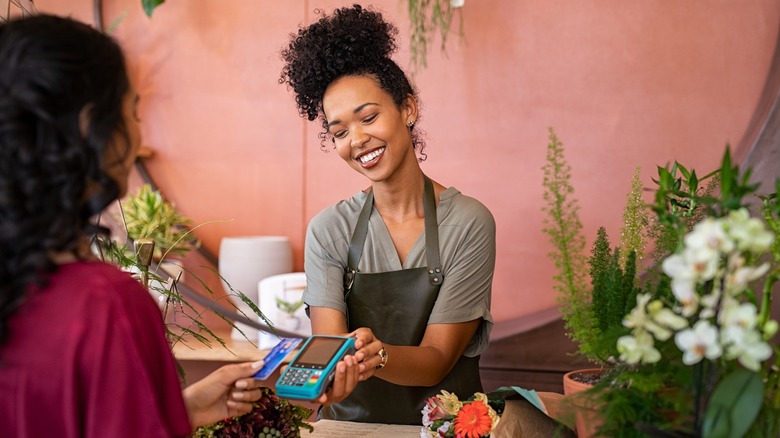 Ground Picture/Shutterstock
Historically speaking, women-owned businesses are nothing new. The first businesswomen on record lived in Assyria in 1860 B.C. and filled banking, managerial, and investing roles that were mostly reserved for men, per BBC. In the United States more than 3,000 years later, women were typically only business owners in the 18th and 19th centuries if they inherited a company, but this changed in the 1900s with the arrival of the global wars that forced women into the workforce (via SBDCNet).
Despite this track record, women have still been traditionally outnumbered by men when it comes to owning businesses, until recently. According to the Women's Business Enterprise National Council, the number of women-owned businesses in the U.S. jumped from 402,000 in 1972 to 12.3 million in 2018. Though we're seeing more female entrepreneurs than ever before, it's still important to actively support women-owned businesses, particularly in industries where women are underrepresented. Here's how you can back your favorite women's businesses, and why supporting these brands is good for society, both in the present and future.
Buy and donate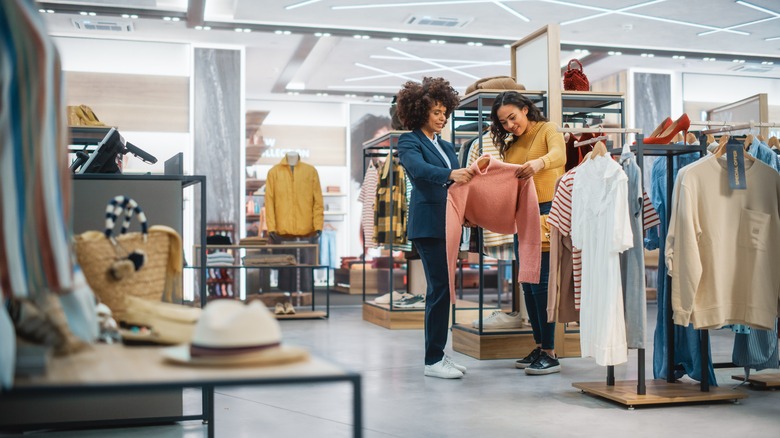 Gorodenkoff/Shutterstock
The most obvious way to support women-owned businesses is by purchasing their goods. Though this could set you back a little, as small businesses may not always be able to keep up with larger company competitive prices, it really is a win-win. You'll be increasing their income while also enjoying whatever you bought.
If you don't need their products, you can still contribute to a business's income stream by making a donation. Some businesses will have websites with forms where you can easily donate. If there's no clear path to donation, send an email or speak to the business owner in person about what the best course of action is.
Boosting a women-owned business's income is one of the most powerful ways to support them, but it's not always possible. Times are hard and the cost of living crisis may mean that you just don't have the capacity to buy or donate right now. In that case, there are several other options you can explore that won't cost you anything.
Get behind them on social media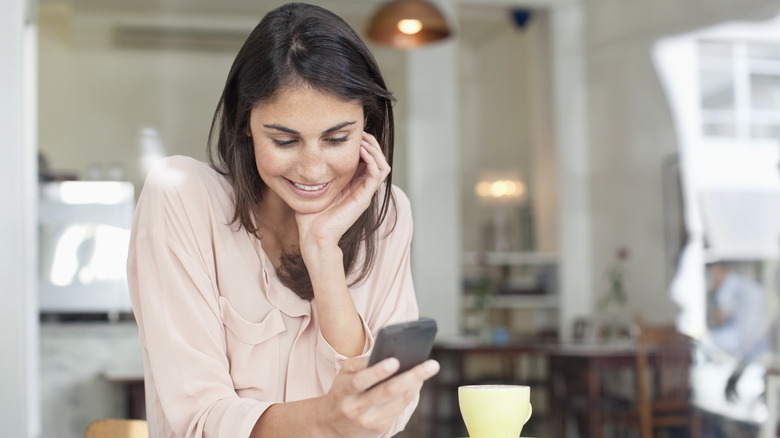 Sam Edwards/Getty Images
Social media is now a crucial tool for the success of any business. From women-owned start-ups to global empires, everyone is leveraging the power of an online platform to market their brand. And when a business is on social media, you can easily support them for free.
If there's a particular business you want to support, follow them and go out of your way to like their posts. The algorithm can sometimes mean that you miss posts, so search for them whenever you go online to make sure you don't miss anything. You can also comment on their posts, repost their shoutouts, or even share their announcements or products in your stories. It's also a good idea to tag them in your own posts that feature their products or services.
In case you're not on social media at all (rare, but it happens!), you can still support women-owned businesses online by giving their products high ratings and writing positive reviews. They don't have to be lengthy reviews either — just a few lines about why you loved buying from this brand.
Hire and collaborate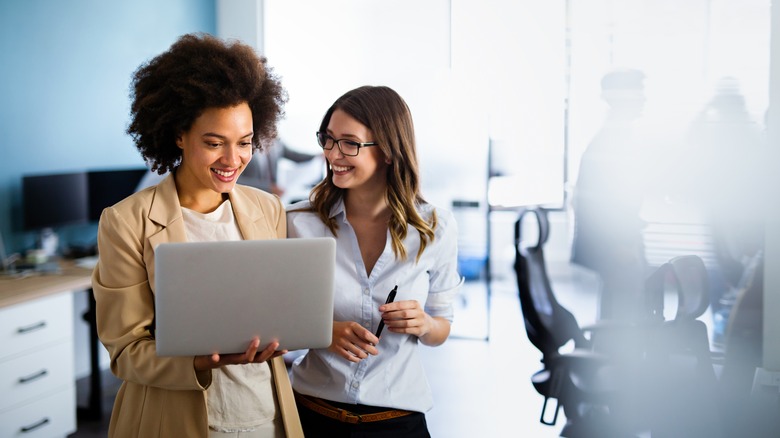 NDAB Creativity/Shutterstock
When a women-owned business is offering a service rather than a good, you can support them by hiring them to work for you. There may be another more established company that would have been your first choice, but this is where you can support a women-owned brand that has less access to opportunities. Give them a chance to work their magic. And of course, if you like the service you receive, let them know and praise them online. If you are in a position to hire, this is a no-brainer.
You can also help women-owned businesses to prosper by taking up opportunities to collaborate with them. Maybe you're a sole trader, an influencer, an artist, or a business owner yourself. Reach out to women-owned brands that you'd be interested in working with and see if there's some way you can come together to grow both audiences. Remember, women are most powerful when they unite. Magic happens when women come together.
Interact with the brand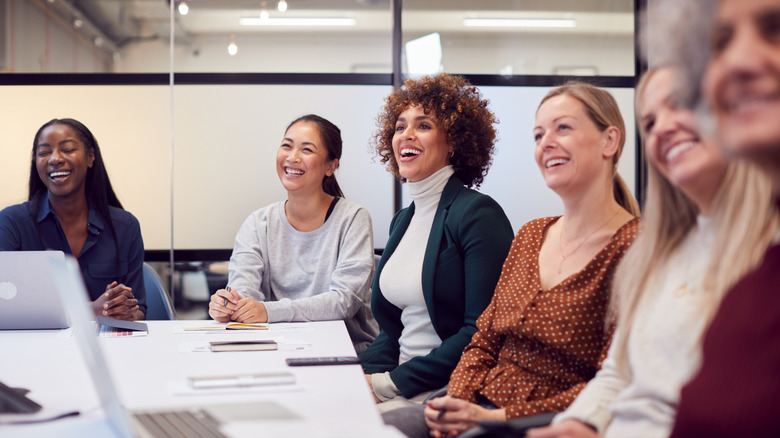 Monkey Business Images/Shutterstock
Businesses on the rise aren't only looking for people to buy their products and book their services. They are also looking for general, no-strings-attached public interaction to help get their name out there. So if a women-owned business is holding an event, try and make the effort to attend. This includes launch parties, opening nights, masterclasses, and any other function they throw to grow their brand. Sometimes these events will be ticketed, but if you can't financially commit to those, stick to the events that are free to attend.
You can also get interactive with businesses in other ways. If they have a YouTube channel supporting their brand, make sure you hit subscribe. Or they might have a newsletter — sign up to receive it. If they hold competitions or giveaways, put your name down. Participate in whatever way you can, both in real life and online. Women-owned businesses need the public to get behind them, so be part of the crowd holding them up.
Talk to the women behind the businesses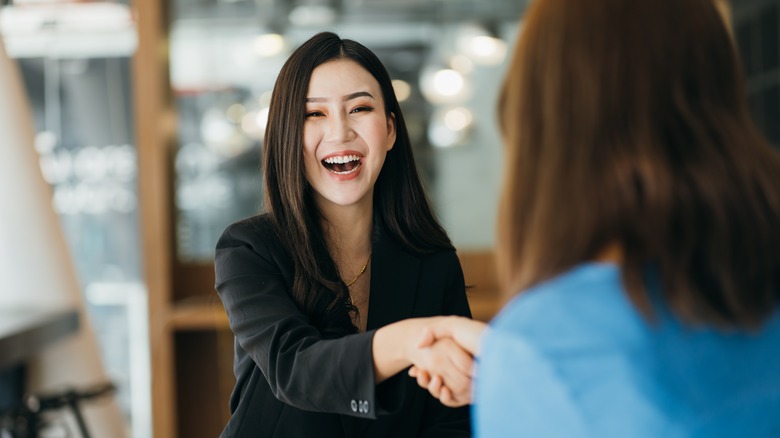 PaeGAG/Shutterstock
It's easy to forget that the women behind these businesses are just people. When they're not working tirelessly to bring their brands to life and serve their clients and customers, they're regular women with feelings, insecurities, and personalities. Given that running a business can be stressful, exhausting, and disheartening, it can make a huge difference when you simply take the time to chat to these women. CDC Small Business Finance lists connecting with business owners in person as an effective way to show your support.
Even though a woman's business may appear to be thriving, she may be hanging by a thread behind the scenes. It's possible that she's up to her ears in disgruntled customers, supply issues, and negative comments on social media, even if she is making a profit. In situations like these, a person like you, stopping and asking how she's really going, can give her the will to carry on when she's a breath away from giving up. And if you did enjoy her products or services, absolutely let her know, either online or in person. Moments like these are often enough to remind business owners of their "why" and motivate them to continue.
Spread the word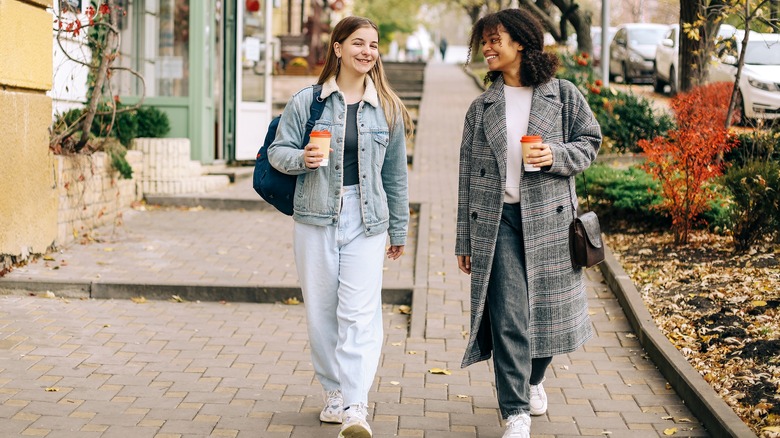 Dasha Petrenko/Shutterstock
Social media is so powerful because it gets the word out about emerging brands and businesses when they'd never otherwise have access to global publicity. However, good old word of mouth is still effective, too. If you know of a women-owned business, tell people about it! It's easy to name-drop in casual conversations, even while you're making small talk with someone. Mention the women-owned brand you've discovered, and if you've had a positive experience with them, give them a glowing verbal review. Recommend their services and use their products in your everyday life so people can see how great they are.
It seems like word of mouth can't make as big an impact as social media can. But you'd be surprised how far word can spread if enough people get wind of a new business or product. This is especially important if the brand caters to an older demographic that may not be as prevalent in the digital space.
Why it's so important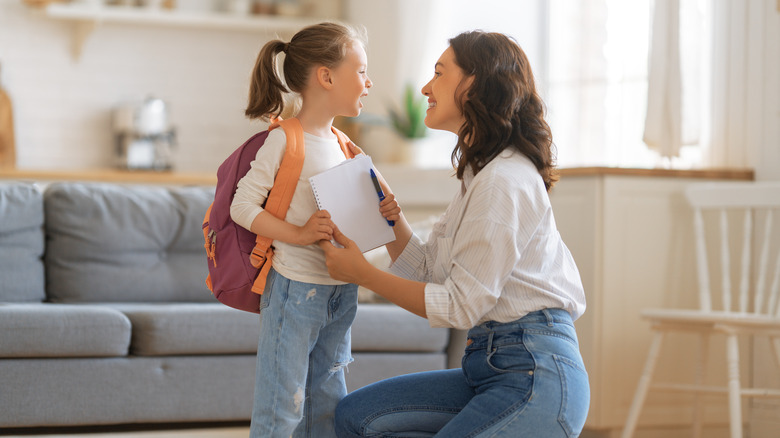 Yuganov Konstantin/Shutterstock
Supporting women-owned businesses is a crucial step in closing the inequality gap between men and women. In 2022, Pew Research Center found that women earned 82% of what men earned, and this figure has remained largely stagnant since 2002. The difference in pay is due to a combination of factors, including the attainment of education, work experience, occupational segregation, and the overrepresentation of women in low-paying roles.
Women who run their own businesses are operating in territory that has traditionally been dominated by men, but they are working to close this gap by holding powerful positions with the possibility to make a great profit. In doing so, they are also paving the way for other women to feel comfortable taking risks and space in similar higher-paying areas. Women-owned businesses also demonstrate to little girls and younger women that it is possible to be self-employed and successful, and hopefully, will foster the next generation to continue closing the gap.
It should be noted that there is a revenue gap between businesses owned by women of color and those owned by white women. As recently as 2019, minority-women-owned businesses generated less than half the revenue of their white counterparts, per Latino Economic Development Center. So don't forget about the many amazing Black-owned businesses and those operated by women of color when choosing where to lend your support.
Women-owned businesses drive industry growth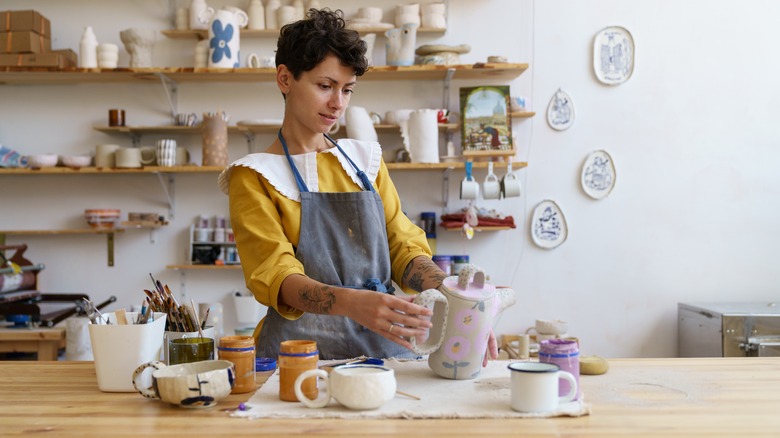 DimaBerlin/Shutterstock
Supporting women-owned businesses isn't just good for creating more equality between men and women; it's also good for the economy. Don't back female brands simply because they're female brands. Back them because they are great brands driving change and fresh ideas across all industries.
Using the example of women in the brewing industry (as of 2022, just 2% of breweries in the U.S. are owned by women), Rolling Stone notes that women bring different backgrounds, experiences, and ideas to their businesses than men do. The outlet also cites research from 2016 and 2020 respectively, which showed that gender-diverse businesses had a greater chance of outdoing the industry median.
While there's nothing wrong with the work men are doing, they have historically dominated several sectors of the economy, leaving little room for the unique perspective that women can bring to the table. By supporting businesses run by women, you'll also help to foster innovation in that particular industry by ushering underrepresented voices to the forefront. With those voices comes progress in all sectors of the economy.