Your Guide To International Shoe Sizes So You Always Have The Perfect Fit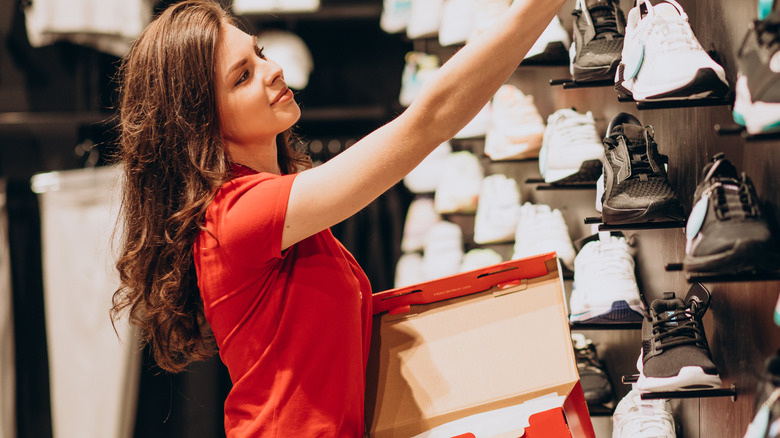 PH888/Shutterstock
We may receive a commission on purchases made from links.
Shoe lovers know that the footwear shopping experience should be joyous, even liberating. That is, until a U.S. size eight orders a U.K. pair in that size, and everything is the right amount of annoying until the end of time, or the shoes get donated, whichever comes first. It's not enough that the good people of the world constantly have to verify and convert between the metric and imperial measurement systems. Depending on where you live, there's serious variation among shoe sizes. 
Advertisement
Footwear is supposed to be fun, so we're taking the guesswork out of international shoe sizing to help you shop online with abandon. There's no reason you can't enjoy a stylish pair of kicks from a different country. Just ensure you know exactly how your size translates into other international shoe sizes before clicking "buy." And as is always a good policy with online shopping, be fully aware of the product's return policy. No one wants to pay astronomical shipping back to Malaysia or wherever.
Get an up-to-date foot measurement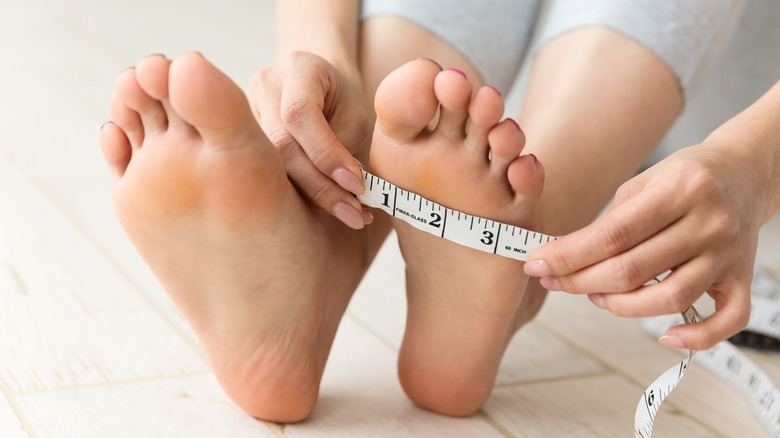 kei907/Shutterstock
Many people think that their post-adolescence shoe size is with them for life, but this is not the case. It's not unusual for a man's or woman's foot to get longer or wider as they age or gain weight. Many women report that their shoe size changed by a half-size or more post-pregnancy! So, occasionally, stopping by a brick-and-mortar shoe store for a professional measurement is a good idea. Or, DIY this chore at home! Just try to do it at the end of the day when the foot is at its largest from all the walking and running around you've done.
Advertisement
To take your foot measurement at home, tape a piece of paper to a type of flooring that's hard, like linoleum, hardwood, or tile. Put one foot on the paper and slightly bend the knees. Do this barefoot or in socks if the shoe requires them. Then, trace your foot outline onto the paper. Repeat with the other foot because, believe it or not, there is often variation in size between feet.
Here's how to figure out your shoe size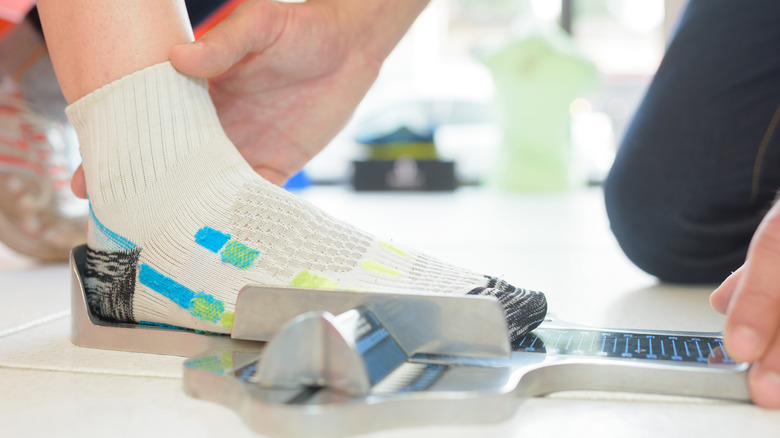 ALPA PROD/Shutterstock
Once the tracing portion is done, take the paper and mark the big toe and the heel at their furthest points. Then gauge with a measuring tape or ruler to find out the length of each foot. Do the same for the foot width at their widest points. When determining your size, use the measurements of the larger foot. It's always better for the shoe to be a bit too large rather than too small.
Advertisement
Next, refer to a legit chart like this one from Nike, which tells you how inches in length correlate with official U.S. shoe sizes. For example, a woman whose foot measures 9.3 inches in length would require a size seven shoe. Then, measure the width to determine if your foot is narrow, medium, or wide. For instance, Nike says that a woman with a size eight foot whose width is 3.9 inches requires a wide shoe to be comfortable. Once you've determined your U.S. shoe size, it's easy to figure out your international size options with the help of a chart or two.
Different types of international shoe sizes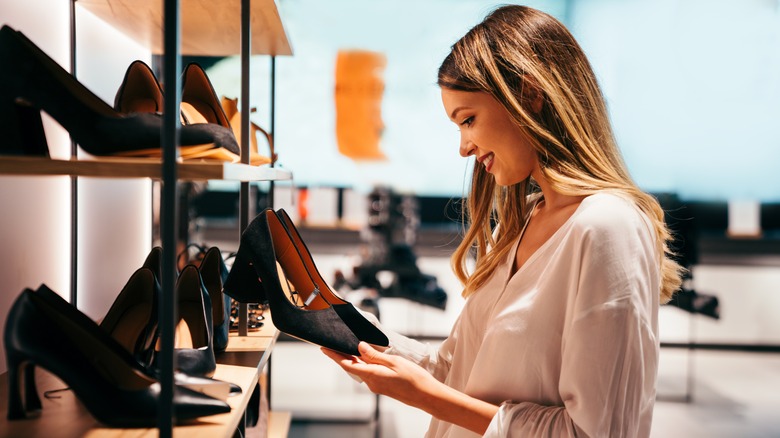 NDAB Creativity/Shutterstock
Some of the international shoe sizes are just different enough to be confusing. For example, a woman who wears a U.S. size seven should look for an Australian 7.5 or a U.K. size five, per Famous Footwear. Sizing systems in Japan, China, Europe, and Mexico are even more different. A U.S. women's size eight translates to 39.5 in China, 38.5 in Europe, a five in Mexico, and 24 in Japan, for example.
Advertisement
Here's a really cool calculator for people interested in U.S., Canadian, United Kingdom, Europe, and Australian shoe sizes. The Official International Shoe Size Conversion Chart is a huge help when converting shoe sizing in China, Europe, Mexico, Japan, and more. Whatever you do, don't take it for granted that the online shopping site you're using defaults to your area's sizing standard. With so many international retailers out there now, it can quickly turn into a shoe-buying fiasco, and nobody wants that.