Under-Eye Blush May Be The Secret To Banishing Dark Circles After All
Whether it's hereditary or because we've been up all night binge-watching a show on Netflix, dark circles are the bane of many of our existences. Sometimes, allergies or simply being dehydrated can cause dark discoloration under your eyes. While soothing our peepers with eye creams or a slice of cucumber may help with puffiness, the only way to erase dark circles is with concealer. 
Advertisement
With so many options out there, it's easy to find a concealer that suits your needs and skin type. Everything from cream to liquid to stick cover-ups is at your disposal. For under-eye circles, you will want heavier coverage, but overloading your face with makeup will just cause your face to look heavy and cakey. Enter a new trend — mixing blush with your concealer. Some of you may be asking, "Say, what? Why would we add color to our under-eye circles?" Read on, and you'll understand why this method works.
Applying pink blush counteracts green and blue hues under the eyes
A new TikTok trend has makeup lovers applying liquid blush right underneath their eyes to erase their dark circles. It may sound counterintuitive, but adding a bit of pink color to your concealer magically cancels out any green or blue shadows. This trick works because pink is a contrast color to green, therefore acting as a color corrector. First, apply foundation as you normally would. Next, place a dot of light to medium pink liquid blush right below the center of the eyes. Take your liquid or cream concealer and add a dab under the inner and outer corners of your eyes. Blend the colors with a brush or a sponge, and then use a powder to set the makeup. The results will be a lifted and airbrushed effect.
Advertisement
If your dark circles have a blue or purple hue, try a peach liquid blush instead. The only rule here is to use a matte blush with no shimmer. You don't want to highlight the under-eye area with sparkles. Use a light hand, but it's also okay if a bit of color peeks through. It'll add brightness underneath your eyes and give you a youthful glow.
Those with darker skin should stay away from pink blush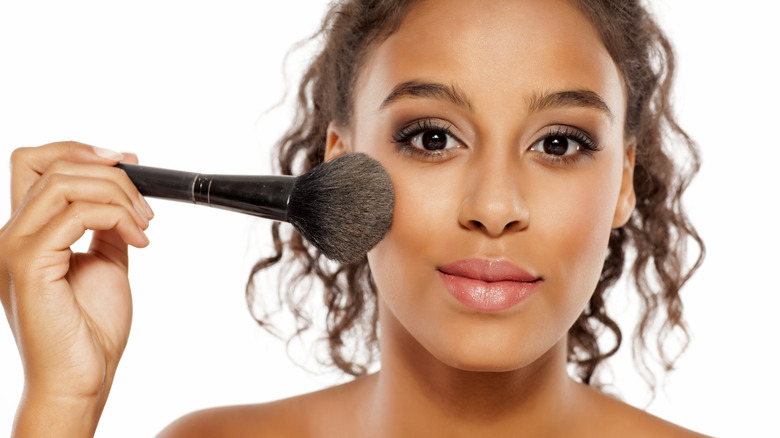 Vladimirfloyd/Getty Images
Light pink and peach shades are great for those with fair to medium skin tones, but if your skin is more olive or deep, you'll want to try orange or coral colors. Lighter tones will end up taking on a grayish hue, which is the opposite of what we want to achieve when we erase our dark circles. Orange and coral have enough pigment in them to show up on darker skin tones. They will also cancel out any blue and gray shadows underneath your eyes.
Advertisement
If you're not sure how bright you should go, try the color on your cheeks. If it shows up and gives you a glow, it's likely to be a great shade for under your eyes. Make sure your concealer is just one to two shades lighter than your skin tone. Any lighter, and you'll highlight your dark circles. If it's too dark, it'll create more shadows.
Add a drop of liquid blush to your concealer before foundation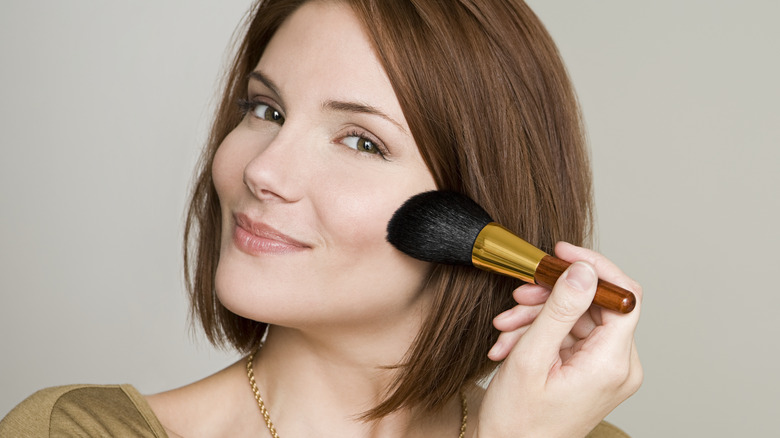 Image Source/Getty Images
For an airbrushed look, mix your liquid blush with your concealer and then apply it underneath the eyes. In this case, you already have a blended formula that acts as a color-correcting concealer. Blend the color down to the tops of your cheekbones, and then apply foundation over it. This method, which is called underpainting, gives you flawless coverage without making it apparent you've applied blush to your under-eye area.
Advertisement
After you've applied your base colors, set the makeup with powder. The baking technique works great to ensure the concealer doesn't crease throughout the day. Using a damp sponge, liberally apply translucent or banana loose powder below the eyes. Wait five to 10 minutes for the heat from your face to "bake" the makeup, and then lightly dust off the excess powder with a large brush. Your makeup will be flawless for hours. After you've finished this process, you can add more color to your face.
Bring your powdered blush way up past your cheekbones
How many of us learned to apply blush by smiling and sweeping some color on the apples of our cheeks? While this is a tried and true method, you don't have to stop there. Bring the blush past the top of your cheekbones so that it's kissing your under-eye area. The powdered blush will blend with your liquid blush-concealer combo and create a seamless look. Again, use a matte formula with absolutely no shimmer. Any hint of sheen will bring attention to fine lines. Be sure to use a pink or peach shade, as it will cancel out any dark shadows under the eyes.
Advertisement
While it may seem strange to apply blush underneath your eyes, doing so will give you a youthful, doll-like look. Additionally, you can dust some color over the bridge of your nose and blend it horizontally. You'll end up with a fresh, sun-kissed look without having to bake outside for hours.