The 5 Worst Oscars 2023 Looks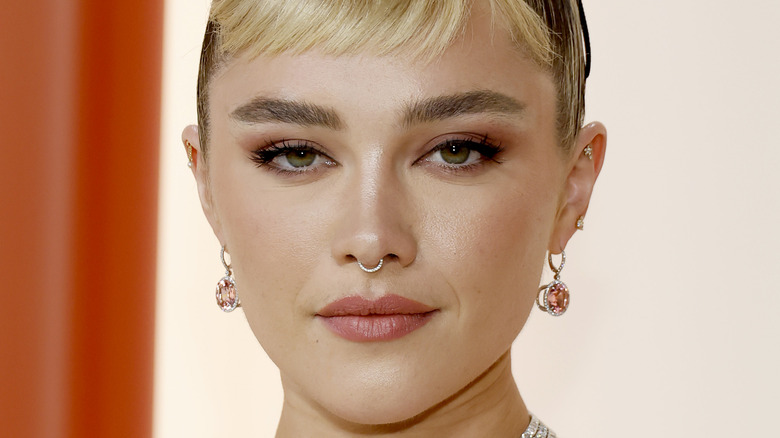 Mike Coppola/Getty Images
The 95th Academy Awards are upon us, and celebrities delivered dozens of eye-catching looks at Hollywood's Dolby Theatre. This year, things were done a little differently. Instead of the iconic red carpet that we know and love, event planners opted to switch things up with a champagne-colored walkway. For the first time in 62 years, stars were free to dress as they pleased without fear of clashing with the flooring's bright red hue. Of course, not everyone's outfits were executed as intended this evening, and it wouldn't be the Oscars without a few worst-dressed attendees.
Advertisement
From Barbara Streisand's translucent pantsuit mishap in 1969 to Billie Eilish's questionable black gown worn in 2022, even our favorite celebs can miss the mark when dressing for the Oscars. So who didn't quite pull off their vision at this year's Academy Awards? Without further ado, we present the five worst-dressed Oscars looks of 2023.
Allison Williams wore frumpy couture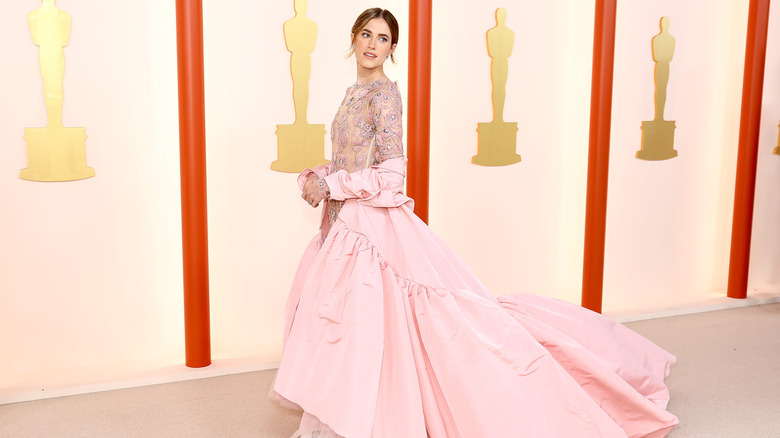 Arturo Holmes/Getty Images
Unfortunately, Allison Williams has earned a place at the top of our worst-dressed list for this year's Academy Awards. The "M3GAN" actor's Giambattista Valli haute couture gown sounds good enough on paper, with blushing pink hues and tasteful floral embellishments, but falls flat in person. It may have had something to do with the feathery white hem, a detail that felt discordant with the rest of the design. While the gown's bold sleeves and cape train appeared more frumpy than glamorous, Williams' fresh-faced makeup was her saving grace.
Advertisement
Alice Rohrwacher used a little too much sparkle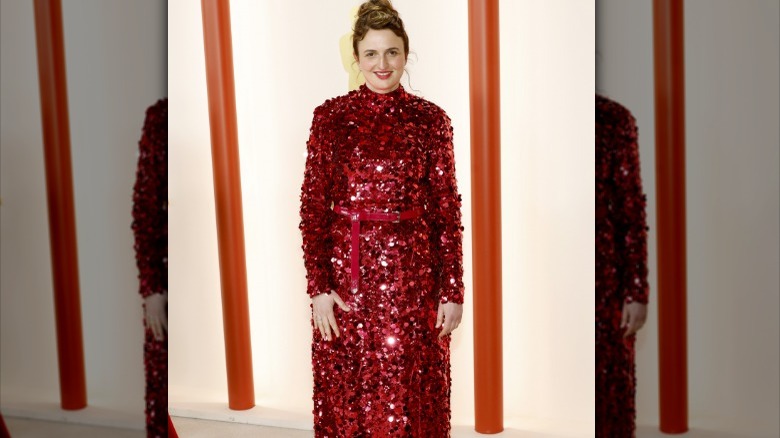 Mike Coppola/Getty Images
While we adore Italian film director Alice Rohrwacher's commitment to Studio 54-level glitz and glam, we can't say the same about the dress itself. For the 95th Academy Awards, the star donned a glittering red gown with oversized sequins and tasteful black pumps. Despite this outfit's incredible sparkle, it fell a bit flat on Rohrwacher. The loosely-tied patent leather belt felt out of place, and we would have liked to see her hair and makeup match its polish and intensity.
Advertisement
Lesley Paterson needed a little more tailoring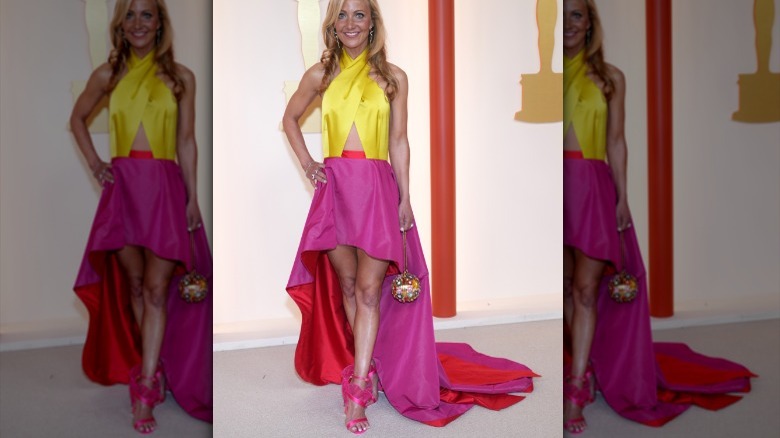 Kevin Mazur/Getty Images
Scottish triathlete Lesley Paterson is certainly catching everyone's eye at tonight's Oscars ceremony with her color-blocked outfit. We're certain that Paterson's striking high-low satin dress and hot pink footwear won't be forgotten anytime soon. Though we love the bottom half of this bright and playful look, the chartreuse halter top seems a little loose. Still, we've got to hand it to her — this is definitely one of the 95th Academy Awards' most interesting looks yet.
Advertisement
Zanna Roberts Rassi went wild with feathers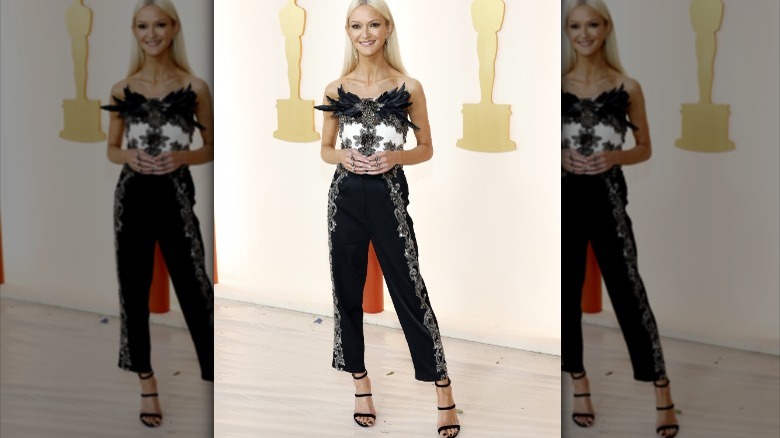 Mike Coppola/Getty Images
Although Zanna Roberts Rassi looked beautiful tonight, we wouldn't quite crown this look Oscars-worthy. The Milk makeup co-founder donned a feather-trimmed black pantsuit with Baroque jeweled trim, accessorizing with strappy heels to match. Pantsuits are always a brave choice; you need to get everything right to truly pull them off. Unfortunately, Roberts Rassi has gotten a lot wrong here, from the highwater hem to the unique, albeit bizarre, embellishments. If she had played it a little less safe with her hair and makeup, things might have gone differently for the stunning star.
Advertisement
Florence Pugh's hot pants didn't hit the haute couture mark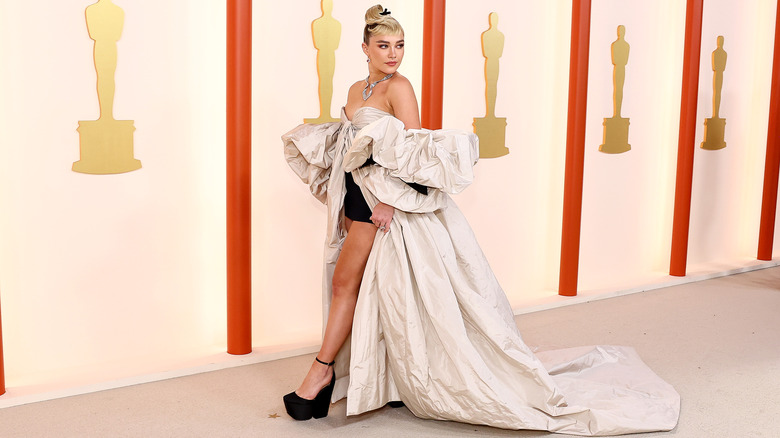 Arturo Holmes/Getty Images
Last year, Kristen Stewart managed to make shorts look chic at the 94th Oscars ceremony. However, we can't say the same for Florence Pugh at this year's event. The "Don't Worry Darling" star entered the 2023 Academy Awards in a low-cut Valentino Haute Couture gown that opened to reveal fitted black shorts and dramatically high heels. Despite the impeccable color matching of the gown to the champagne carpet, Pugh's overall look left something to be desired. However, we've got to commend Miss Flo for her outstanding hair — amid a sea of yawn-worthy hairstyles at the 2023 Oscars, Florence's sculptural updo stood out from the crowd.
Advertisement