Best Hair Trend Moments At The Oscars 2023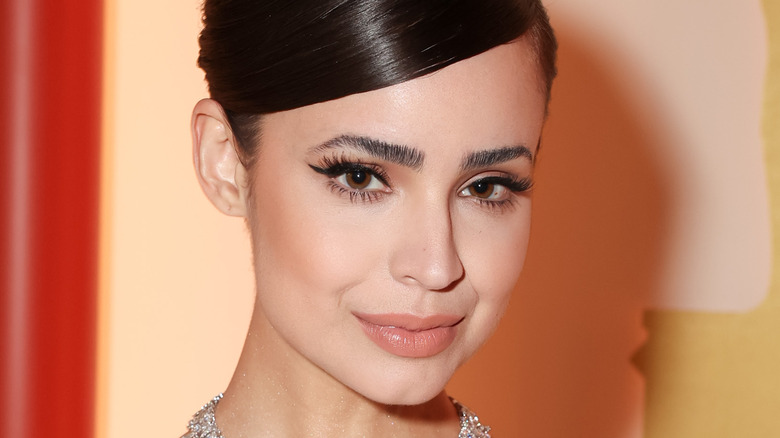 Jesse Grant/Getty Images
Some years, the Oscars red — or champagne — carpet is overflowing with hairstyles that push the envelope of fashion and spawn a series of inspired-by trends in the following months. In other years, the event's hairstyles reflect current mainstream trends rather than creating its own. The 2023 Academy Awards ceremony was definitely one of the latter. Very few took risks and most stars erred on the side of caution.
We saw many variations on long-trending buns, a few short pixie cuts, and a lot of center parts. There were a couple of surprises along the way, including a fun riff on faux bangs. If you're a hairstylist looking for the edgiest new looks to try out on your clients, this probably wasn't the event for you. If you're searching for a new super wearable cut or style for yourself, you're in the right place. Here are the hairstyles of the night that stood out the most.
Big, bouncing blowout curls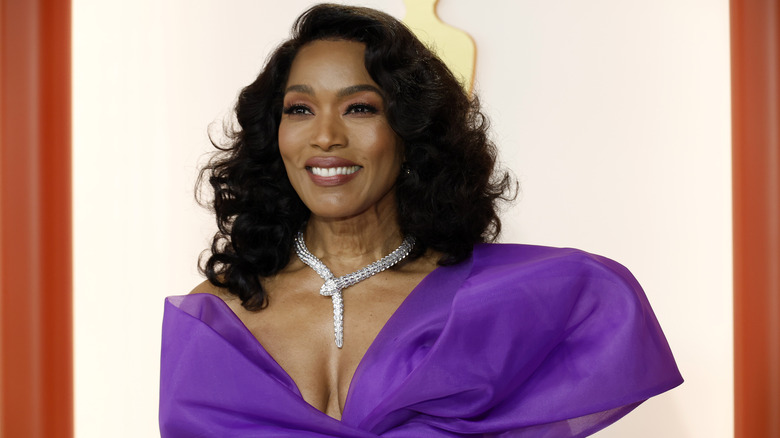 Mike Coppola/Getty Images
Angela Bassett wowed in soft, voluminous curls that perfectly framed her strong facial features. On a night when every hair out of place is sure to be photographed and posted far and wide online, a wavy or curly style is the most forgiving way to go. The more tousled, the better. If you'd like to try this look yourself at home, try popping Velcro rollers into hot, freshly blow-dried hair either by hand or with your air styler. Allow the hair to cool completely, then remove the rollers and spray with hairspray and/or texturizer. 
Florence Pugh's baby bangs rocked our world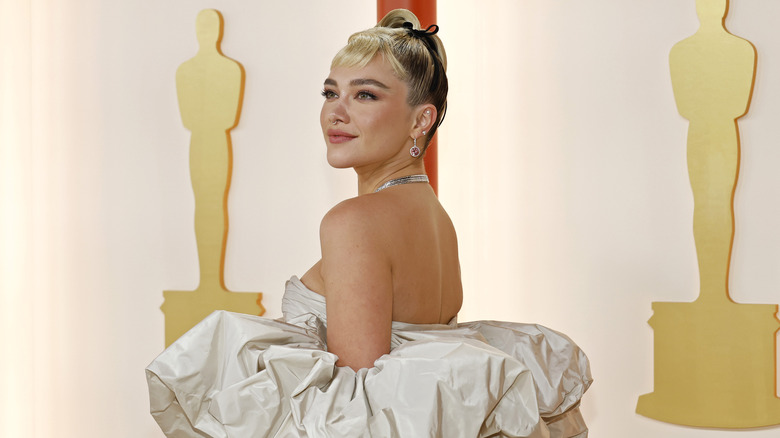 Mike Coppola/Getty Images
What better place to get creative with your hair than the champagne carpet? Florence Pugh gave it her all with a topsy-turvy curved bun that fanned out into faux bangs in the front. While this is a look almost certainly intended more for artful, high-fashion expression, that doesn't mean you can't give a similar style a try for your next fashionable event (or just for fun at home with your dog). Try a pomade rather than a gel or hairspray for a moldable hold that won't flake. 
Dani Gurira elevated the bubble bun to new heights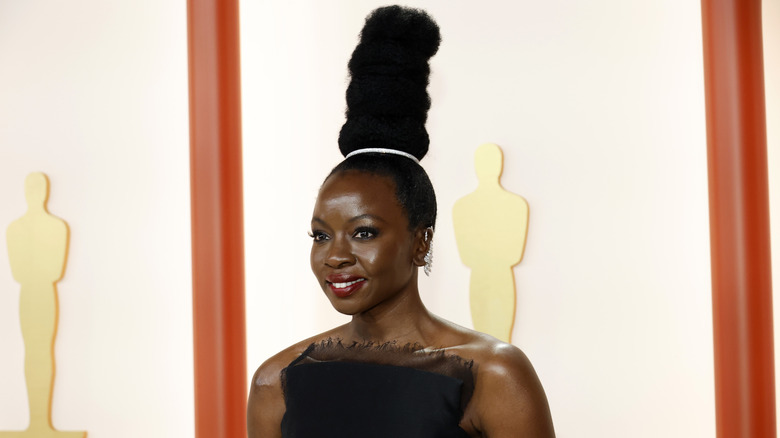 Mike Coppola/Getty Images
Danai Gurira channeled her inner Marge Simpson for the big event, wearing her hair in a stack of bubble buns that seemed to reach so many miles above her head that surely only an animated character could pull it off. While there is no arguing that her aesthetic was flawless, it's hard not to feel a little sorry for the person who ended up sitting behind her during the show while she pushed the high bun trend to its limits. Thankfully, all's fair in fashion when it comes to Oscars night. 
Ashley Graham embraced the return of Y2K hairstyles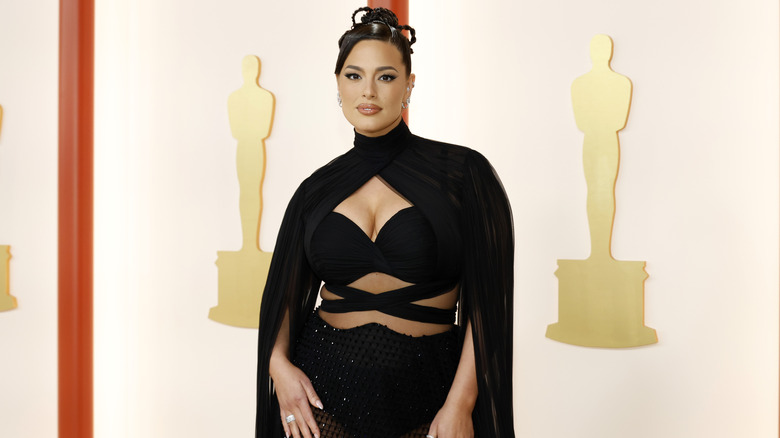 Mike Coppola/Getty Images
Women who wear braids and other protective styles in the workplace and other public spaces have dealt with being called unprofessional, unkempt, and unstylish for many decades. When a powerful, successful woman like Ashley Graham chooses braids for an event as widely televised as the Oscars, a statement is being made. Braids can be pulled into a unique bun like Graham's or twisted into any other type of updo you'd like. If you're struggling with having enough hair to pull off an artful braided look, there is no shame in adding in a little extra.
Sandra Oh's shag is worth a brag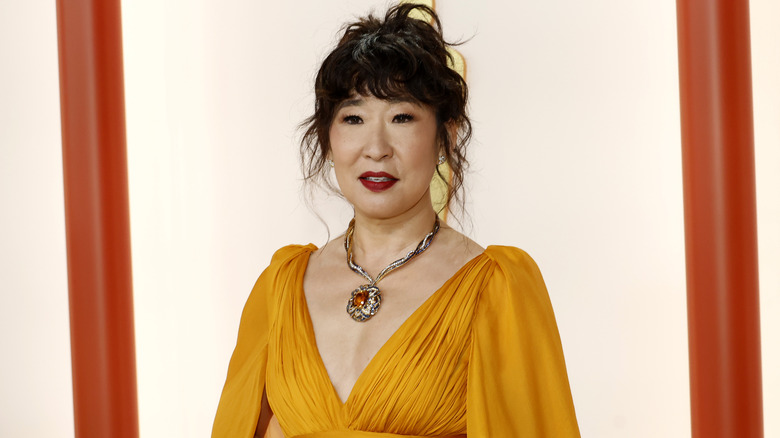 Mike Coppola/Getty Images
Buns are in, and so are loose, face-framing tendrils and shags. A messy bun literally can do no wrong when it comes to a high-pressure event. Since Sandra Oh historically embraces her natural waves, it's no surprise that she chose this low-maintenance, flexible style. If you're looking to match the superstar's level of effortless glam, pair your messy bun with some choppy bangs. Pluck out a few tendrils and let them flow loosely around your face to frame your features, then prepare to steal some hearts without even trying.
Cate Blanchett's slicked-back short shag is a dream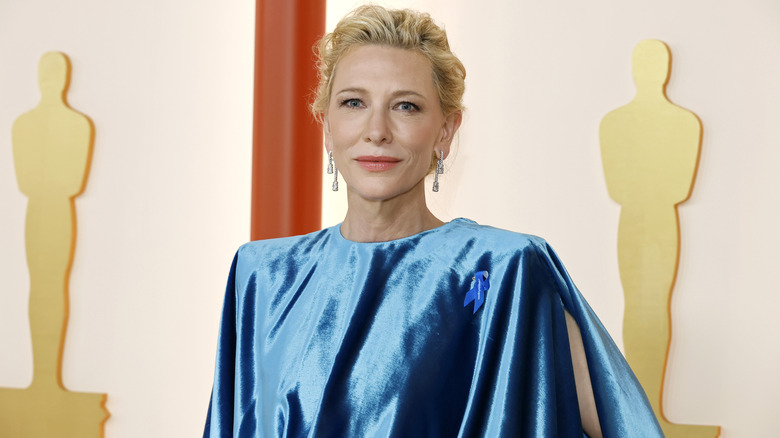 Mike Coppola/Getty Images
Cate Blanchett absolutely rocked a tousled, slicked-back hairstyle that allows for a ton of versatility. This loosely structured aesthetic allows for the best of both worlds, combining slickness with carefree waves. Better yet, this look can work with a low bun for longer hair or as a full-on style for a short cut. No matter which trend you're currently rocking, give a loosely tousled slick-back a try. Ditch the fine-toothed comb for this one and use your fingers and some styling wax to comb your hair away from your face. No need to strive for perfection. 
Michelle Williams' ever-trendy pixie cut has us seeing stars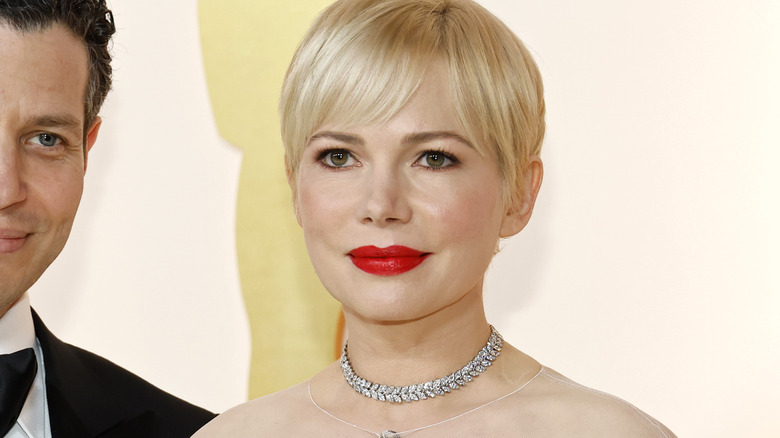 Mike Coppola/Getty Images
Short hair is once again having a moment and Michelle Williams is a perfect example of a woman who has rocked it unapologetically for years. If you've been going back and forth on whether or not to go through with a big chop, let this gorgeous star be your inspiration to go forward. A classic pixie cut allows for just enough face framing to accentuate your features but doesn't steal the show. Your makeup, accessories, and outfit will always shine when you're rocking a short haircut. 
Ariana Debose's low bun did the thing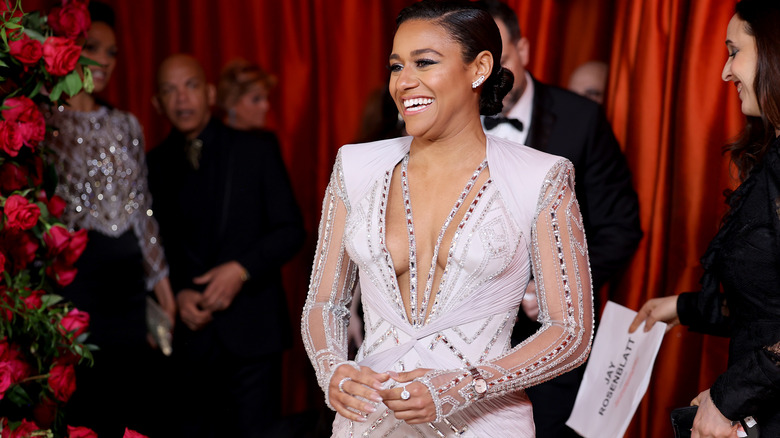 Mike Coppola/Getty Images
While slicked-back and center-parted buns make up most of the bun trend, they aren't the only iteration of the style resurfacing. Ariana Debose paired a simple low side-parted bun with her attention-grabbing strappy, structured, and shoulder-padded white geometric dress. Buns may be enjoying a moment in the mainstream right now, but they've always been revered by models because of the way they can put the attention of everyone squarely on the wearer's outfit. With a gorgeous dress like that, a more complex hairstyle would have been too much to process. 
Sleek and straight balayage framed Nicole Kidman effortlessly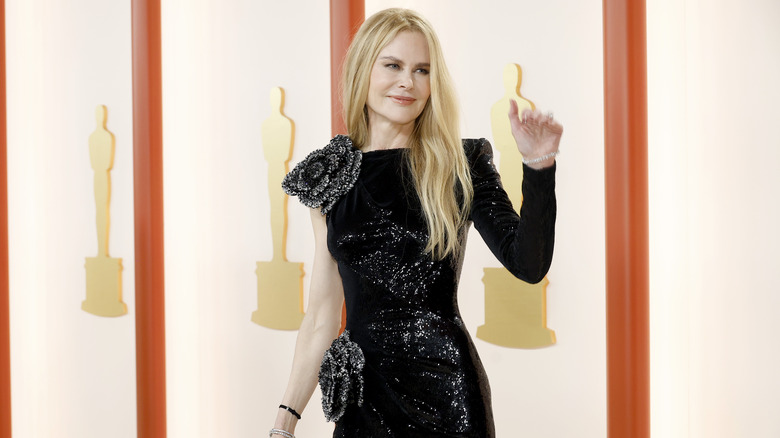 Mike Coppola/Getty Images
Nicole Kidman acted as the perfect example of a flawlessly executed strawberry blond balayage on the Oscars champagne carpet this year. Lightened hair with harsh root lines is way, way out. A balayage creates a gradual gradient, incorporating highlights and lowlights from the natural color at the roots to the lightest point at the ends. The look can be very subtle for someone with lighter roots like Kidman or more dramatic for those with naturally dark hair. If you've been bleaching and toning your entire head of hair for years, now is the time to switch to a gentler, lower-maintenance approach. 
Loose updos are hot in 2023, and Andie MacDowell is on fire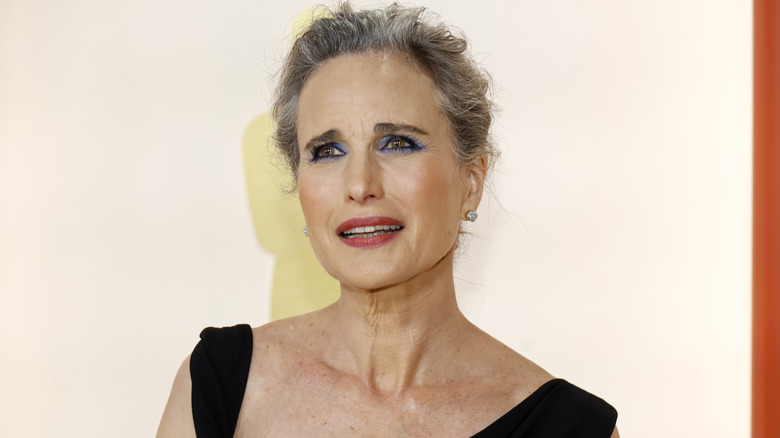 Mike Coppola/Getty Images
There is no more perfect example of graceful aging than the glowing beauty that is Andie MacDowell. If you've been struggling to grow out your own grays to the point where you can shamelessly rock them in all their glory, consider visiting a salon and asking the technician for herringbone highlights. The method is meant to help bridge the gap while gray hair grows using micro-highlights and lowlights placed irregularly throughout the hair to mimic the pattern of each person's natural gray growth.