Transition To Gray The Right Way With These Tried-And-True Methods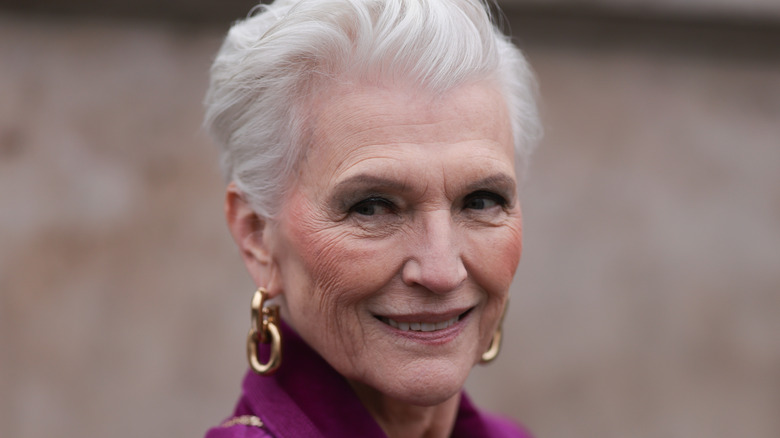 Jeremy Moeller/Getty Images
As a new generation of women is seeing their hair transition to gray, many are embracing their new silvery color instead of covering it up with hair dye. Going natural can give you a chance to stress less about regular dye maintenance, experiment with fun semi-permanent colors without bleach damage, and embrace your age as a marker of experience and knowledge instead of seeing it as something to hide.
Advertisement
Unfortunately, this process can be a bit awkward. If you've been dyeing your hair to cover grays, you've likely used permanent color specifically designed to penetrate notoriously stubborn silver strands. Because of this, the chances of your dye fading or washing out on its own are next to zero, leaving you with a harsh line of demarcation that shows exactly how long your hair has been dye free. Luckily, there are ways to ease this transition and ensure you love your locks, even during this interim period.
Refrain from root touch-ups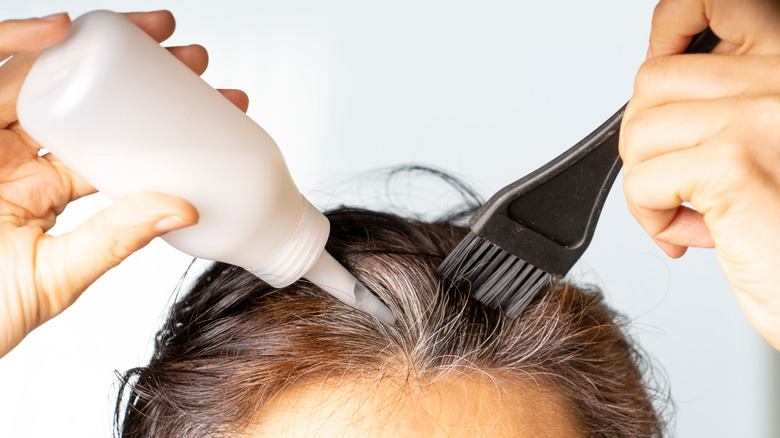 Veja/Shutterstock
The first step in the transition to gray seems simple, but it is undoubtedly the most challenging part of the process. It's time to stop touching up your hair, even if all you want to do is get rid of that sharp line of new growth. Reaching for the dye bottle or heading back into the salon will only bring you back to square one, so it's important to resist temptation if you're truly committed to the silver look. Just think of how easy it'll be once everything is grown out, and you can finally avoid the inconvenience of touch-ups for good.
Advertisement
If you want to cover the new growth during this awkward phase, you have a few temporary options. These can be a bit messy, but they're perfect for special occasions and events where you want to look your best without derailing your progress. Try a temporary root touch-up spray, hair chalk, or brush-in wand for a washable, non-color depositing option.
Have a bit of patience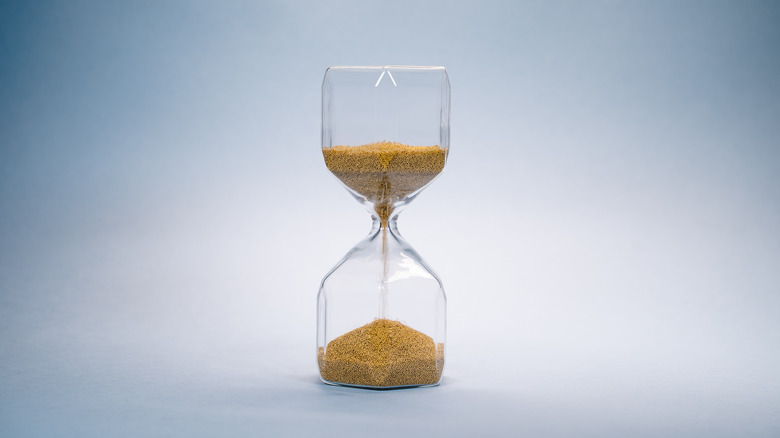 Tkachev Dmitry/Shutterstock
If you have shorter hair and want to maintain that style, you're in luck, but if you plan to keep your long locks, you're facing quite the wait. Hair grows, on average, 4 to 6 inches a year, depending on your strands' structure. Sometimes, it might feel like you're not making much progress, but try your best not to give in to the temptation to re-dye. For some added motivation, take a few progress pictures to remind yourself where you started. Hair grows so slowly that you likely won't notice a difference day-to-day, but looking back at photos from a few months ago can show your progress and keep you on the right track.
Advertisement
While the rate is pretty consistent across the board, you can do a few things to stimulate hair growth. One of the biggest is getting the necessary vitamins and minerals and practicing a healthier lifestyle, especially if you're facing any deficiencies in your diet. Over-the-counter growth treatments like minoxidil can also help increase your body's keratin production and reduce the impacts of hair loss, so it's worth looking into, especially if you've noticed thinning or damage over time.
Try out sliver highlights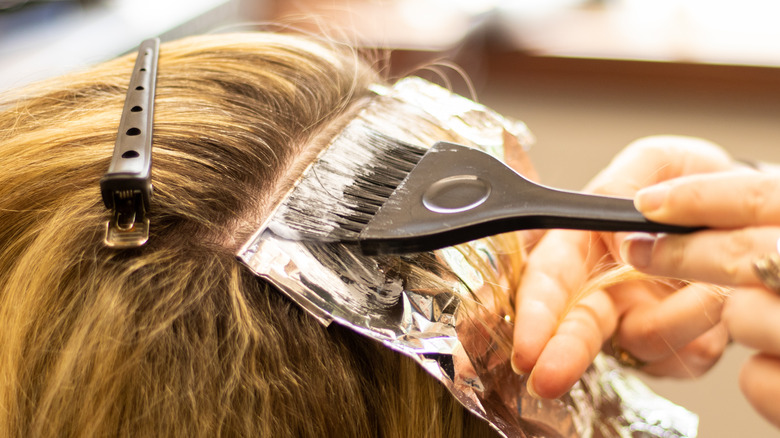 brlockwood/Shutterstock
Once you've hit your stride in the growth process, you have a few options for blending your dyed hair and your natural gray. One of the most natural-looking is adding gray highlights, especially if your base color is black or dark brown. This is one of the most difficult tasks to pull off in the cosmetology world, but if you can find a well-qualified colorist that's ready to take it on, it's one of the best ways to ease your transition, albeit a bit pricey.
Advertisement
Your hairstylist will likely use a combination of highlights and lowlights to give you an all-around dimensional salt-and-pepper look. This is especially helpful if you have certain areas with more noticeable gray streaks than others. They can incorporate these into your dye job to eliminate any annoying lines at the root. By melting the colors into one another, your color will grow more like a balayage than a singular band, leaving you with a look that seems intentional over time. 
Use color remover
Irine and Andrew/Shutterstock
This approach won't work for everyone, but in some situations, it's possible to use a color remover to strip the existing dye off of the ends of your hair. Before heading to the store and attempting this yourself, it's best to consult a hairstylist to see what's possible, given your hair history. Color removers are great for stripping off color without lightening your hair like bleach, but they don't interact well with certain dyes.
Advertisement
Color Oops, one of the most popular color stripping products, warns that their product won't work on direct-application dyes and bold, fashionable shades. You might think you're in the clear, but if you've been routinely using something notoriously difficult to remove, like black box dye, you'll likely still face some staining, especially if the product contains a blue base. Because of this, speaking to a professional is your best bet unless you're okay with being left with a surprising shade after you rinse out the product.  
Dye your hair gray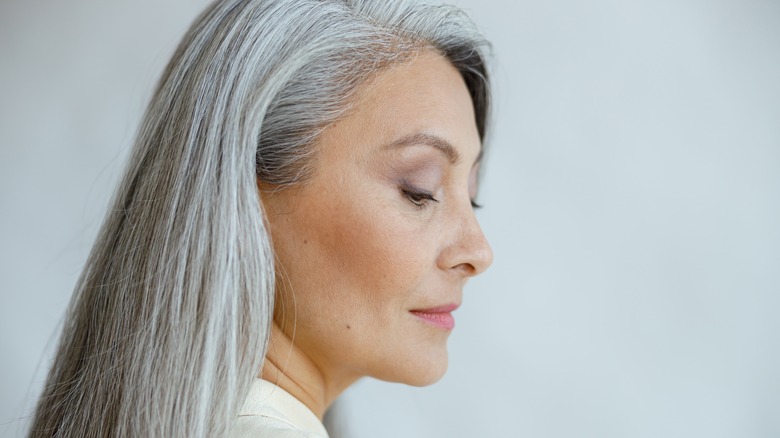 Yaroslav Astakhov/Shutterstock
Thanks to the recent ash blonde and silver trends, gray hair dye is much more commonly available on the market, both at home and in the salon. If you've been dyeing your hair a lighter shade to conceal your grays, like a warmer blonde or red, this could be an easy option to transition the rest of your head fully. However, if you've been dyeing your hair black or darker brown, an at-home kit likely won't work for you.
Advertisement
Most silver hair kits are designed for use on pre-bleached or naturally light hair, and while they may lift your color one or two shades, they won't bring you light enough to make much of a difference unless you're already close to your desired shade. The gray dye in these kits usually acts more like a toner — apply it on darker hair, and it will likely make your overall hair color a bit more cool-toned, but it won't magically transform your locks to a shimmery silver.
Allow your hair to go gray on its own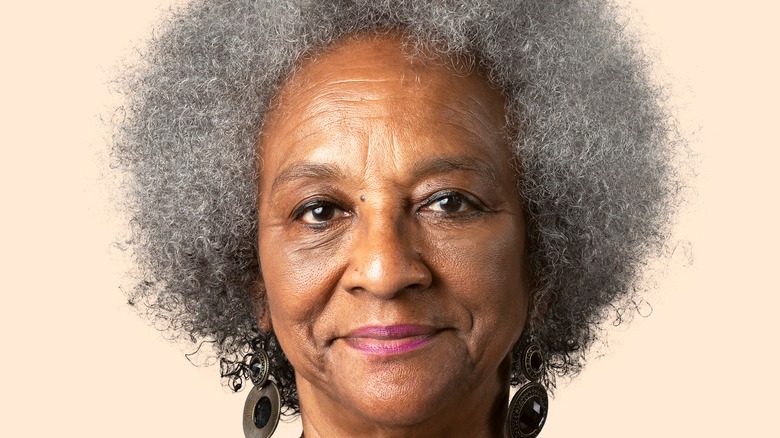 Rawpixel.com/Shutterstock
Choosing one of these previous methods to transition your hair from dyed to gray might make your look slightly less harsh overall. Still, if you're transitioning your color to avoid annoying maintenance, it's a bit counterintuitive. The easiest option, by far, is to rock your look while it grows out. It does take patience, but this is a normal process that many women go through, whether they're growing out of their gray or trying to get their hair back to its natural state after experimenting with color.
Advertisement
To speed up this process a bit, ensure you're still getting regular trims and treatments to maintain the health of your hair. Keeping everything moisturized, healthy, and free from split ends can help encourage growth and discourage breakage that travels up the hair shaft. If you're feeling bold, now's the perfect excuse to go for a big chop. Once your new growth reaches a length you're comfortable with, cut off the ends, and you'll be able to debut a new, fun style and an entirely gray mane.
Switch up your haircare products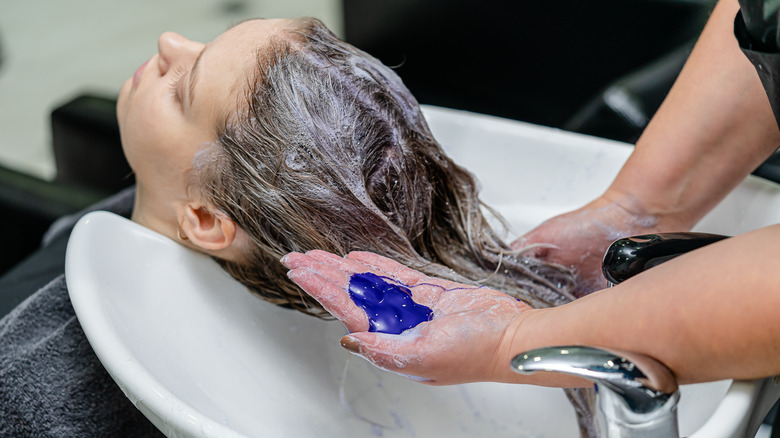 Tetiana Tychynska/Shutterstock
Once you've achieved total — or at least visible — gray, it's time to switch up your haircare routine. Just like light blonde, gray is prone to going brassy. To avoid this, incorporate purple or blue-toned shampoo or conditioner to keep up the look without adding any steps to your regular wash routine. You can also opt for a more traditional toner for a specific shade.
Advertisement
Purple-based toners are great if you plan to cancel out yellow, but you can also experiment with different colors, like pink, for a subtle but still colorful look. Gray hair also tends to be a bit coarser than other colors, so it could be a good idea to up your moisture levels with a weekly mask or the occasional gloss to keep everything supple and shiny. Growing out your gray is hard work, but no matter what method you choose, you can rest assured that you're about to enter a new, lower-maintenance era that gives you much more freedom with your look.