Liquid Vs. Pencil Eyeliner: Which Is Right For You?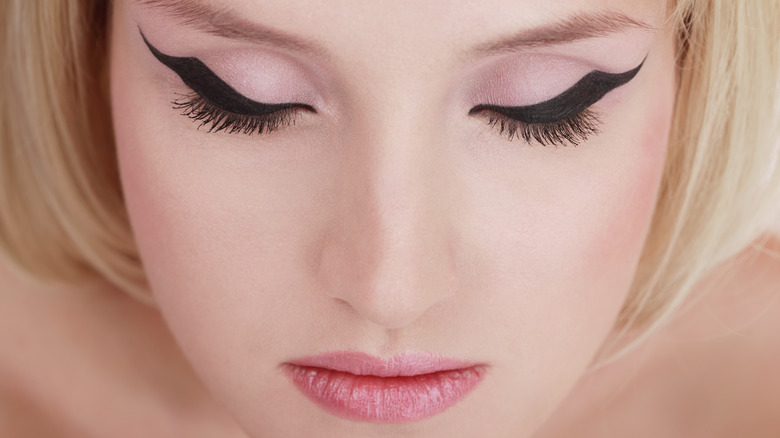 Olgaecat/Getty Images
We may receive a commission on purchases made from links.
Ask a makeup artist or enthusiast which makeup item has the potential to change your appearance most dramatically, and you are likely to have the answer be eyeliner. This product is used to line the eyes with color in order to bring attention to them. Depending on how it is applied, it can emphasize and highlight the eyes as your strongest facial feature, or it can change their shape.
From the time of Queen Nefertiti, this cosmetic item has been used for a variety of reasons, including beautification, staving off the harsh effects of the desert sun, and as spiritual protection against the evil eye. However, it was only in the 1960s that modern iterations of eyeliner became available for cosmetic usage. Ever since then, this product has been used in a variety of ways to create unique makeup looks.
However, it can be difficult for most people to figure out which type of eyeliner to use. The debate on using liquid versus pencil eyeliner has stumped many makeup lovers. Fortunately, with our guide, you can figure out which style of eyeliner will best suit your needs.
When should you use a liquid eyeliner?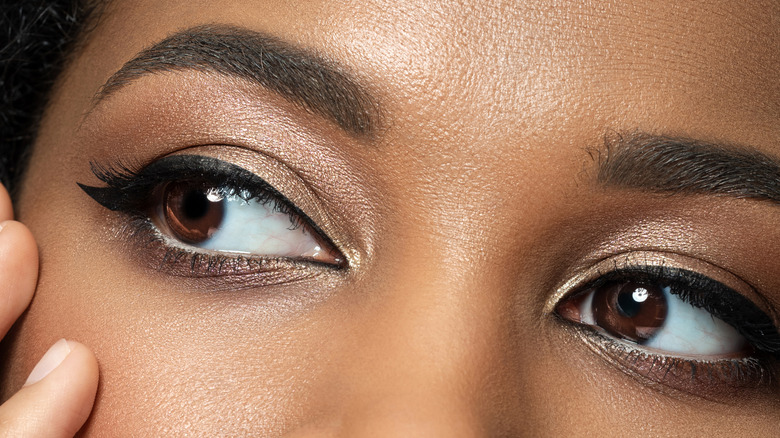 ldutko/Shutterstock
A liquid consistency is preferred by many for its smooth effect and deep intensity. However, it is easy to make mistakes while applying a liquid eyeliner which can be intimidating for beginners. As with everything in life, makeup, too, can be perfected only with practice. So, the more you wear it, the easier it will become for you to apply liquid eyeliner like a makeup pro. Once you have mastered its application, you can use it to make bold eyeliner looks such as cat eyes, sharp wings, and dramatic designs. 
Another advantage of liquid eyeliner is its longevity, especially when it belongs to the waterproof category. Furthermore, it can be easier to correct mistakes made while applying a liquid eyeliner as the product remains wet and pliable for longer.
Liquid eyeliner can also be layered with a pencil liner to create a graphic smokey eye. In this case, you should apply the pencil eyeliner on your eyelid and top it with a dark eyeshadow, before using a liquid eyeliner to line the eyes very close to the lash line for added intensity. There are many types of liquid eyeliners but felt tip eyeliners in particular are favored by many, as is evident from the results of a survey conducted by Dermstore in which nearly 50% of respondents preferred this type of liner for everyday use.
When should you use pencil eyeliner?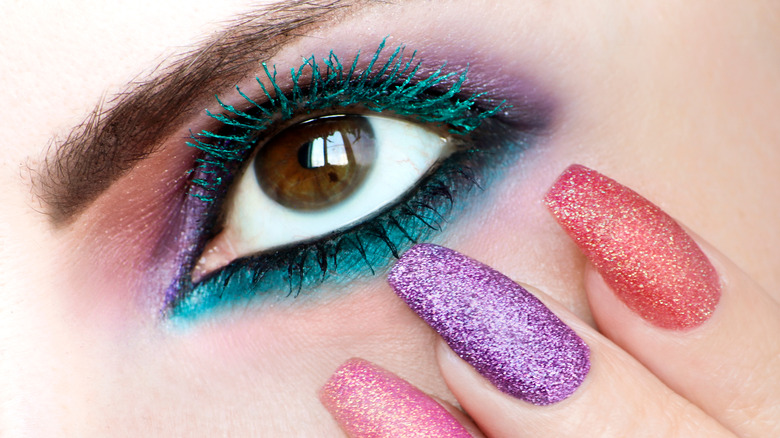 marigo20/Shutterstock
Apart from being beginner-friendly and easy-to-use makeup items, pencil eyeliners are also extremely versatile. They are, therefore, valued additions to every makeup kit. Pencil liners are similar to regular pencils in that some are wooden and need frequent sharpening while others come in a twist-up pencil format. Unlike their liquid or gel eyeliner counterparts, pencil eyeliners won't dry out quickly or perform badly.
Pencil eyeliners are easy to maneuver and result in natural-looking and clean lines, which can range from being very fine to very bold. They can also be effortlessly smudged out to achieve a seductive and smokey makeup look. Pencil liners are ideal for lining the waterline of the eye, which can make the eyes look bigger or smaller as per one's preference. Colored pencil eyeliners are another fun way to add a pop to your makeup look without putting in too much effort.
Ultimately, both liquid and pencil eyeliners have their advantages and disadvantages. You should choose the format that works for you according to your personal preference. It is prudent to keep both these products handy in your makeup collection, so you can pull out the one you need on any given day depending on the look you want to create.