The Household Tool That Will Prevent Lipstick Feathering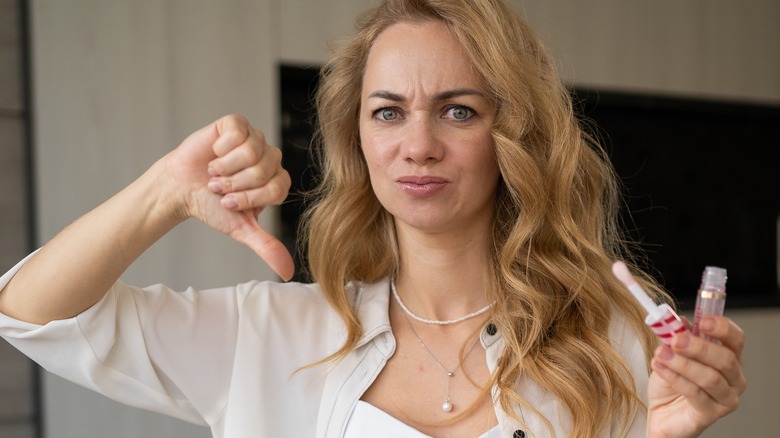 Lysenko Andrii/Shutterstock
Nothing ruins a look quite like lipstick feathering, also known as bleeding. For some people, no matter how painstakingly they apply the tube, the product simply melts off of the mouth and moves outside the natural lip line. There they settle into the fine lines and wrinkles in the area. This is a very Joker-esque look, and we are not here for it.
Lipstick feathering tends to happen more frequently to people with dehydrated lips. Wrinkles and fine lines in the area make matters worse, so this is an issue that people with more mature lips typically have to deal with. There are some steps to take to minimize the problem, though. Unsurprisingly, this has to do with reversing the issue of dehydration by applying an intense hydrator, like eye cream, to the area around the lip every night. Then, top it off with lip balm, vaseline, or another similar product to lock in the added moisture. This should hopefully minimize the appearance of those pesky fine lines and wrinkles. However, another common beauty tool can improve that pout even further.
Here's how a makeup brush can minimize feathering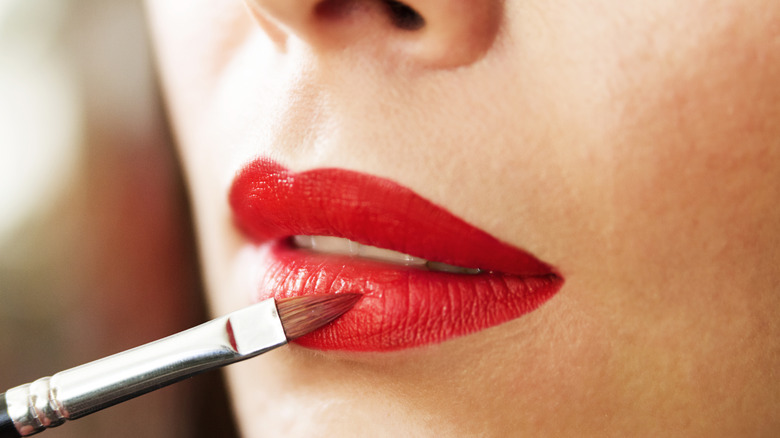 Lokisurina/Getty Images
Sometimes, all it takes is a tiny hack or two to stop an annoying makeup gaffe like feathering. Makeup artist Gucci Westman told Coveteur that the first secret to keeping lipstick from bleeding is to apply the color with a makeup brush rather than using the tube itself. This, Westman says, allows the user to exercise better and more delicate control. Westman suggests using a small brush to touch up the area around the lips with foundation. This will prevent feathering altogether. Just be sure to use a cotton swab to blend the foundation.
Feathering is more likely to occur with certain types of lip products. For example, bold, bright colors or high-shine products are the most typical offenders because their consistency makes them bleed more readily, and the really big colors just show up more than their nude counterparts. A satin-finish lipstick in a formula that's designed to be worn for long periods is likely to yield better results.
Other tips to stop feathering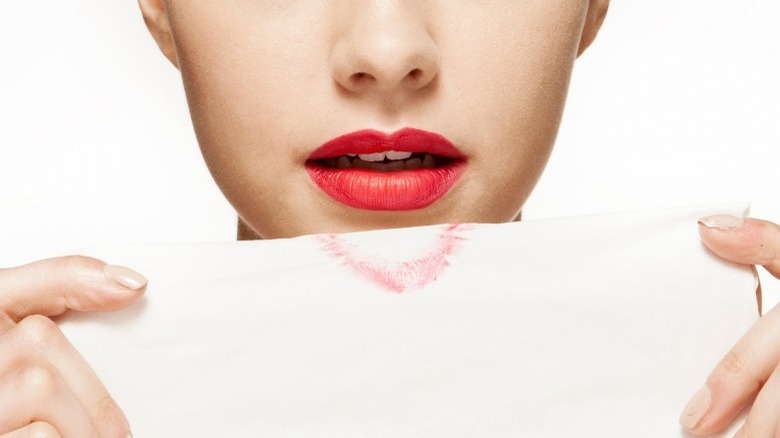 KOTOIMAGES/Shutterstock
Primers are common in cosmetics to keep products like eyeshadow and foundation firmly in place. So why not employ this amazing product on the lips as well? Pick a primer or hydrating concealer, and apply it in a thin layer to the lips. Make sure the lips are well moisturized to prevent cracking. Apply lipstick on top and enjoy the luxury of going longer between applications, with feathering eliminated. For added security, use a lip-lining pencil on top of the concealer.
Also, never underestimate the importance of the blot. Apply a layer of lipstick, then blot with a tissue. Repeat as needed until the color is fully realized. This will keep the outer sections from becoming overly saturated, thus prone to bleeding. For good measure, apply a translucent powder with a sparing hand to the area around the mouth. This will absorb any oils that threaten to draw the color outside the lipline.