One Reason You Might Want To Avoid Wearing A Bodysuit With Leggings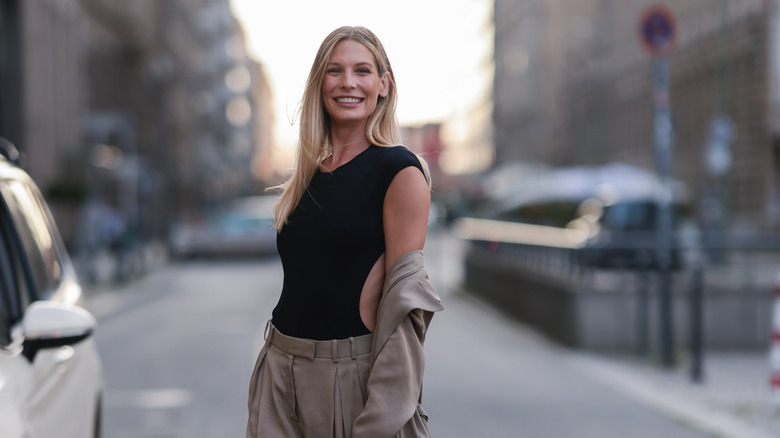 Jeremy Moeller/Getty Images
Bodysuits were not invented by the Kardashians, but one member of the family sure has built her own shapewear empire. In 2019, Kim Kardashian co-founded SKIMS, a one-stop shopping destination for bodysuits of various forms and styles. The Kardashian sisters sure do love to rock these form-fitting onesies, and hey, they aren't the only ones.
According to Startup Fashion, bodysuits owe their origin to gymnastics and ballet style. Maillots, or leotards, were invented in the 19th century by French gymnast Jules Leotard. In the years since, the garment has seen a number of changes, going from practical athletic apparel to a versatile must-have item.
A skin-tight garment that covers the torso and the groin area (and sometimes the arms and legs), a bodysuit provides support to the outer garment and allows for a smooth tucked-in for comfortable and easy styling — like a second-skin layer. This base layer is also helpful in trapping heat and keeping the body warm on colder days. Plus, a bodysuit doesn't require an undergarment underneath and comes with a snap-button closure at the crotch, which makes it even more convenient to wear. A bodysuit can be worn with basically anything, including jeans, slacks, skirts, and shorts. That said, there's one item that you probably shouldn't put over a bodysuit: leggings. Although both leggings and bodysuit are skin-tight garments that feel ultra-smooth, they are far from an ideal pairing.
Bodysuit and leggings equal camel toe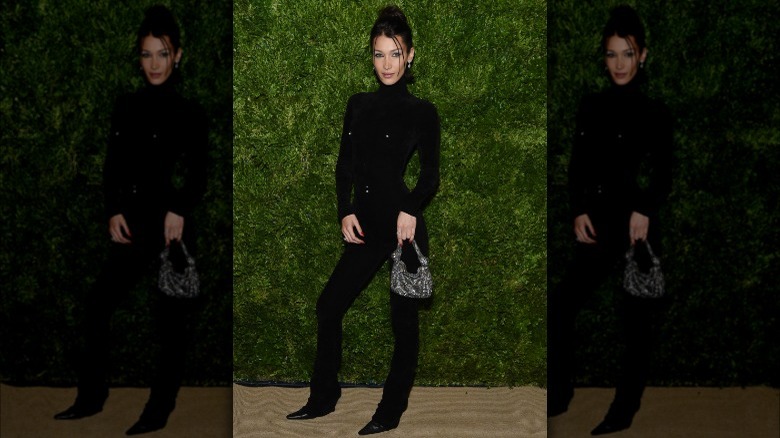 Jamie Mccarthy/Getty Images
Putting leggings, which are also quite snug and figure-hugging, over a bodysuit may create a result that's more revealing than you'd like. To put it bluntly, there could be some camel toe and a lot of panty line on display. And if your leggings are a bright color and your bodysuit is of a dark shade? The VPL is all but guaranteed.
If you're dying to go for the Catwoman look, put the leggings away and go for a bodysuit that has full-length pant legs, like the one by Alexander Wang that Bella Hadid wore to the CFDAs in 2019. There are a lot of materials to choose from, with the style set ranging from spandex for maximum comfort in movement to leather for a striking, comic-book villain vibe. Such a body-shaping suit can give you a toning, hourglass effect without the added stress of VPL. Skin-tight garments and boots are a match made in heaven, so don't hesitate to reach for a pair of classic Chelsea boots or statement thigh-high boots. You've got yourself a real MVP look that doesn't require additional styling. To dress up your bodysuit, throw on a blazer and a pencil miniskirt and trade out the boots with pumps. 
What to wear with bodysuit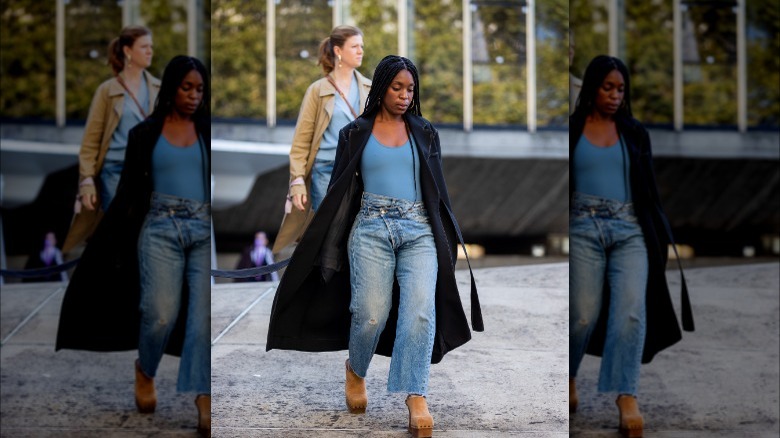 Christian Vierig/Getty Images
As far as styling goes, you can wear a bodysuit with basically anything other than leggings. A pair of jeans is a foolproof addition to a bodysuit, especially blue jeans that flare out at the ankle or baggy jeans that hit the midriff. Jeans with a bodysuit is not only flattering, but is such a laid-back, effortlessly cool aesthetic. This combo styled with a pair of trainers or loafers is legit jeans outfit inspiration for a grab-and-go look. On colder days or when you're going to work, you can throw on a blazer or a leather jacket for an elevated combination fit for going in and out of the office. Denim shorts are also a great option for bodysuit if you're going for a casual, sporty look. 
Another great way to style a bodysuit? A skirt of any length. Bodysuits are great coupled with skirts of any design and material, whether they are made of sequins, faux leather, or both. Quite frankly, a form-fitting skirt paired with a skin-tight bodysuit is #OOTD goal. For a more refined look, reach for a pair of pumps or ballerina flats and put on a blazer.