Contour Novices May Want To Try Nontouring To Highlight Their Features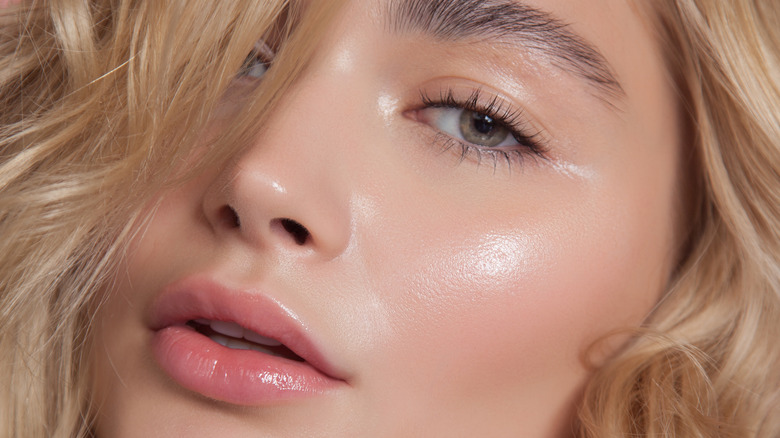 Nelia L/Shutterstock
Contouring tutorials are all over TikTok and Instagram, but the plethora of information can cause makeup newbies' heads to spin. It's hard enough to master concealer and foundation, but contouring requires a basic level of understanding of facial planes, shadows, and light. There are certain areas we want to make recede on our faces, such as the area underneath our cheekbones, jawline, and perhaps the sides of our noses. To do that, we have to create shadows in those areas using concealer a few shades darker than our skin tone. 
Advertisement
The features we want to draw out are the tops of our cheekbones, the bridge of our noses, and the center of our foreheads. We can do that by applying a lighter concealer on the peaks of our faces. Then, it's all about blending the colors just enough, but not so much that everything blurs together. Adding contouring to your daily makeup regimen may not be practical for many. It takes time and a lot of practice to get just right. A heavily contoured face also doesn't look so natural in broad daylight. Enter nontouring, a much easier and softer alternative to getting that chiseled face.
Nontouring is all about looking glowy from within
While contouring requires layers and layers of makeup, nontouring is all about letting your natural skin shine through. Unlike contouring, which leaves you with a heavily finished baked look, nontouring is about looking soft and dewy. You'll need just a few products to illuminate the areas you want to highlight. First, prep the skin with a hydrating toner and moisturizer. Next, use an illuminating primer to blur your pores. Avoid using mattifying primers, as you'll want to keep your skin glowing. Even out your skin with concealer and a light coat of liquid foundation or tinted moisturizer.
Advertisement
Now for the nontouring: Using a liquid or cream highlighter, dab a few dots onto the apples of your cheeks and the high part of your cheekbones. Blend the highlighter by tapping lightly with your ring finger. Add some to the high planes of your forehead and the bridge of your nose. For extra oomph, highlight your browbone, cupid's bow, and the tip of your nose. Because this look is all about the glow, you can skip the setting powder. If you tend to get oily, lightly brush on some highlighting powder for the perfect luminous finish.
Keep the rest of your makeup in theme with your nontouring
Now that your face is illuminated with your nontouring skills, you'll want to finish the rest of your makeup with a soft, natural look. Fill in any sparse areas of your eyebrows with a powder and a stiff, angled brush. Brush any stray hairs into place with a spoolie and a setting gel. Accentuate your eyes with a swipe of pink or peach shadow on your lids and a medium brown shade in your crease for definition. You won't want to go too smokey with your eyes, so skip the heavy liner with the nontouring look. Add a couple of coats of mascara to the top and bottom lashes to finish off your eyes.
Advertisement
You can either leave your cheeks bare to let your nontouring shine through or if you want to add some color, dab a few dots of liquid blush on the apples of your cheeks. For your lips, add a light pink gloss with a slight shimmer, and your pretty daytime makeup is complete.