The Skinny Tie Revival Signals A Full-Circle Moment For Uniform-Chic Dressing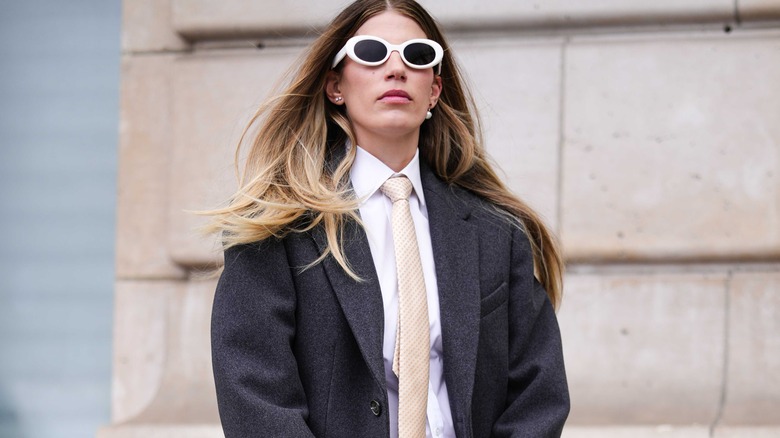 Edward Berthelot/Getty Images
In 2016, GQ declared that the skinny tie era isn't dead despite all signs to the contrary. In their defense of the trend, they noted its rich 1960s history and how it pairs well with narrow lapels. Still, they were not blind to the direction the industry was moving in. While disrupting other fashion norms, red carpets of the time were fiercely loyal to the wide tie. The accessory was only getting wider. 
Advertisement
While fashion trends are ever-changing, the industry is consistent in one thing — its inconsistency. Just seven years after GQ reported on J. Crew's abandonment of the skinny tie, the style is back with a vengeance. These thin scraps of fabric have been making a splash on 2023's runways and red carpets. First, it was the return of the Y2K skinny scarf, and now it's the skinny tie. We can't get enough of dainty decorations. 
While this can be seen as a return to old fashion trends, the latest takes on the skinny tie have found a way to completely revolutionize the look. Here is some inspiration and some high-profile influences to keep in mind as you consider investing. 
The skinny tie has returned to red carpets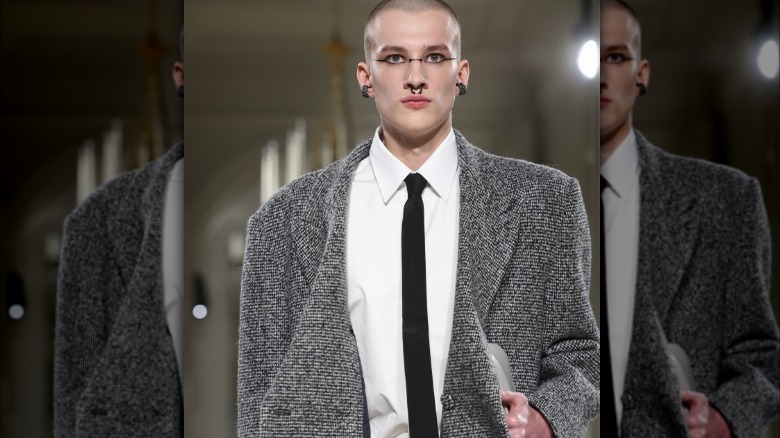 Pascal Le Segretain/Getty Images
Right now, your skinny tie fashion mood board may just be throwback photos of your dad. Fortunately, Valentino's 2023 fashion showcase has endless options to revamp your vision of what these ties can do. Pierpaolo Piccioli took over the brand in 2016 — right when the skinny tie was declared dead. Now, in a subversion of expectations, he styled models in endless renditions of the trend, meaning you could be rocking a new skinny tie look every day of the week. 
Advertisement
The skinny tie creates a uniform feeling
The simple, sleek look of a skinny tie gives it the impression of youth and dressed-down formal wear. Pairing the piece with a monochromatic outfit can create the impression of a "uniform," playing on themes of strict school codes or dystopian dressing trends. 
Advertisement
It has reappeared in professional wear
While the '70s and '80s embraced wide ties (to match their broad-shouldered, oversized blazers), many working professionals have returned to the restrained, skinny tie look. As a general rule of thumb, your tie should be narrower than your lapels. If you favor a modern, slim fit in your dress shirts, the skinny tie may be perfect for you. 
Advertisement
Designers have adopted it for streetwear

Pascal Le Segretain/Getty Images
While the skinny tie has muscled its way back into professional spaces, clever pairings and new styles have also helped to welcome it into the streetwear scene and everyday outfits. After all, a subtle, small tie allows other parts of your outfit to shine. Pairing it with bold patterns and oversized pieces adds a classy layer to a typical fit. 
Advertisement
Some pair the tie with other formal wear
Do you want your outfit to play into masculine or feminine gender norms? Why not both? The skinny tie's subtle presence and ability to be cohesively "tied" into any outfit means that you don't have to choose. On 2023 runways, we saw it under models' blouses, and on everyday people, we're seeing them paired with various cardigans and tops for perfectly seasonal looks.
Advertisement
Celebrities brought the look to the Oscars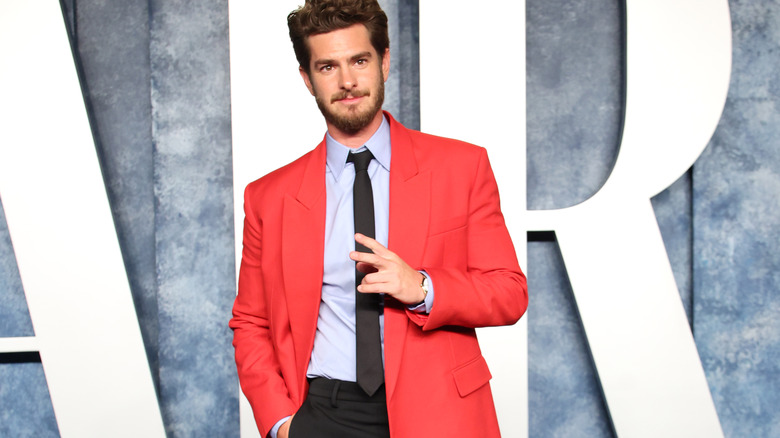 Daniele Venturelli/Getty Images
Of course, high fashion runways are often years ahead of the general public's embrace of trends. Fortunately, the skinny tie has already broken into the wardrobes of everyday fashion icons. At Vanity Fair's Oscars afterparty, Andrew Garfield boldly rocked the trend. Though it's much skinnier than a superhero cape, the Marvel star proved that the classic look is back and better than ever. Frankly, we're ready for the skinny tie to have us back in its chokehold. 
Advertisement