Chic Ways To Tie A Sweater To Make Your Outfit Look Intentional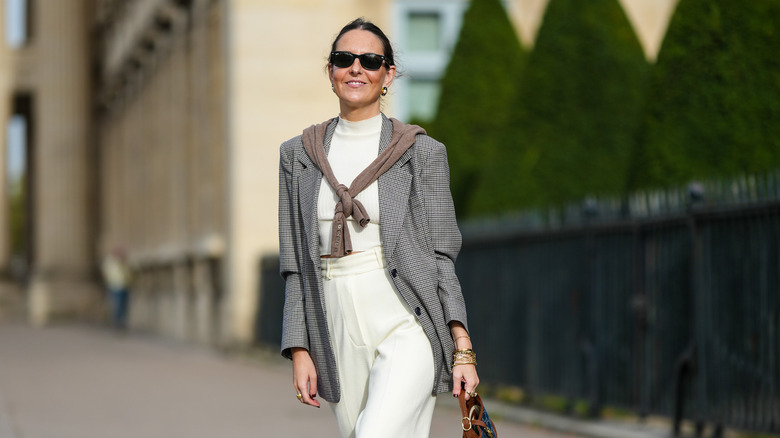 Edward Berthelot/Getty Images
If there's one thing we've learned about fashion, it's that anything can turn into a trend. Many trends only last a season, while others stick around for the long haul. One of the recent comebacks we've seen pick up steam is the tied sweater trend. If you're a social media fan, you've likely seen how fashion influencers and street style icons are loving the simple styling hack of tying their sweater instead of wearing it. While it doesn't require much effort, it can take instantly your outfit from plain to chic.
Advertisement
The trick is simple — tie your sweater around your shoulders, and you'll immediately look ready for a day trip in the Hamptons. However, there is more than one way to tie your sweater to make your outfit pop. You want to be careful with tying your sweater correctly since a styling misstep can start to give "toddler at the park" vibes. To make this chic and elegant, your tied sweater needs to look on purpose rather than as an afterthought. Thankfully, pulling this off is just a matter of a few styling tweaks that will completely elevate your look.
Keep it casual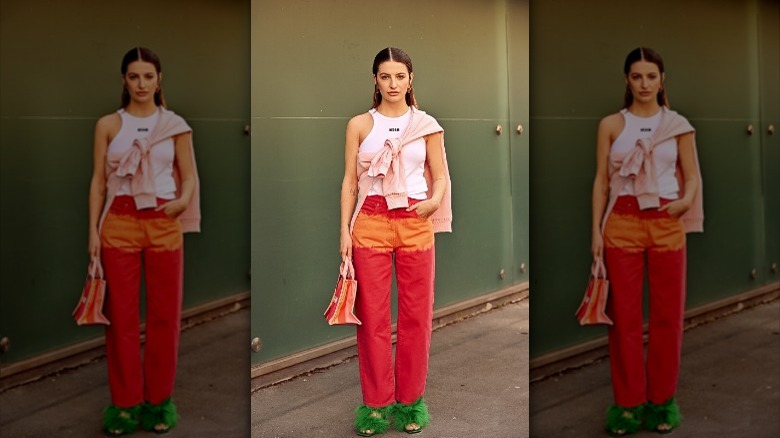 Raimonda Kulikauskiene/Getty Images
Just because this hack will help elevate your look, it doesn't mean you can't pair it with a more casual outfit. If you want to add a bit of fashion to your everyday look, simply throw your favorite athleisure sweater over a pair of sweatpants and a tank top for a chic street-style look. Keeping it understated helps give you a modern, retro look that gives all the '90s vibes with some added chicness. Don't overthink it too much, rather simply tie your sweater either around your shoulders or across your body for the ultimate cool girl outfit.
Advertisement
A striking pop of color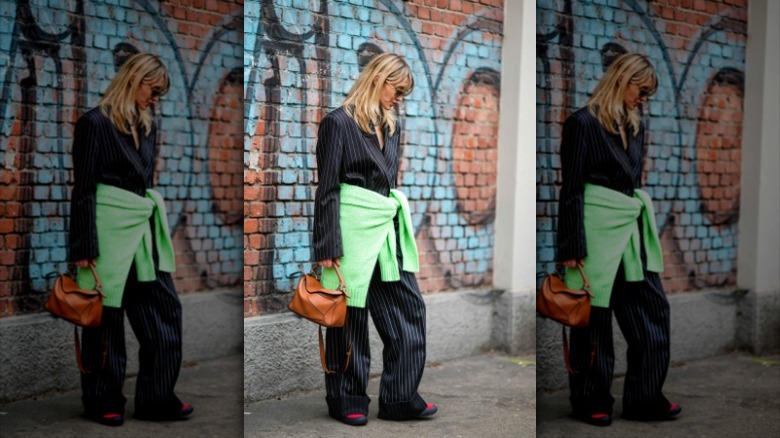 Edward Berthelot/Getty Images
A tied sweater can easily turn into a fabulous accessory piece for your outfit. As with other accessories, use this piece to create an unexpected pop of color. Sometimes, even chic neutral outfits need an extra bold hue to elevate the look and create some interest. Choose one of the trending colors of the season to add a punch of newness to your ensemble without having to fully commit to a vibrant piece.
Advertisement
Make it understated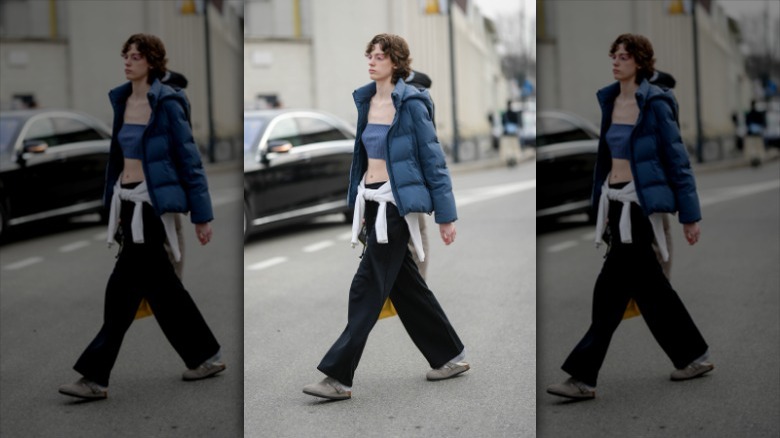 Edward Berthelot/Getty Images
Let's face it, we don't always have the time to plan out and execute an outfit. As much as we would like, most of our choices have to be made in a flash. The beauty behind this styling trick is that you can simply tie a sweater around your waist and it automatically will look like you spent all morning picking out your outfit. Pair it with other subtle trends, like baggy pants and tops that show your midriff for the ultimate Y2K outfit. Keep your outfit understated for a laidback look.
Advertisement
Play with colors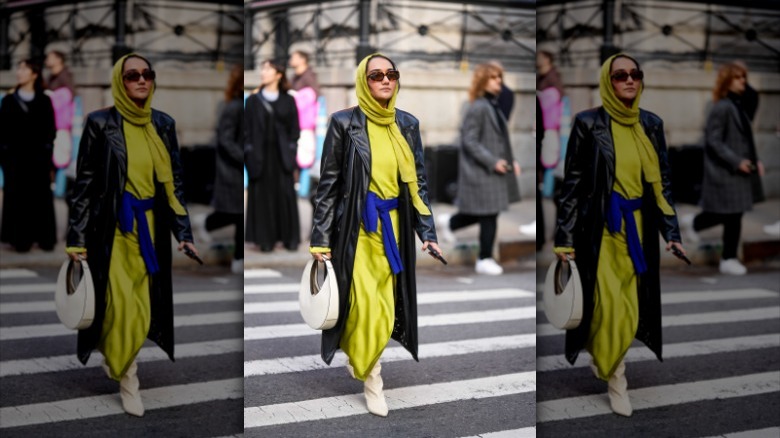 Edward Berthelot/Getty Images
Although your tied sweater can offer the perfect pop of color, you can also use it as a way to embrace an already boldly colored look. Embrace the dopamine dressing trend by outfitting yourself with some vibrant hues that will have you lighting up the streets. Pop on your tied sweater around your waist as a chic and casual belt for some extra color. Nothing pairs better with vibrant hues than other vibrant hues.
Advertisement
The bigger the better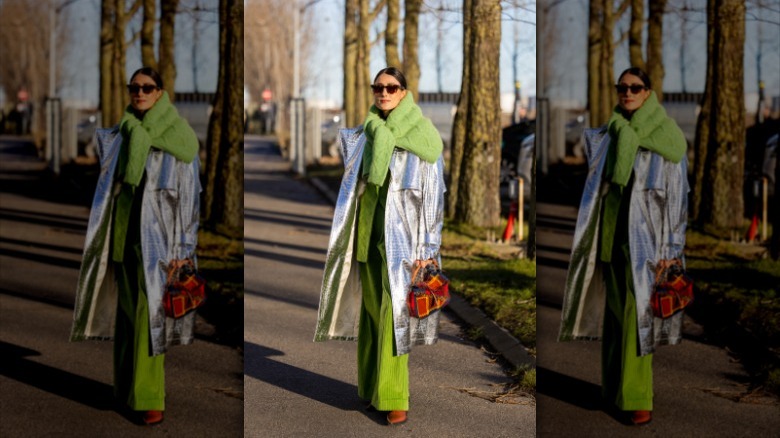 Christian Vierig/Getty Images
You don't need to stick to your lightweight sweater when it comes to tying it around your body. Even your chunky, thick sweater can get in on this fun trend. Try popping your favorite cozy knit over your shoulders to create your scarf. Recently, we saw how exaggerated scarves have become a fun fashion trend that can also keep you warm and cozy during chilly weather. Instead of investing in a chunky scarf you might only use once, grab your thickest sweater for the same concept for free.
Advertisement
Give prints a chance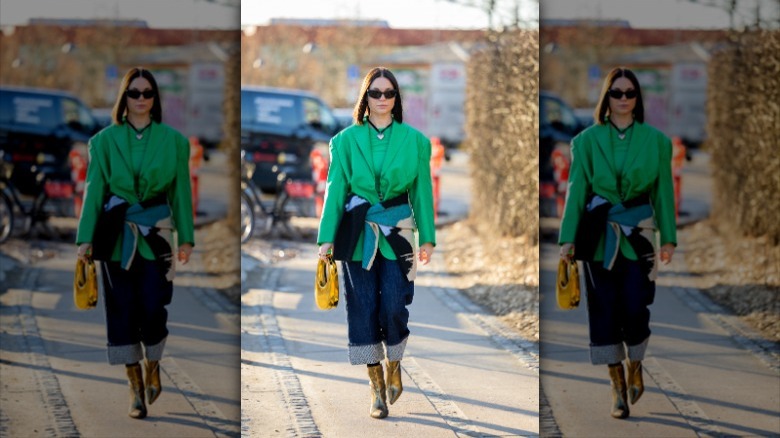 Christian Vierig/Getty Images
Even though we commonly see the tied sweater trend used with plain-colored sweaters, there's no reason why you have to ignore your printed pieces. Printed sweaters can add more dimension and excitement to your look instead of just one solid color. Create your fun fashion moment by pairing your outfit with a printed sweater for next-level style. Keep the rest of your ensemble solid-colored and print-free to ensure that your sweater pops.
Advertisement
Stick to similar shades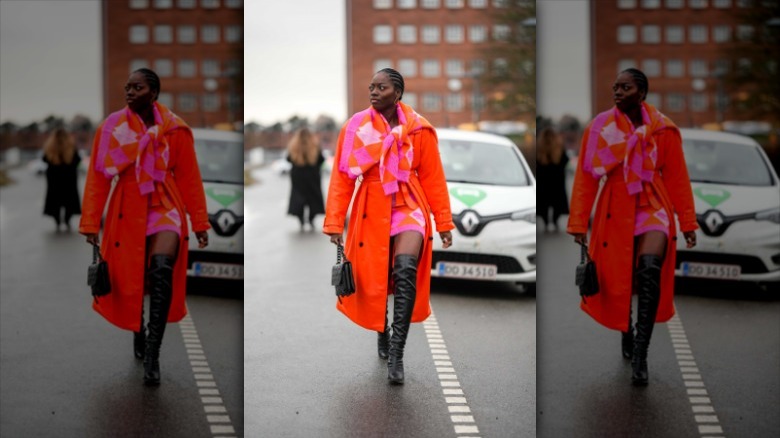 Edward Berthelot/Getty Images
We already know what a good monochromatic outfit can do to elevate our look. It's no secret that one of the simplest styling trends for making our outfits looks more expensive involves wearing one color from head to toe. Use these two styling tricks together for a cohesive and stylish outfit. Pair your monochrome look with a sweater in the same color family to add more texture and dimension to your outfit. Just adding a tied sweater across your body or around your neck will help create more interest to your already chic look.
Advertisement