Makeup Junkie Bags: What Happened To The Beauty Brand After Shark Tank?
Meridith Jurica graced the hit show Shark Tank, ready to take the world by storm. She was a stay-at-home mom who had found her new passion by happenstance. In an interview with Voyage Houston, she became increasingly irritated by the functionality of her makeup bag and decided to create a makeup bag that is perfect for travel and at home. People started to take notice and request Jurica to make one for them as well. From there, Makeup Junkie Bags was born, named after her love for cosmetics.
When speaking to Medium, she explained that she applied to Shark Tank through an online application, creating a video showing herself and the product. While she wasn't confident her application was going to go anywhere, she received a call from the producer a few months later. From there, she conducted a series of interviews, competing against over 40,000 people.
Once she was invited to film, she almost didn't appear that season. She was told by the producers the other pitches ran longer than expected, and that she could try again next season. While she was disappointed, they managed to find space for her the following day. She sought out $200,000 for 15% of the financing needed for her company. Her pitch was so impressive that she received three offers from the show. Ultimately, she decided to go with Lori Greiner who offered a deal she couldn't refuse. While this was a huge win for Jurica, a lot has changed since then.
The deal never closed
There are plenty of beauty brands that should be on your radar from the show. However, fans might be surprised to know that despite Jurica having multiple offers and accepting Greiner's, the deal was never accepted. According to the Shark Tank Blog, Griener originally offered her a $200,000 loan for 5% of the business and a dollar royalty per bag. After Kevin O'Leary and Sara Blakely expressed their offers, Griener came back and lowered her royalty payment to $0.75, making it the best deal of the show.
However, according to Yahoo, the deal never went through due to key business differences. " I manufacture everything here in Texas at my own facility and I employ a lot of local people who depend on that for income and do a great job," she told the publication. "She manufactures a lot overseas and there were things we just couldn't figure out as business partners." Jurica didn't end up receiving any money from Shark Tank and owns her business entirely to this day.
She has become great friends with Lori Greiner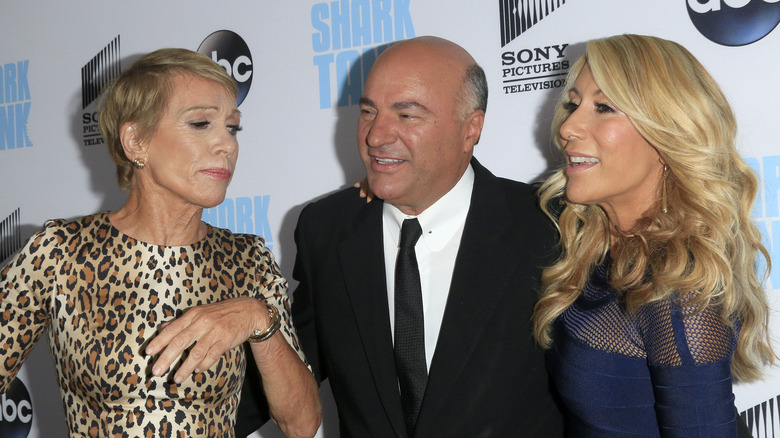 Kathy Hutchins/Shutterstock
While some people might expect that it would be a big deal to turn down an offer from Shark Tank, that was not the case for Jurica. According to Forbes, while they never follow up on the show, up to 73% of contestants didn't receive the same deal that was shown on the show. Furthermore, up to 43% ended up with no deal at all. This is usually due to terms and conditions being renegotiated after the camera stopped rolling, as well as unappealing clauses added to the deal.
Despite Jurica walking away from her offer, she ultimately left with a lifelong connection with Griener. Since the show, the two have stayed in contact and even consider themselves friends. When speaking to Yahoo!, Jurica divulged that Griener has always been there when she needed her, and they still see each other on occasion.
Shark Tank exposure boosted her business
Paul Bradbury/Getty Images
Shark tank has done amazing things for Jurica's business. She told Yahoo that while the company was already on track financially, receiving the national attention created a boost she wasn't expecting. Within the first month of the show airing, she had already received over 1,000 wholesale applications. So many people were vying to put the Makeup Junkie Bag in their store that they ended up having to create a waitlist to accommodate everyone.
Jurica described the event as a "Shark Tank tidal wave." Within two months of the show airing, she already sold as many bags as they had sold for the entire year before. While it eventually died down, every time her episode airs, she experiences a major revenue bump.
According to Forbes, this was very common among contestants. Publicity from the show usually leads to a lot of short-term support and revenue.
Meridith Jurica completely expanded the Makeup Junkie bag brand
Since her appearance on Shark Tank, Jurica's brand has grown tremendously. While talking to Voyage Houston, she announced that she had come a long way from making the bags at home, and now creates the bags in a new private facility based in Texas. She clarified in a medium interview that her facility offers customizations to the bags from not only stores but retail customers as well.
Despite her education in medicine and education, her entrepreneurial spirit kicked into high gear after the show. She told Medium that she expanded her line to purses, totes, and fanny packs. As a self-proclaimed makeup lover, she also branched out and started her own makeup line, MJ Cosmetics, as well as her apparel line called Modern Jester clothing. To this day Jurica considers herself a Shark Tank success story, singing its praises regarding her own experience.