Can You Ever Wear Pants To An Event With A Cocktail Dress Code?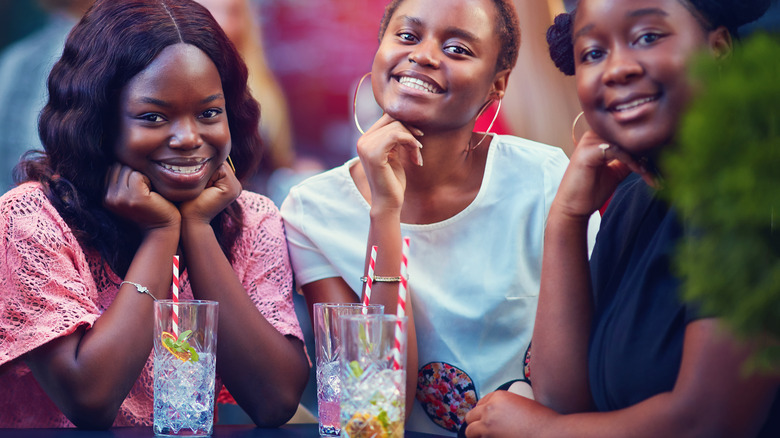 Olesia Bilkei/Shutterstock
You should be excited if you have plans to attend a cocktail party, as these events are so much fun. But don't forget to also pay attention to the dress code — because there are some fashion rules you should follow regarding what to wear to a cocktail party or other events with cocktail dress codes. "Cocktail attire is meant to bridge the gap between day and night ... It is still an occasion to dress up, but a full-length gown is not necessary. This merges the silhouette of a garden party dress (shorter) with the fabric and embellishments of a formal gown," LauraLee Baird, a bridal consultant, told Brides. Consider a flattering mini dress with sparkle, for instance.
Advertisement
If you're heading out to a winter cocktail party, perhaps add a dramatic faux fur or a flattering statement coat and sophisticated tights to keep warm while looking stylish. But one important question remains: is it acceptable to wear pants when there's a cocktail dress code?
There's no problem with wearing some types of pants to events with cocktail dress codes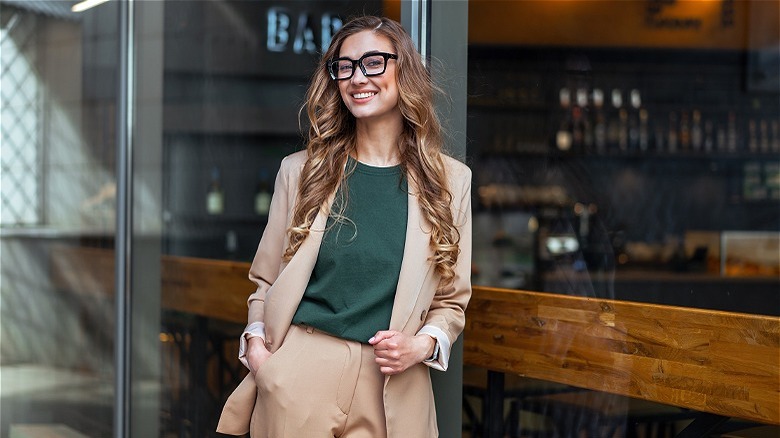 andreonegin/Shutterstock
Of course, you should avoid wearing casual pants such as jeans, sweat pants, and leggings to events with cocktail dress codes, as showing up in such informal pieces will instantly make you appear underdressed. But classier pant options are undoubtedly appropriate. "Pants? 100 percent yes ... It's almost a bit of a throwback to the 'Dynasty' era, and that sharp power suit. I love it ... I think it's great that women are wearing the pants again and they're totally rocking the pantsuits at all these different events," Donny Galella, a celebrity stylist, told Now To Love.
Advertisement
Thus, the celebrity stylist gives a stamp of approval to the idea of wearing pants to events with cocktail dress codes. And if you take anyone's word for it, it's a celebrity stylist. So, you don't feel pressured to wear a dress or skirt to the event if you don't want to. Galella emphasized pantsuits specifically, as these monochromatic looks appear sleek and cohesive. If you plan to rock a pantsuit for your next cocktail party, consider wearing black slacks and a matching black blazer for a timeless look. Or, go bolder with a brighter color, such as red, blue, green, or purple.
Here are some other ideas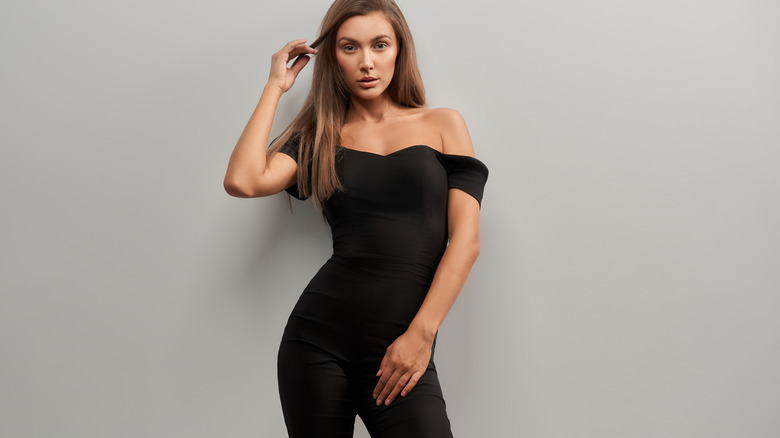 Serhiibobyk/Getty Images
While pantsuits are excellent options for events with cocktail dress codes, those aren't the only pant ensembles you can wear to these events. For example, jumpsuits are also ideal for cocktail parties. Jumpsuits are so trendy in the 2020s that some people even opt for bridal jumpsuits for a modern look on their wedding day instead of traditional dresses. So, there's no doubt that these garments will be acceptable for cocktail attire. Jumpsuits can give you that cohesive, monochromatic look you'd also get from pantsuits if you choose one with a consistent color or pattern. Walking into a cocktail party wearing a flattering jumpsuit is a total power move because you'll look so chic and on-trend.
Advertisement
Moreover, if you'll be attending an event with a cocktail dress code where you know the other attendees are the life of the party, try wearing leather pants. These trendy, bold pants will make a daring statement and should be appropriate as long as you dress them up with an elegant blouse. On the other hand, maybe wear stylish paper bag trousers instead for a softer, daintier appearance. Get creative and have fun styling these types of pants for Instagram-worthy cocktail party looks!