The Easy Concealer Hack That Can Help Prevent Under-Eye Creasing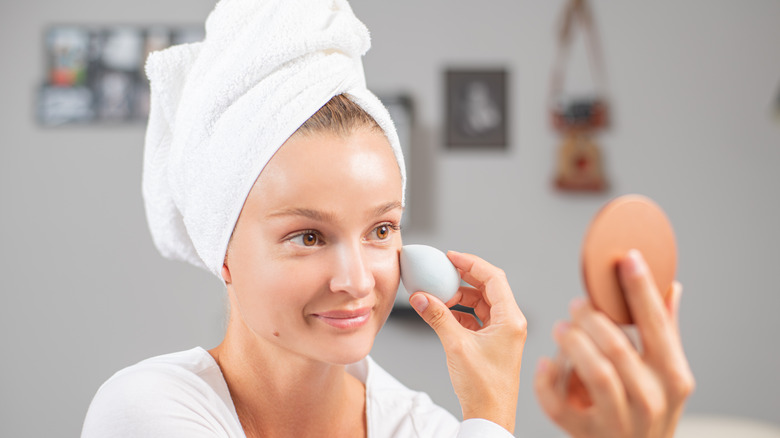 Dmytro Flisak/Shutterstock
Whether used to cover pesky dark circles or to help one look properly snatched with the ultimate subtle contour, concealer is an essential makeup item for many. But it can look quite awful when it creases in the under-eye area and settles visibly in fine lines. These streaky lines of product have the effect of aging you beyond your years and announcing your lack of makeup application skills to the rest of the world.
Fortunately, you are not alone, as creased concealers are a common makeup hazard. Makeup artists Brenna D and Shannon Marie explained the phenomenon to Ipsy, saying that our makeup moves only because our skin is alive and constantly moving. "To keep it 100%, I want to note that even the most perfect makeup application may result in shifting or creasing," asserts Brenna D. "Skin moves and adapts its temperature regularly. There are many tips and tricks that could help you with feeling confident in your makeup all night but, it's important to be realistic."
Don't panic though; there are certain ways in which you can minimize the effect of concealer creases and keep them at bay.
The easy concealer hack to prevent under-eye creasing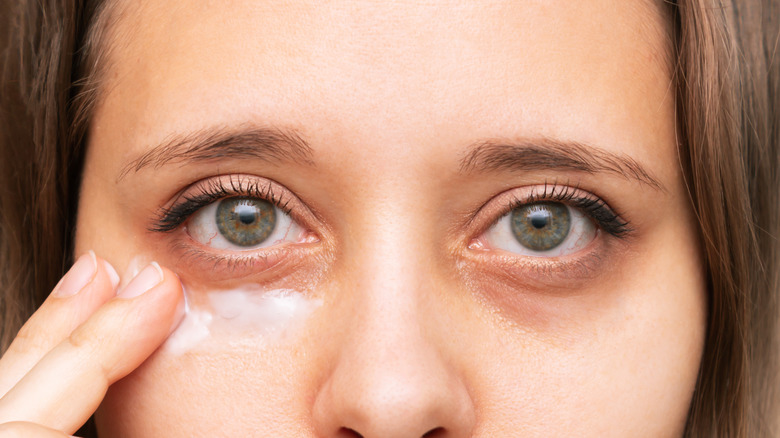 Marina Demeshko/Getty Images
If you crease easily, there are mistakes you are probably making with your concealer. You must ensure that you are working with a clean and smooth canvas to prevent creasing in the first place. Esthetician Georgia Louise shares an interesting and easy hack to prevent under-eye creasing with the team at Net-a-Porter. She says, "Mixing a bit of eye product into your under-eye concealer is a great trick, as it not only keeps the skin plumped up but, as the cream is absorbed, it gives the concealer a beautifully seamless, second-skin finish."
Though Louise recommends mixing eye cream with concealer before application, other makeup artists recommend layering under-eye skincare products like eye creams, serums, and primers underneath your concealer to create a smooth canvas if one doesn't exist. If you worry that an excessively oily or creamy under-eye area will cause your concealer to crease more, you can wait until the product blends into the skin before applying concealer.
Whether you choose to apply the eye cream mixed in with the makeup product or beneath it, be sure to keep blotting sheets or tissues handy. This will allow you to blot away the excess creaminess before your under-eye area turns into a creasy mess.
Other hacks that will help keep the under-eye creasing at bay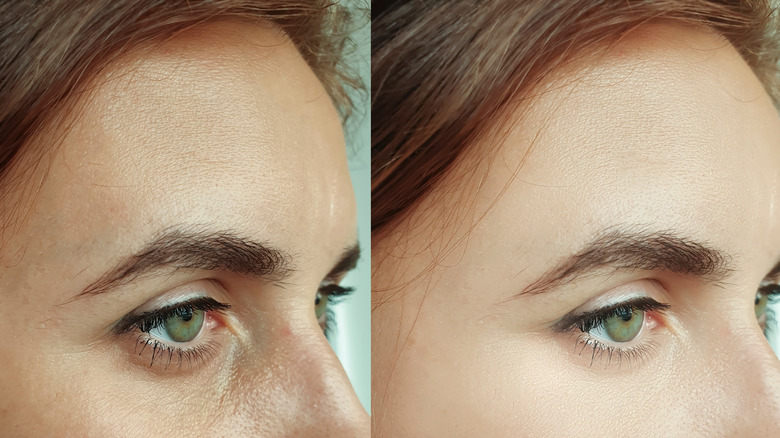 TanyaLovus/Shutterstock
There are a number of other time-tested makeup hacks that help with under-eye creasing. Of these, the most universally accepted is setting the area with a finely milled powder. Keep in mind that thick powders have a higher chance of creasing as they settle into the lines on your face and highlight them further.
For some people, creases are caused by using too much product. Fortunately, with practice comes the knowledge of what amount is too much for you. There should be enough to cover the darkness in the under-eye area, but one should not go overboard as the product will look cakey. Try and concentrate most of the product on the inner corner of the eye, which tends to be the darkest area for most people. You should avoid the area closest to the lower lash line as that is prime real estate for fine lines.
The formula of the concealer also plays a role here. Lightweight, creamy formulas perform better than heavier ones that promise full coverage. Using one's hands or a beauty blender to blend the product is an easy way to get rid of creases that may be forming right after the concealer is applied. You can also apply a generous coat of your finishing powder and leave it on for a few minutes to "bake" or set the under-eye area properly. This will allow your delicate skin to look seamless for longer.