How To Use Concealer For The Ultimate Subtle Contour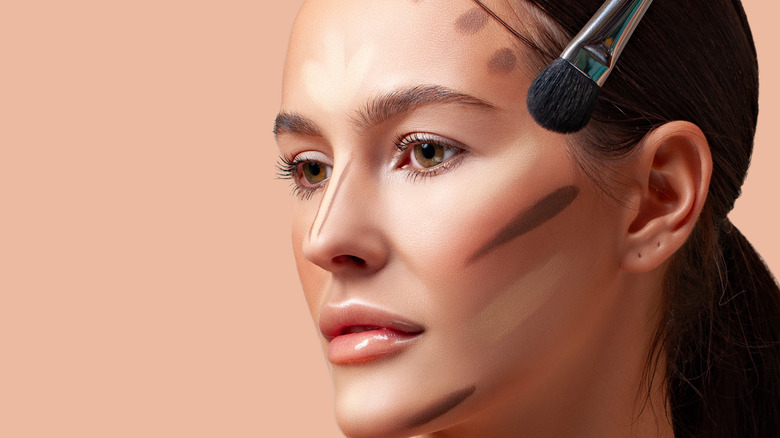 L Julia/Shutterstock
In this day and age, forging a makeup routine can be baffling when you're constantly distracted by ever-morphing makeup tips and beauty products. Sculpt shaping sticks, powder bronzer, highlighter palettes — the options are already overwhelming, and they keep growing by the minute. Let's admit it. Not all of us can afford to buy and use all the beauty tools and tips recommended by makeup artists and influencers for a 10-minute makeup application. Some of us can't even differentiate bronzer from contour or concealer from a highlighter. The thing is, having specific products for different parts of your face is nice — but not necessary. Sometimes, less is more with makeup and busy people can't agree more. "As someone who is always on the go, a single product that works three ways is ideal for speeding up my beauty routine!" celebrity makeup artist Jen Tioseco told Vogue.
Advertisement
Good news for lazy beauty lovers running on a shoestring: you can contour your face with a concealer instead of a contour kit. Thicker than foundation, concealer is effective in concealing blemishes by blending them into the skin, per Neutrogena. Concealers can also work wonders in lending subtle dimensions to your face and structuring your facial features. Ideal for stripped-down, easy-to-remember, and affordable makeup, using concealer for contouring can help you save lots of time, money, and space in your carry-on.
Contour your face with concealer of a darker shade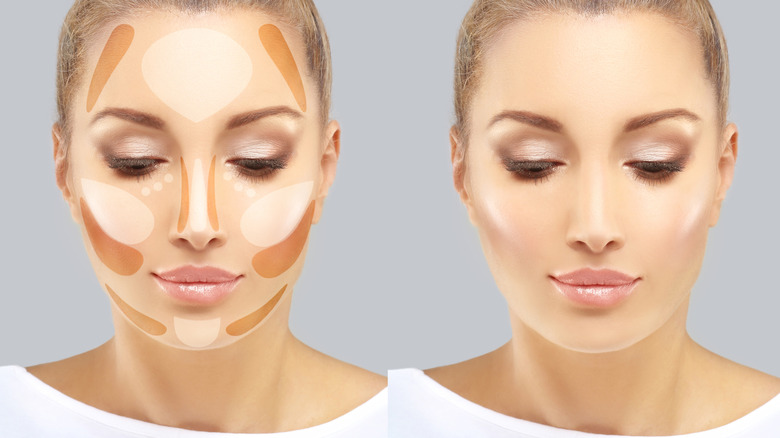 LADO/Shutterstock
To cover imperfections and shade some areas on our face, you might need different concealer shades and a brush for blending, makeup artist SJ Froom told Cosmopolitan. After applying foundation, use your standard concealer shade, which is ideally half a shade lighter than your foundation shade, to mask blemishes or scarring as usual. After that, apply creamy concealer that's two to three shades darker than your natural skin tone on the hollows of your cheeks, your temple, and the sides of your nose to create shades. Blend the contoured area out with a foundation brush or a beauty sponge for a true-to-skin, sculpting finish.
Advertisement
If you enjoy the versatility of concealer, concealer palettes would make a wise investment. With a broad selection of shades, ranging from light to deep, that can be used for certain areas of your face, a color palette helps mix and match what works best for you, according to Allure.
Highlight your face with a lighter concealer shade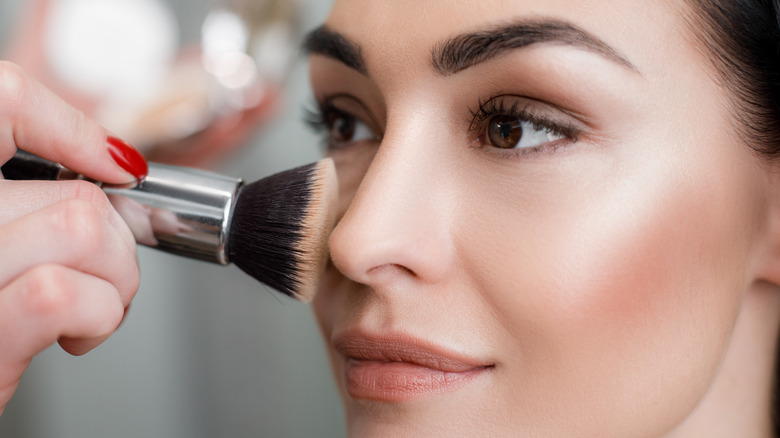 Olena Yakobchuk/Shutterstock
For a full glam look with high contrast, don't hesitate to throw on some highlighter after finishing with contour. If contouring sharpens and even alters your facial features by giving them more shadow, highlighting turns the spotlight on where the light usually shines on, per Maybelline. For instance, the higher zone of your face that can use some highlighter to stand out include your cheekbones, the bridge of your nose, and your cupid's bow. If applied properly, highlighting can lift your facial bone structure and give you a shimmering, glow-from-the-inside-out look. Instead of using highlighter, you can use a concealer that's two to three shades lighter than your natural skin tone, applying it directly above the darker contoured area where you want to highlight, bareMinerals suggests. For a seamlessly sparkle finish, use a beauty sponge or foundation brush to blend out the highlighted spots until the contrast between your contoured and highlighted shades is not overly noticeable.
Advertisement
If you're a busy person who doesn't have much time to do makeup and sort out makeup tools, lean towards versatile basics and a pared-down beauty routine with a shallow learning curve. A couple of multi-use staples will help you achieve your daily beauty goal while saving you lots of time and money.