Harness Your Dark Feminine Energy With TikTok's Latest Viral Makeup Trend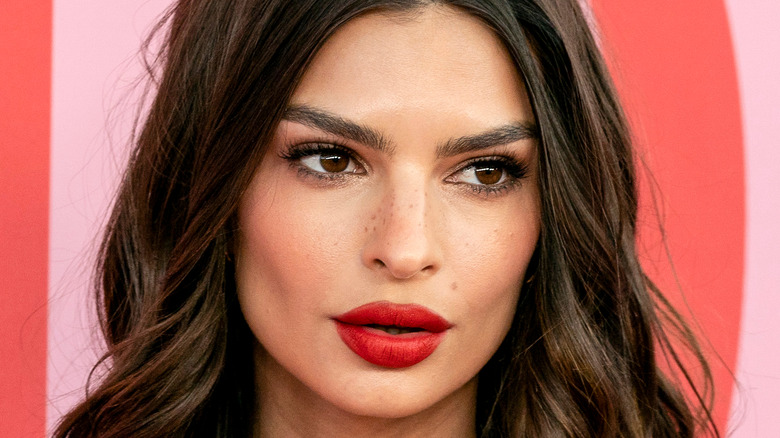 Ovidiu Hrubaru/Shutterstock
We can always count on TikTok for beauty tips on using makeup to help us look sexier. Just think about revenge makeup, the TikTok beauty trend that stunts on your ex. This next trend is all about looking sexy, but in an edgy way: dark feminine makeup. Before using dark feminine makeup, you must understand dark feminine energy. In order to channel this intense, seductive vibe, be confident and don't care what others think. A TikToker with the username @jamiezunft posted a video sharing some more specific advice on exuding this energy, with tips such as "say no," "prioritize yourself," "don't overshare," "leave things and people that don't benefit you," and "know your worth." Once you understand dark feminine energy, you should experiment with dark feminine makeup.
Not to be confused with light feminine makeup, which is all about looking sweet, wholesome, and dainty, dark feminine makeup is more about looking mysterious, sultry, and commanding. Whether you prefer minimalist makeup, maximalist, or anything in between, there are many ways to rock dark feminine makeup.
Take inspiration from your favorite celebrities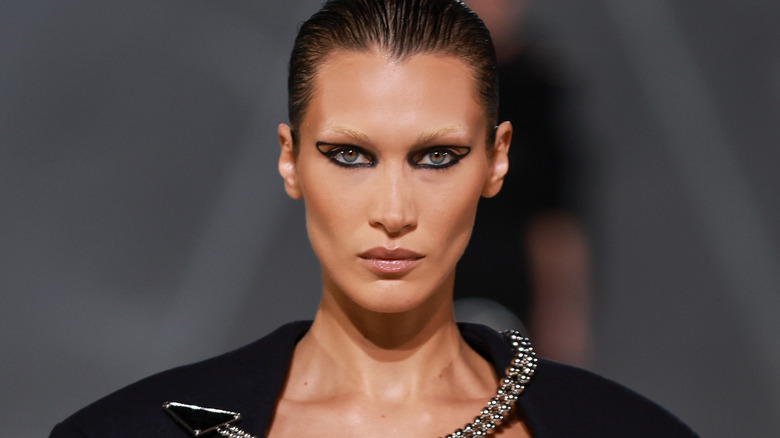 David M. Benett/Getty Images
If you want to develop more of an understanding of dark feminine energy and makeup before mastering it yourself, look at some celebrities who exude the intense, sultry vibe to perfection. For instance, the beautiful and outspoken Emily Ratajkowski never fails to leave the world wanting to know more about her with her alluring, mysterious makeup and demeanor. Other celebrities who embody dark feminine energy and frequently flaunt dark feminine makeup include Jenna Ortega, Julia Fox, and Halsey. And while Gigi Hadid often displays light feminine energy, Bella Hadid represents dark feminine energy.
The darker, the better
This makeup trend is called "dark feminine," so, dark hues are encouraged for your eye makeup and lips. Now's the time to unleash and embrace your inner darkness, so try going darker than usual and seeing how it makes you feel. If you're trying to nail this trend, avoid using pastels and playful, light hues; that's not what the dark feminine look is about.
Have fun with eyeshadow
When exploring dark feminine makeup, you should experiment with eyeshadow. Whether you go ultra-dark with intense black shadow, create unique artistic designs, or opt for a smoky eye look, eyeshadow can be all you need to find your dark feminine energy through makeup. Don't be afraid to express yourself, and be creative!
Draw attention to your eyebrows
Whether your brows are thick, thin, or anywhere in between, you should emphasize them if you're going for a dark feminine look. Accentuate them for a more expressive appearance by filling them in to make them seem bolder, and it doesn't matter what shape they are, as long as you make them noticeable. Or, try bleaching them for a trendy and unapologetically dauntless look.
Flaunt a bold lipstick
Loud lipstick is perfect for achieving dark feminine energy — as long as you choose the right color. For instance, you can never go wrong with classic red lips for a sexy and timeless vibe. Black lipstick is an excellent option for an edgier look, and brown and dark purple lipsticks will look sultry, too. Even gray lipstick exudes dark feminine energy if you're willing to give it a chance.
Add some sparkle
While ultra-glossy makeup typically falls more under the light feminine makeup category, some shimmer or glitter can help elevate a dark feminine look for a more glamorous twist. Think about adding some sparkle to your eye makeup for a more head-turning spin on the edgy energy. After all, who can resist sexy, shimmery beauty?
Eyeliner is your best friend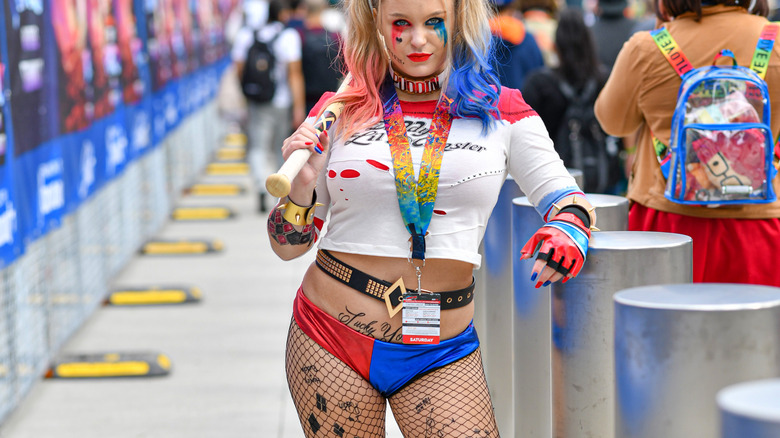 Craig Barritt/Getty Images
Use eyeliner to make your eyes pop for more drama and intensity, and a black liner is your best bet for dark feminine makeup, whether you apply it to the top or bottom of your eye area — or both. If you want to get super creative, try drawing or writing words on your face with eyeliner, like Harley Quinn.
Aim for confidence, not perfection
As mentioned earlier, dark feminine energy is primarily about feeling empowered above all else. Thus, your makeup doesn't have to be perfect as long as it makes you feel good, so don't worry about flaws. If your makeup is a little uneven or smudged, those details will only make it appear sexier and edgier. As long as you love your makeup, it doesn't matter what anyone else thinks.