The Scrunchie Method For Heatless Curls Is Perfect For Voluminous Disco Looks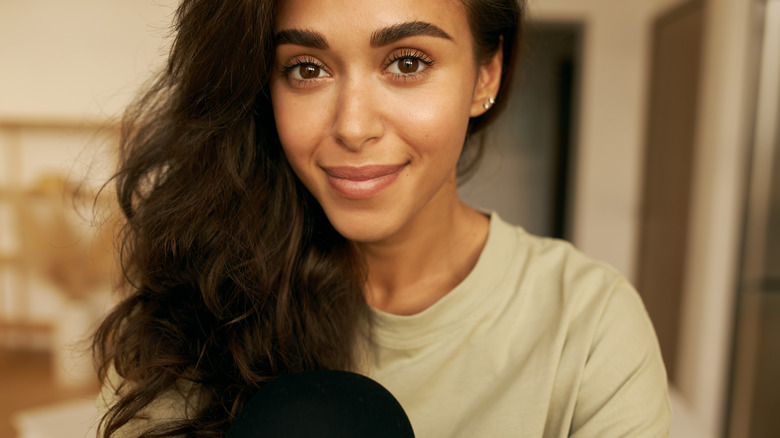 shurkin_son/Shutterstock
Heatless curling methods have been around for years. Traditionally, curlers and hair rollers were how the generations before us created perfectly bouncy curls without adding heat. But through the years, many people have tried to innovate heatless curls using items already in the home without having to buy a set of rollers. There was the headband method as well as the sock method, and now, social media has created the scrunchie method.
But why all the fuss about heatless curls? It's true that using a tool like a curling iron or curling wand can help better define your curls and make them last longer. They're also great for longer hair and for mitigating frizz. But using heated curling methods often be detrimental to your hair. Daily use of heat can lead to damage that causes breakage, split ends, dryness, frizziness, tangles, and overall poor hair quality.
Enter heatless curling. These methods, usually done overnight, promise curled hair without having to use a wand, iron, or blow dryer. You can have beautiful bouncy curls without risking damage to your hair. So, if you have a bunch of scrunchies sitting around, here's how to put them to good use.
What is the scrunchie method?
While the technique can vary among social media users, at its heart, the scrunchie method uses the classic hair accessory like a hair roller in order to curl hair overnight. The basic method involves sectioning the hair, wrapping those sections around the scrunchie, and securing it to your scalp. In the morning, you remove the scrunchies to reveal beautiful heatless curls.
As for the different techniques, many users on TikTok have shown exactly how they create heatless curls using this method. Kenna McClellan uses two jumbo scrunchies and creates two sections in her hair as if she is making pigtails. She takes one section to the top of her head and begins to twist her hair. As she puts on the scrunchie and begins to secure it, she also continues to twist her hair around the loop of the scrunchie. After twisting and pulling through until she reaches the end of her hair, she uses a claw clip to secure the hair to the scrunchie.
But other methods are more similar to using traditional curlers. TikTok user Soph uses smaller sections and rolls the hair flat around the scrunchie as if it is a curler. She then secures the hair by looping the scrunchie around the hair. The result is a head full of scrunchies that create tighter curls.
Tips to make heatless curls last longer
Heatless curls aren't going anywhere, but some people have trouble getting the method to work well for them. For some, the curls don't last, they turn out frizzy, or the "curler" is hard to remove in the morning. All of these might simply require a little tweak in technique so you have the most beautiful curls possible. And a lot of that has to do with prep.
Before putting your hair in scrunchies or any other heatless method, you'll want to thoroughly comb out and detangle your hair. This will prevent tangles and knots in the morning and you won't have to risk fewer curls from having to comb them out. Before curling your hair, you can dampen it a little with water. It'll help your hair form the curl pattern, which will make the curls last longer. But if a little bit of water isn't enough, consider using a working hair spray or style-holding gel to make those curls last much longer. You can also finish the curls with hairspray for extra hold.
After your hair is up in the scrunchie, consider wearing a satin scarf, bonnet, or a cotton t-shirt over the hair. This will help keep the curls in place even if you're one to toss and turn overnight. These materials can also prevent frizz so your curls will be smooth in the morning.