Hinge Hack: How To Make The App Send You The Best Matches (& Nix The Standout Page)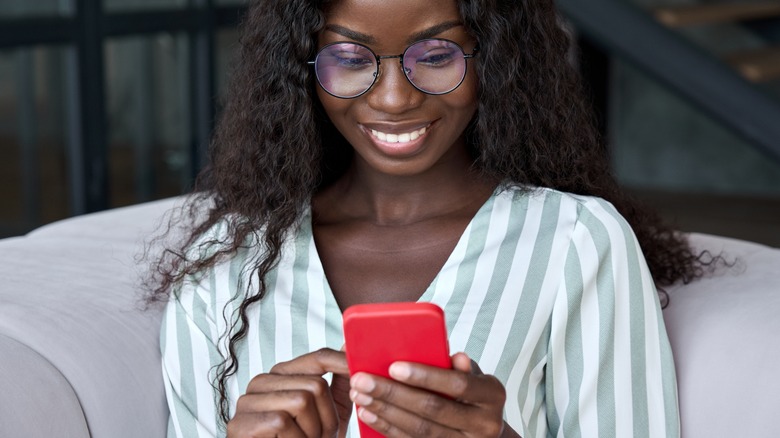 Ground Picture/Shutterstock
Dating apps can be really great if you give them a chance. They help expand your dating pool and give you a chance to meet people you might have never encountered. Determining which dating app is right for you is usually dependent on your goals. There are apps tailored to sexual and dating preferences, as well as religion, size, gender and so much more. Once you find the right app for you, it will likely be fun at first. However, you will often notice you find an overwhelming amount of people who match with you in the first few weeks of the app, and then it might start to taper off a bit. This might feel disappointing and cause you to delete the app after a while, but the loss of matches has little to do with you, and instead relates to the algorithm.
TikToker @singleinla recently had a friend who was going through a breakup, and she decided to help her with the dating app, Hinge. Hinge describes itself as a relationship-based app that wants everyone to be able to find love. However, like most dating apps, it has an algorithm that might limit who sees your profile. In order to get the best results, the cluey TikTok user decided to hack the algorithm in order to use the dating app to find the one.
Delete your Hinge profile
If you already have an account, according to @singleinla, it's best to delete the account and start again. This might seem counterintuitive, but if you already have a profile, the algorithm has already figured out how to place you. According to The Independent, the Hinge app uses your answers and whom you like to determine who is most likely to want to date you. It showcases your profile to the people it thinks you would be compatible with, leaving out a select few to put behind a paywall.
From there, @singleinla recommends having specific photos on your profile. This includes "a face shot, a body shot, a shot with friends, a shot doing an activity, a video because it's funny, and then your sixth picture can be whatever you like." In particular, the TikTokker recommends a pet photo for the final picture. Afterward, keep your prompts simple and non-specific. In the video, she mentioned her most popular prompt is "What is your love language?" to which she responds with, "Martini's, let's grab one?"
Boost your profile for the best results
After you have created your profile, you might be inclined to start swiping but this is not recommended. Instead, @singleinla recommends boosting your profile. A boost is a paid option on Hinge that allows you to push your profile to an even bigger reach, and costs $19.99 at the time of writing. To extend your boost, she recommends setting your restrictions further than what you usually go for. This may be accepting matches from a larger geographical distance than you usually would. For the next 24 hours, it's imperative to not use the app and let the likes roll in.
The next day, you can like whoever has already liked you (which should be a lot of people). You can also return to your normal restrictions in the settings, since the boost should have worn off by now. The last step is to go to your standout page, which includes people Hinge thinks you'll like, and reject everyone on there. Once again, this may sound counterintuitive. However, @singleinla explains that rejecting the standouts not only confused the algorithm but led to those same people liking her anyway. If you reject everyone on the standout page, you will trick the algorithm into sending you out to everyone because it doesn't know who to send to you, and thus, you'll get more likes.