The Biggest Reason You Should Avoid Wearing Baggy Clothes During Your Next Workout Class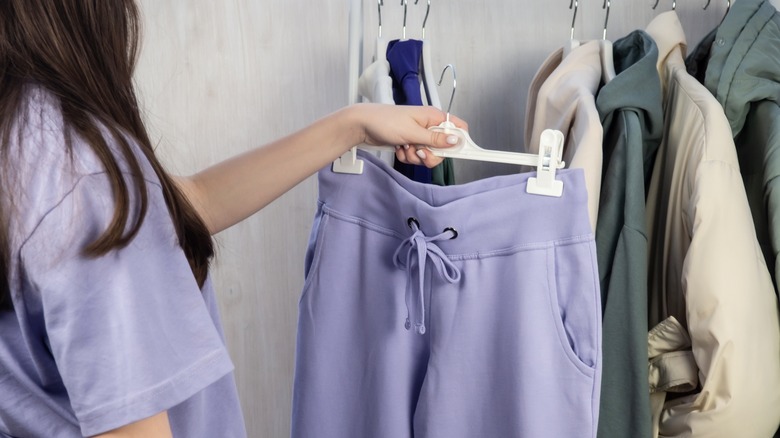 Hit Stop Media/Shutterstock
Are you someone who wears baggy clothes to the gym? With all the athletic wear on the market, there's no reason to sport your oversized tee and sweatpants to your Pilates class, but we get it — dressing for the gym can get pretty expensive, and if you aren't working out on a regular basis, it may seem pointless to spend the money. On the other hand, maybe you aren't comfortable wearing clothes that accentuate your shape, so sweats and giant T-shirts it is. It's totally understandable, but there are actually benefits to wearing proper-fitting clothes during a workout.
It may seem intimidating, thinking about showing off your figure during a workout class, but this doesn't mean you have to strip down to your sports bra and booty shorts. You can totally wear what makes you feel comfortable, whether it be a short sleeve athletic top and yoga pants, or leggings and a top with more coverage. All that matters is how they fit. Once you stop wearing baggy clothes during your workout class, you'll realize what a significant difference it makes.
Tighter clothes allow the instructor to assess your body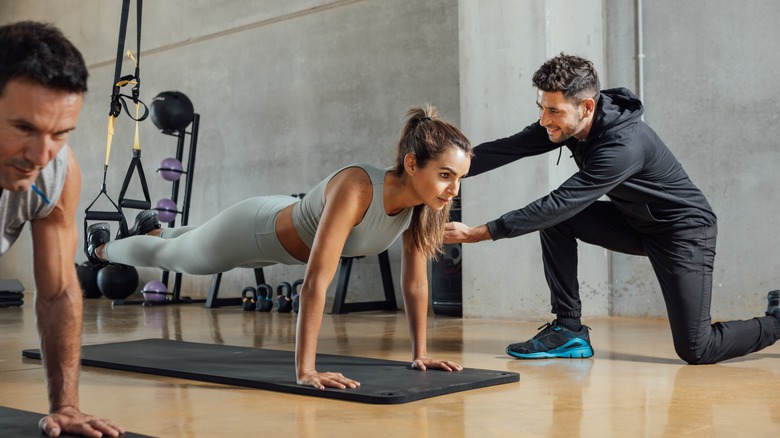 Basilico Studio Stock/Shutterstock
The biggest reason you should avoid wearing baggy clothes during a workout class is it prohibits your instructor from properly assessing you, Women's Health explains. If you're hiding your shape under an XXL T-shirt, they won't be able to get an accurate reading of your body. It's part of the instructor's job to see that everyone in the class is using proper form during the workout. This is necessary to ensure a person's safety while they exercise, per Pumps and Iron. For example, if your spine isn't properly aligned and the instructor can't see that, you could seriously injure yourself.
On top of that, if you don't have proper form, you aren't really doing the exercise correctly, which makes going to the class totally pointless. Even if you think you're following instructions to a T, you may need a slight adjustment from your instructor, which they can only see if you're wearing the right clothes. If you're hesitant about purchasing workout gear, think about how vastly your experience will improve when you do. Fewer injuries and better results — need we say more?
Proper-fitting clothes move with you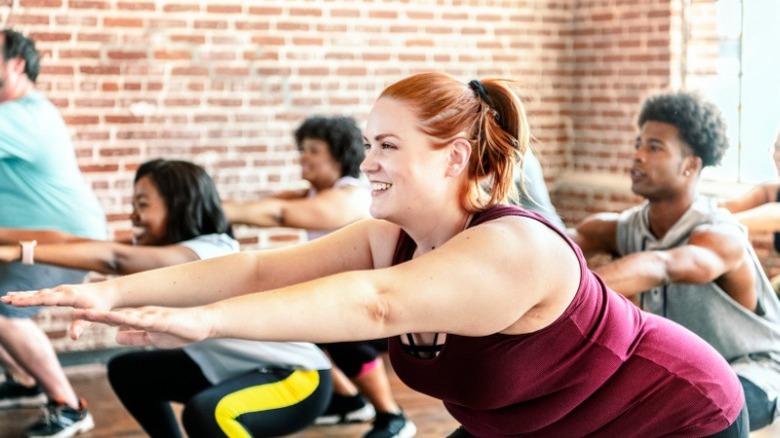 Rawpixel.com/Shutterstock
Additionally, baggy workout clothes prohibit your body from achieving full movement while exercising. Athletic wear was created for a reason: to support you during athletic activities. Sure, Gymshark leggings might make your booty look good, but they were designed for more than vanity reasons. They're made to stretch as you move, so you don't have to worry about any accidental tears midway through yoga class. The same goes for sports bras — they offer more support than your everyday bra, keeping you comfortable and confident during an intensive workout. 
Say you're in a cycling class. If you're wearing baggy sweatpants, not only are you preventing yourself from getting the best workout, but there's a good chance they could get caught up in the bike, which opens up a floodgate of other issues. Baggy clothes also increase the likelihood of tripping. If you aren't sure what kind of clothing to wear to a class, all it takes is a quick Google search to point you in the right direction. Don't be afraid to always call up the gym and ask, too! The more prepared you are, the more efficient workout you're going to have.