The Illuminating Moisturizer Hack That Gives Powder Foundation A Bright Finish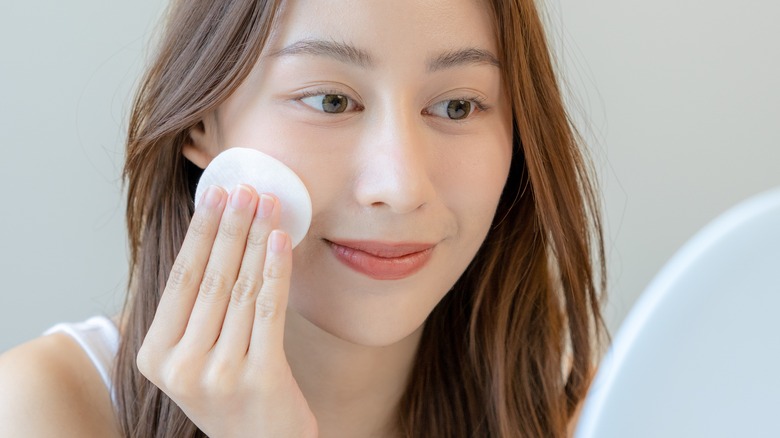 shisu_ka/Shutterstock
Your skin needs a decent amount of moisture to operate at maximum capacity. When you lack moisture, your skin cannot repair itself, which makes it more vulnerable to dryness, uneven tone, and premature aging. Dehydrated skin is the leading culprit behind a variety of common skin issues, including acne breakouts, itchiness and flakiness, dull complexion, and noticeable fine lines. All of this makes lubricating your skin with a moisturizer essential, both for aesthetic reasons and pure and simple health.
Another reason to slather on the moisturizer? It can give your makeup an enviably natural-looking effect. In addition to softening your skin's outer layer so that foundation can be applied smoothly, incorporating a moisturizer into your makeup routine can lend your foundation a finish that is as bright and fresh as morning dew. In fact, one simple hack will help you get more mileage from your moisturizer and give your makeup an extra touch of luminosity — regardless of skin type.
Apply moisturizer on top of your powder foundation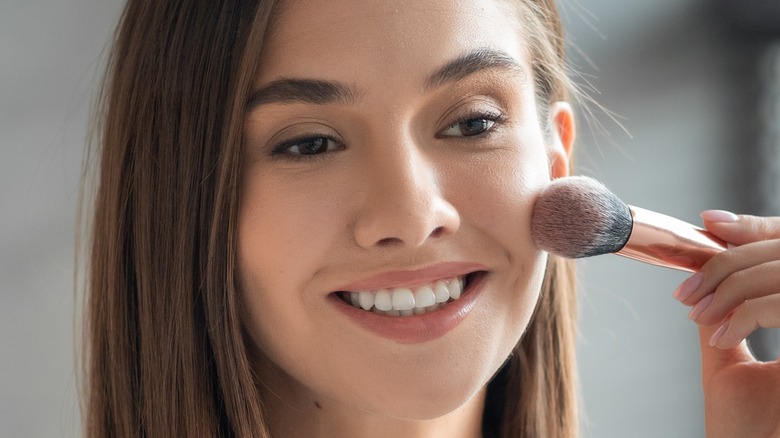 Prostock-studio/Shutterstock
It's always a good idea to start your makeup routine by applying a moisturizer. Then you should layer with a primer to help your makeup go on smoother and stay intact longer. To give your powder foundation a smooth finish, use a sponge lightly sprayed with a hydrating mist.
After that, we recommend a slightly surprising step: Take a pea-sized amount of your illuminating moisturizer and dot the formula on top of your powder foundation with your fingers. This might seem crazy, but celebrity makeup artist Kelsey Deenihan revealed to Byrdie what this trick can do. "Lightly pressing a little moisturizer over the powder will let the full coverage powder stay in place but leave a glistening glow over the skin," she explained. Applying this small amount of moisturizer on top of your makeup is unlikely to clog your pores or lead to acne. Rather, it will make your skin look softer and give your makeup a lit-from-within glow. After your moisturizer has set, dust a translucent setting powder over your T-zone and along your cheeks to seal your foundation and prevent unwanted shine. For the final step, spritz your face with a dewy setting spray to rehydrate your skin and lock in your makeup look for all-day wear.
Go big on prepping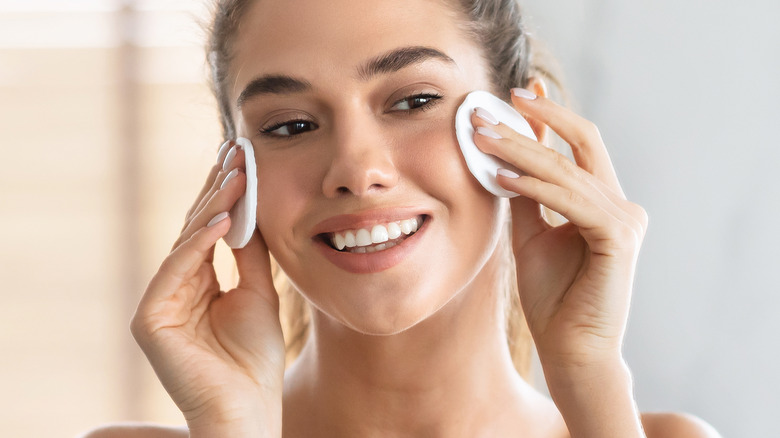 Prostock-studio/Shutterstock
To achieve a luminous appearance, your skin must be properly exfoliated and hydrated before applying any makeup. As makeup artist Robert Sesnek told Vogue, "Exfoliating before any hydration allows removal of any dead skin cells, lets the serums and moisturizers really penetrate the skin's surface, and allows products to do their thing." Sesnek also mentioned that he uses a hydrating skin mist prior to skin preparation to improve the penetration of other products. 
Exfoliating is just one part of skin prep, though, especially if you're hoping for a dewy and bright complexion. Avoid slathering full-coverage foundation on if you want to keep your look fresh and minimize the appearance of fine lines and wrinkles. Moisturizing is key, here, and promotes a more youthful appearance. If you have oily skin and your makeup tends to get greasy and shiny, you might want to avoid moisturizer — especially over your makeup. But in fact, using generous amounts of moisturizer helps keep your skin's oil production in check and controls shine. Dabbing a bit over your foundation won't make you break-out — it'll just make you look great.