The Eyeliner Colors That Best Enhance Hazel Eyes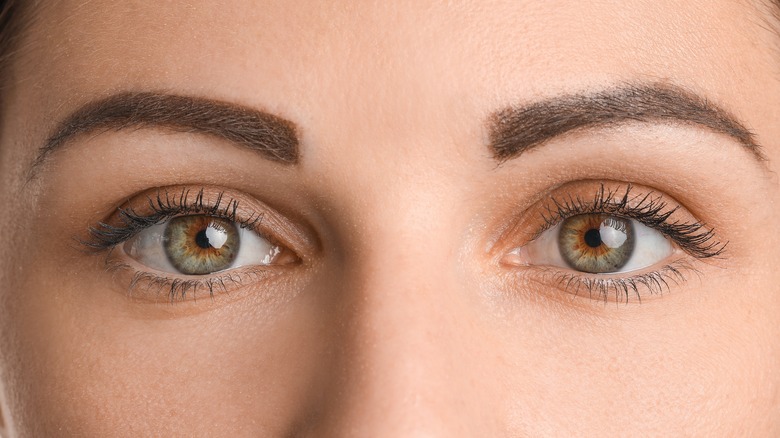 Pixel-Shot/Shutterstock
We may receive a commission on purchases made from links.
Looking for ways to compliment your natural beauty? One of the most impactful methods is to draw attention to your gorgeous eyes. You can do this in many ways, from adding mystique with a hack for perfect winged eyeliner to framing your eyes with mascaras for extra lash volume. But for a look that's uniquely tailored to your inherent allure, you can't beat a little color theory. By adding colored eyeliners to your arsenal, you can give your eyes extra pop and glamor without distracting from their natural beauty.
When choosing the right eyeliner hues for you, different eye colors will lend themselves best to different shades — for instance, blue eyes look great with hues like copper and navy. But what if you've been blessed with hazel irises, which hold a mix of tones? Good news: Far from being a drawback, the versatility and color variance in hazel eyes means that you are spoiled for choice. Hazel eyes are typically considered to be a mix of brown and green, but can also include gold, gray, and even the occasional hint of blue, giving you plenty of color matches to play with.
Of course, sometimes having too many options can be overwhelming. So if you're looking for hues that are almost guaranteed to make your eyes look even more stunning, here are the best eyeliner colors to enhance your hazel eyes.
Enhance your natural shades with green, brown, and gold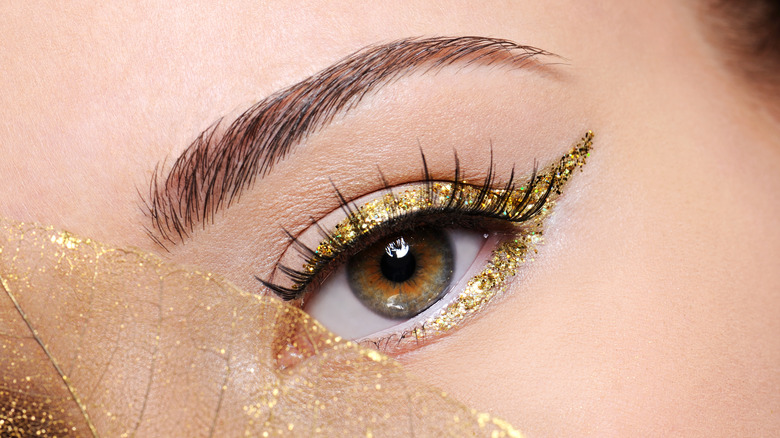 VALUA VITALY/Shutterstock
No matter what mix of colors make up your unique hazel irises, there's probably a strong presence of earth tones. That's why it's a no-brainer to play up this natural warmth with corresponding shades like green, brown, and gold.
When you want to go for a lighter look, spring greens, glistening golds, and tawny, fawn-colored browns will mimic the tones in your eyes and make them seem more large and luminous. These colors are especially perfect pairings in spring and summer, when you may want your eye makeup to appear more subtle and airy. The Nyx Mechanical Eyeliner Pencil in Gold is an easy and inexpensive way to try out this combo and see for yourself.
For a bolder statement, ground your hazel eyes with rich shades like hunter's green, bronze, or chocolate. These will bring out the color of your eyes with a velvety luxuriousness that's especially ideal for fall and winter. For instance, the Revlon ColorStay Eyeliner Pencil in Jade is a deep, mossy hue that will play up the green in your hazel eyes while adding a sultry edge to your aesthetic.
Amp up the contrast with purple hues
While it's a safe bet to choose hues that mimic the colors already in your irises, you can also think outside the box by using colors that bring contrast to your look. And though it may come as a surprise, this means that purple is another flattering family of shades for hazel eyes. With colors that range from deep jewel tones to ethereal pastels, purple has a lot to offer.
If your unique array of colors includes a lot of green, opting for warm, red-purple hues like wine and cranberry will enhance the vibrance of your emerald undertones. For an eyeliner with extra shimmer and sparkle, try bringing your hazel-green eyes to life with the Covergirl Exhibitionist 24-Hour Kohl Eyeliner in Burgundy.
Cooler purples can also pair well with hazel irises that feature blues, grays, and ashen browns. An understated mauve or playful lavender can subtly emphasize these tones for an eye-catching effect. To capture this flirty finish, consider setting off the cool tones in your hazel eyes with Maybelline New York Lasting Drama Light Liner in Moonlight Purple.