Can You Repurpose An Already-Worn Bridesmaid Dress For Another Wedding?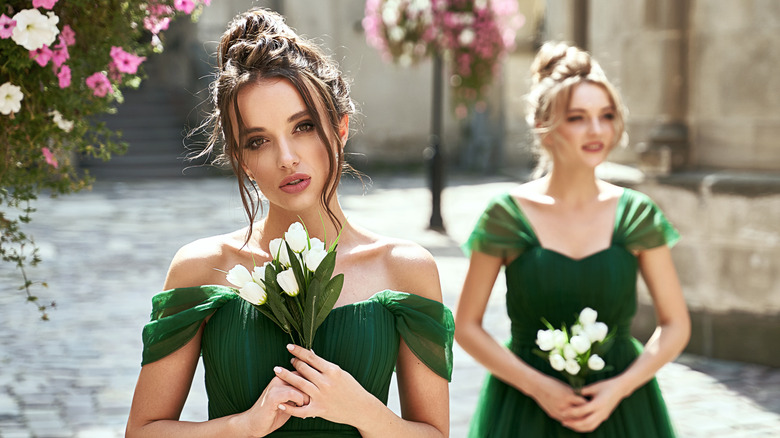 Oleksandr Berezko/Shutterstock
Most groomsmen can enjoy the luxury of being able to rent their tuxedos, but bridesmaids usually have to buy their dresses. Although there are some stores that offer rentable bridesmaid dresses, most women end up having to purchase them from a specific store, in a specific style, in a specific color that the bride requests. Many bridesmaids pay dozens or even hundreds of dollars for a dress that will sit in their closets or attics for years or end up at Goodwill after the wedding.
Advertisement
But, if you're lucky enough to own a bridesmaid dress that you genuinely like and would want to wear again, you've probably asked yourself a specific question. Is it acceptable to repurpose an already-worn bridesmaid dress for another wedding, or if it would be frowned upon? Most people would agree that wearing the same cocktail dress to two formal events is acceptable, but what about the same bridesmaid dress?
Repurposing a dress offers more flexibility than just re-using it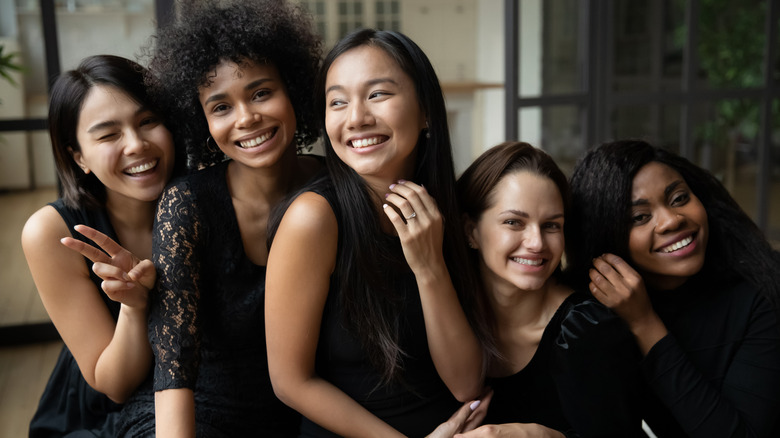 fizkes/Shutterstock
Awesome Etiquette host, Lizzie Post from the Emily Post Institute, offered her insight on the question. She told Martha Stewart Weddings that if you wore a dress as a bridesmaid for one wedding, it's acceptable to wear the same dress as a guest at another wedding. However, she adds the caveat that the style and formality level of the dress should match that of the second wedding. That way, you can avoid being overdressed or underdressed.
Advertisement
On the other hand, if you repurpose the dress, you'll have more flexibility with the type of event you can wear it to. Repurposing — also known as upcycling — a dress means reusing it after changing it in some way, essentially giving it a completely new look. However, if you choose to repurpose the dress, just be sure the final product is appropriate for the event's dress code.
Ways to repurpose a bridesmaid dress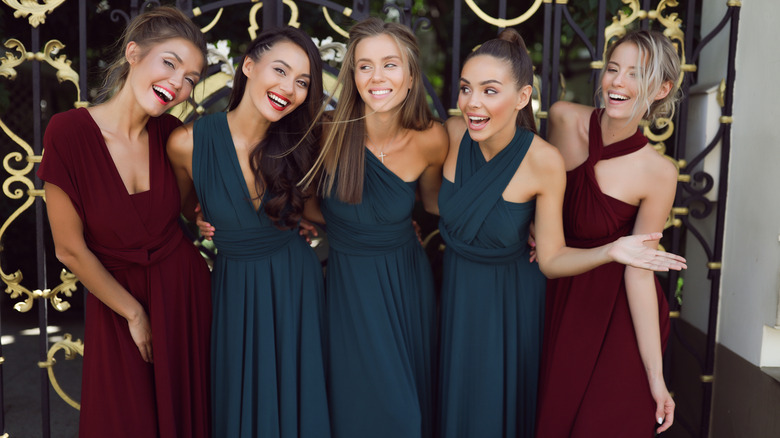 Diana Indiana/Shutterstock
One of the most common ways to repurpose a bridesmaid dress is with alterations. If the dress has long sleeves and a long hem, but the second wedding is an outdoor summer ordeal, you can remove some fabric. You may want to completely ditch the sleeves or just shorten them. You can also raise the hem to your knees or go even shorter.
Advertisement
If the occasion calls for it, you may want (or need) to make more major alterations to the dress. Was the first wedding black tie formal, but the second one will be beachy casual? Convert the dress to a romper or cut it into a skirt. Or maybe you want to do the reverse and make a casual dress more formal. Sometimes just changing the sleeves is all you need to do. You can convert the sleeves to a one-shoulder strap, a halter top, or a completely strapless top.
In addition to making alterations to the dress, you can repurpose it by completely changing the color. You can also keep it exactly as it is and just add accessories to make it more or less fancy. For example, you can add a jean jacket to wear to a casual outdoor wedding reception with a rustic theme or a rhinestone belt to jazz it up. The possibilities for how you can repurpose a bridesmaid dress for another wedding are endless!
Advertisement