The Handy Rule Of Thumb That Will Ensure You Have The Right Shade Of Highlighter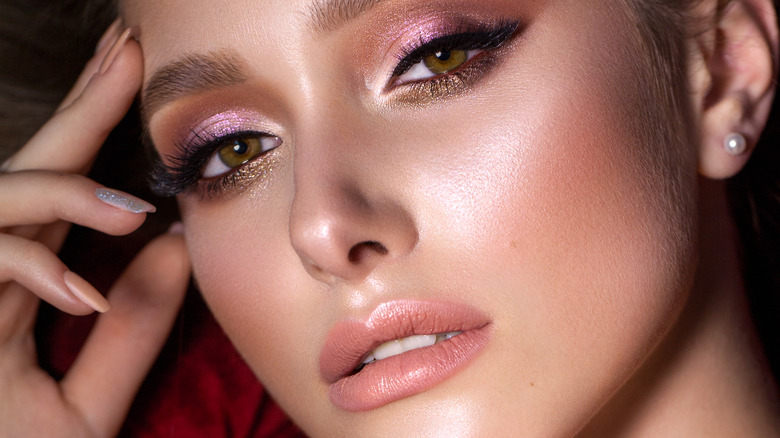 Tata Mamai/Shutterstock
Highlighters are one of the handiest makeup products to have in your arsenal. While they're not the star of the show, they act as the best supporting actor for your face. A touch of shimmer on your cheekbones and cupid's bow will bring just the right amount of brightness to make you look like you're glowing from within. Highlighters are also the perfect complement to contouring. If you just try to sculpt your face with a darker shade and don't contrast it with a highlighting color, the contouring will fall flat.
Highlighting can be tricky, however. If you choose a color that's too light, you will end up looking washed out. If it's too close to your natural skin tone, it'll lose its luster. With so many shades out there, how can you be sure to pick the right one? Keep this one rule in mind when shopping for a highlighter and you won't ever go wrong.
Choose a highlighter two shades lighter than your skin tone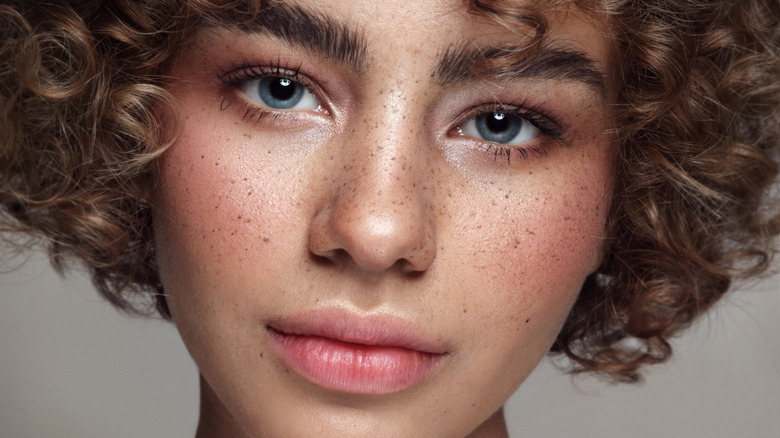 Olga Ekaterincheva/Shutterstock
To get the most out of your highlighter, you need to make sure that it's light enough to do the trick but not so light that it's all anyone sees. To get the perfect amount of shimmer, it's best to go two shades lighter than your skin tone. If you're not sure how light to go, take a look at your foundation and compare it to the highlighter. If it's too close of a match, opt for a lighter color.
Your undertone is also a key factor in choosing the right highlighter that works best for you. While your skin tone is easy to determine, as it's the color of your skin's surface, the undertone may be a bit trickier. To find out your undertone, take a look at your veins in natural light. If they're blue, you're likely to have a cool undertone. If they look more greenish, then you're probably warm. If they fall in between, your undertone is neutral. Warm undertones with light to medium skin shades look best with a cream or champagne-colored highlighter. Those with deeper skin tones should opt for a gold or bronze shimmer. If you have a cool undertone, you'll fare better with a silver or rose gold highlighter.
Consider your skin's texture when choosing your highlighter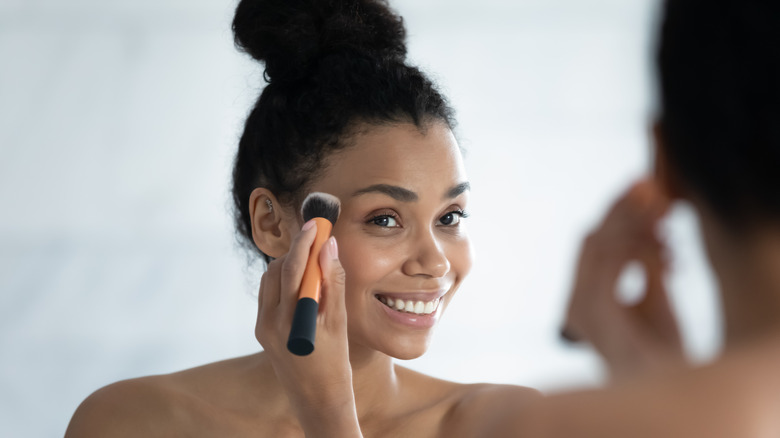 Fizkes/Getty Images
When it comes to highlighters, your skin's texture is also an important consideration. Highlighters come in powder, cream, or stick form. All three are popular with makeup aficionados and they each have their own purpose. Powders are easiest to use and can be applied quickly on larger areas such as the forehead and cheekbones. The best way to apply powder highlighters is with a fan brush for precise application. Sweep the brush over the powder and use the tip to apply the highlighter to your brow bone, the bridge of your nose, and the tops of your cheekbones. Powder highlighters are great for those who tend to have oily skin. It gives just the right amount of sheen without making you look too slick.
Creams work best for those with drier or more mature skin. They're also better for acne-prone skin and large pores. While powder highlighters will accentuate uneven texture, cream highlighters will blend more seamlessly onto the skin. They're also more versatile than powders. Stick forms are easy to carry around and a simple swipe in all the right areas can quickly transform your face. If you have a cream highlighter in a tube, a great way to add an overall glow is to add a few drops to your moisturizer or foundation. Just remember not to go too light or match your skin tone too closely — two shades lighter is the perfect color.