Are You Using The Right Tools To Apply Your Highlighter?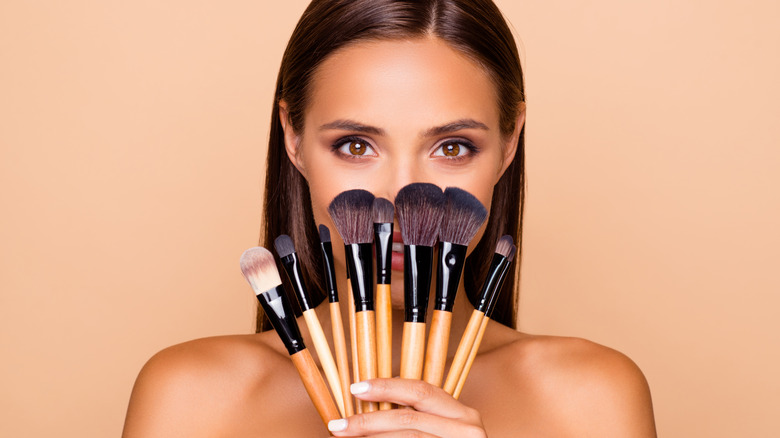 Deagreez/Getty Images
Some love it, others hate it, and many don't even know how to use it. Highlighter is a complexion product that illuminates the skin for a radiant and dewy glow, and has opinions divided.
After beginning in the 1940s, highlighter started trending in 2015 and has been a major beauty staple since (via NewBeauty). But if you choose to skip the highlighter altogether, you aren't alone. In an "unpopular makeup opinion" blog post on College Fashion, university student Natalie admitted that she's "not a massive fan" of highlighter, partly owing to the fact that it's "tedious to use."
While using highlighter may not be as straightforward as other cosmetic products, like foundation and mascara, the results it provides can elevate any makeup look. There are ways in which you should use highlighter for the best results, which boil down to a few factors, the main one being the tools you use to apply it. Chances are, if your highlighter application always ends up making you look more like a patchy metallic Christmas ornament and less like a glowy goddess, you may not be using the right tools.
The fan brush is highlighter's BFF
Many people apply highlighter to the most important parts of the face, like the cheekbones, the bridge of the nose, and above the cupid's bow, with a fluffy makeup brush. You may even see some people using eyeshadow brushes to apply their highlighter. But for best results, you'll want to reach for a fan brush. In fact, L'Oréal Paris classifies the fan brush as a "one-way ticket to perfection" when using highlighter, as the delicate fan-shaped brush is perfect for applying an even layer of the product without going overboard.
A medium or large-sized fan brush for wider parts of the face, like the cheekbones, will work. But for smaller areas that require more precision, like the bridge of the nose and brow bone, you'll want to reach for a smaller fan brush. You can also invest in a makeup brush specifically designed for highlighter, which is often tapered to delicately apply product to the curves of your face with precision. Beauty influencer Kaushal showcases the perfect use of highlighter tools in a highly viewed YouTube video, where she dusts the product onto her face with a fan brush and a tapered fluffy brush for the perfect glow.
What about liquid highlighter?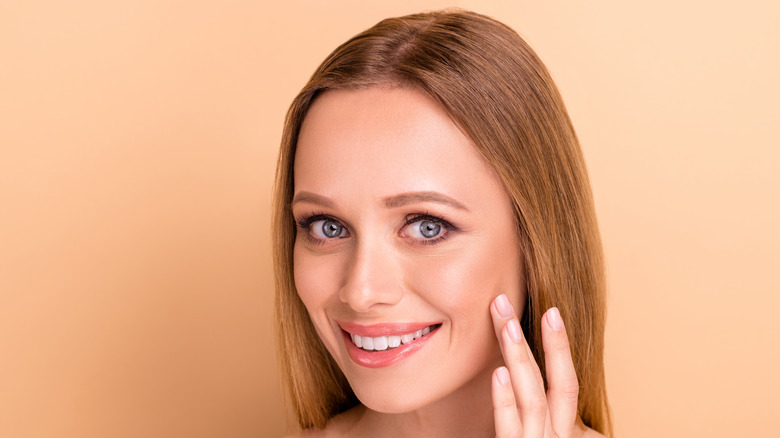 Roman Samborskyi/Shutterstock
The tools you use to apply powder cosmetics and liquid cosmetics may vary, and when it comes to highlighter, that's no exception. Using a fan brush to apply liquid highlighter may result in a patchy, uneven finish. Instead, renowned celebrity makeup artist Scott Barnes recommends using your trusty fingers to melt the product into the skin. A damp makeup sponge is also an excellent tool for flawlessly blending liquid highlighter. You'll want to use the liquid highlighter before any powder products to prevent a splotchy application. 
Pro tip: Apply a few drops of liquid highlighter on your hand first and use your fingers or sponge to dab it into your skin instead of directly applying the product onto the face. Content creator and #BeautyTok contributor @amelia0livia posted a TikTok video, saying, "people always ask why their liquid highlighter doesn't work for them, why it goes flakey, cakey, and patchy, and it's because you are applying it directly onto your base." Liquid highlighter can be tricky to master, but with this technique, you'll be left with a seamless, glass-skin complexion.