Powdered Bronzer Is A Godsend For Novice Makeup Users. Here's Why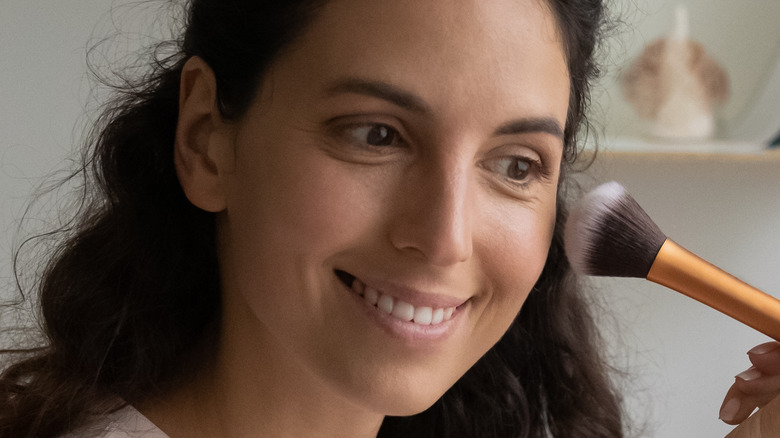 fizkes/Shutterstock
If you're a photographer or someone who takes photos a lot, you're probably no stranger to the concept of the "golden hour" or the "magic hour." According to Adobe, the golden hour (the last hour before sunset and the first hour after sunrise) is when the natural light is softer, warmer, and more directional than other hours of the day. "Skin tones get washed out by really direct sunlight. But the golden hue makes for beautiful skin tones that are hard to blow out," photographer Jenn Byrne tells Adobe. When you take photos facing sunlight during golden hour, the warm radiance from the sun brightens your makeup look, giving it a healthy surfer-girl, sun-kissed glow.
Advertisement
But what do you do when the golden hour has passed, and you miss the warm feel of those red and gold tones on your cheeks? Well, you can always use a powdered bronzer. "You're looking to add warmth with bronzer, not color," makeup artist Hung Vanngo tells Cosmopolitan. "Bronzer is all about making the skin look healthier." If you're new to makeup, and the idea of contouring and sculpting is too much for you to process, try bronzing. It's easy. It's fast. And it helps you recreate a lit-from-within glow that embodies the super sultry sunshine of the golden hour at any time of the day. 
Why is bronzing easy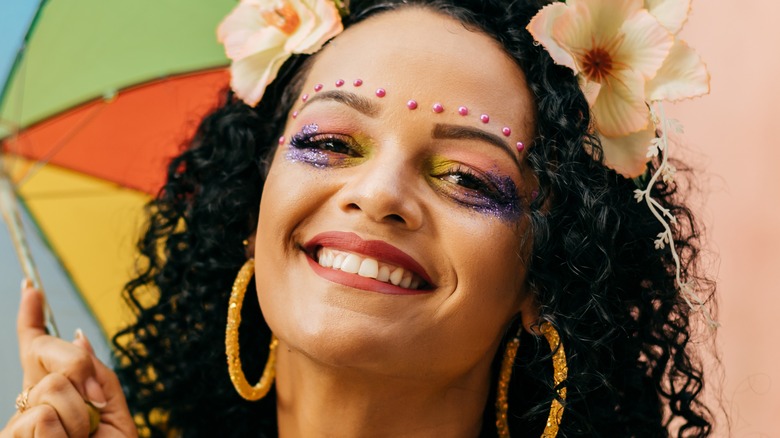 Kleber Cordeiro/Shutterstock
People often confuse contours with bronzers, but they are two different things. In a standard makeup routine, contouring, which is available in cream, liquid, and stick forms, usually comes after foundation and concealer. "The main difference between bronzer and contour is that bronzer brings warmth to the face whereas contour creates dimension," celebrity makeup artist Jamie Greenberg tells mindbodygreen. Like contours, bronzers also pack hues that are a few shades darker than your skin tone to mimic the tanning effect. Although bronzers can come in shimmery finishes, contours are not shimmery.  
Advertisement
If you're going for a full-coverage makeup look, you should use both. A contour usually comes right before a bronzer. If you don't have time to sculpt your nose, chisel your chin, or elevate your cheekbones to perfection, you can use a bronzer. You should use at least a bronzer or a contour in your makeup routine to add shades to your powdered face so that it doesn't look too flat. Makeup artist Hung Vango recommends using a bronzer with neutral tones as opposed to overly warm-toned products to contour your face. "I use a semi-matte bronzer in a neutral shade on lighter complexions to help give more definition to the face," Vanngo tells Cosmopolitan. When choosing a bronzer, those with light skin should opt for light bronzers with sheer, shimmer-free finishes. If you have medium to deep complexions, consider bronzers in deeper hues with added shimmer, per Maybelline.
Advertisement
How to use a bronzer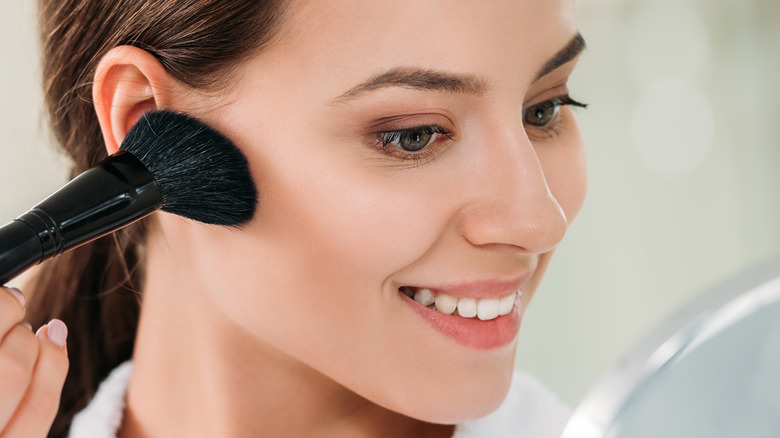 LightField Studios/Shutterstock
A rule of thumb for applying bronzer is to put it where the sun usually hits, such as the temples, cheeks, nose, and chin. According to Maybelline, to add warmth to your face, swipe a stippling brush dipped with bronzer on the hollows of your cheeks just beneath the cheekbones and blend out the harsh edges. Then, use the brush's leftover pigment to draw contour lines. To enhance your face shape, run the brush along your forehead just below the hairline to trace the letter "C" down the temple to lend your face a subtle sculpt and make your forehead look smaller. Then, contour in a "3" shape on your face, drawing from the temples to below your cheekbones before curving just under your jawline. 
Advertisement
Depending on your preferences, you can dial up the warmth and shadows in different areas of your face as needed. If you want your nose to look slimmer, line the product on the sides of your nose. After bronzer, dust some rosy blush on the apple of your cheeks. Follow with a sweep of highlighter on the high points of your face to give it a dewy sheen.
In the opinion of beauty expert Bobbi Brown (via Byrdie), bronzer looks best when you don't use much foundation. You should also go easy on the rest of your makeup, using a sparing amount of eyeshadow, a smear of lip color, and some coats of mascara.