Reasons You Need A Lip Brush In Your Makeup Collection (& How To Use It)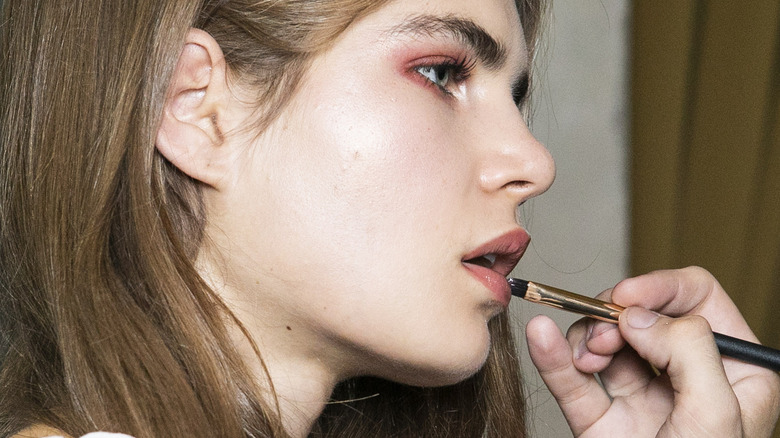 Rosdiana Ciaravolo/Getty Images
Who doesn't love playing around with a fun lip? Whether you're using lipstick, lip gloss, or lip stain, adding a fun lip to your makeup look can make the real difference between simple and spectacular. It doesn't matter if you wear nude lips or bold reds, the routine of applying a lip product is the same. 
Typically, when it comes to applying any lip product, most will tell you they apply it by directly putting the product onto their lips. This is the way it's been done for years, and there's no doubt that it's the quickest way of applying lip product. But while lip products have long been a staple in our beauty drawer, there's one tool that doesn't get as much love as the others. Though it's certainly still around, the lip brush is a tool that isn't as common as it once was.
The reason why lip brushes fell out of favor with the public is simple. As our lives got busier and schedules became more hectic, it's easy to see why reapplying a lip product needs to be done in a flash. Pulling out a lip brush and slowly applying just doesn't fit our lifestyles. However, sometimes the faster option isn't always the best. There are various reasons why you need to bring the lip brush back into your routine. Even if it takes a few more minutes out of your day, the benefits it can bring to your overall look are well worth it.
Why you need the lip brush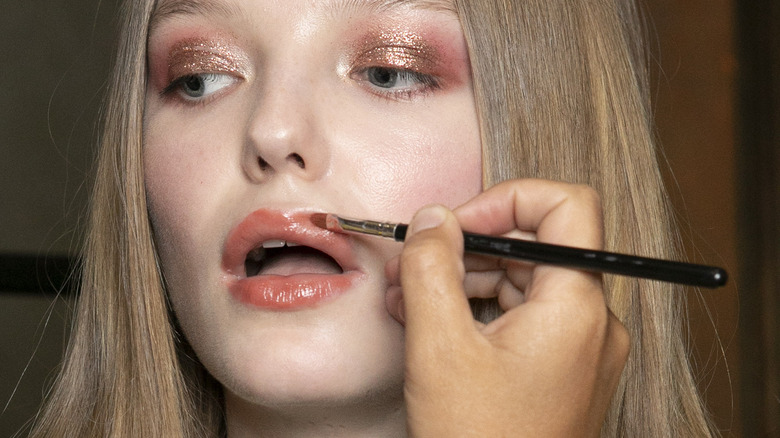 Rosdiana Ciaravolo/Getty Images
Besides the fact that it will immediately make you feel more sophisticated and proper, the lip brush is a helpful tool in getting a flawless application. The precision of a lip brush is very useful if you are looking to apply a bold lip color that you don't want to smear all over the place. If you're working with reds or oranges, using a lip brush could make the difference between that brightness ending up on your lips and on your teeth. The lip brush can perfectly replace your lip liner as a boundary line to prevent your lip product from spreading out. Like the lip liner, you can also use a lip brush to create your desired lip shape.
Another subtle benefit of using a lip brush is the flexibility it gives you as a makeup fanatic. For anyone who struggles with getting the optimal color, you might have to turn to a create-your-own mixture. By using a lip brush, you can combine lipstick shades without messing up their original colors. These tools will also help you get even coverage when it comes to creating your desired makeup look. There are times when you just want the faintest color, meaning applying it directly from the tube is not an option. Get your desired intensity with a lip brush that gives you more control over where and how much product you apply.
How to use a lip brush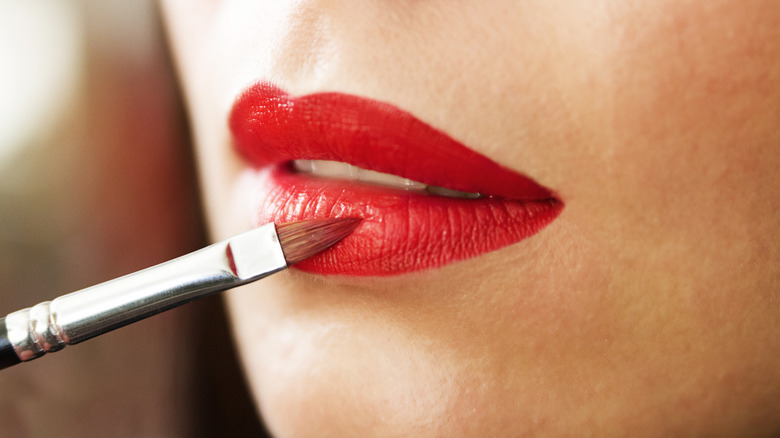 Lokisurina/Getty Images
Using a lip brush isn't as challenging as it may initially seem. Follow your normal lip routine of exfoliating and moisturizing before applying any lip product. No matter whether you're using a brush or not, you always want to give your lip product a good base to stick to. Wait until your lip balm has absorbed to apply any lip product. If you're using lipstick, simply swipe your lip brush across the lipstick to pick up a layer of product. Depending on the packaging of the product and its texture, it might be easier to squeeze some of the product onto the back of your hand.
Once you've picked up some of the product onto your brush, decide whether you want to create a faint line around your lips to act as a lip liner. When applying your lip product with a brush, Proarte recommends starting in the middle of your lip before moving outwards. Like an artist, use quick brushstrokes to spread the product toward the corners of your lips. Keep adding more layers to your lips until you reach your desired intensity. With your brush, you also want to take the opportunity to get the small inner corners that lipsticks typically miss. Just like that, you're ready to go with your flawless lips.