Sunday Reset: How To Use The Routine To Set Your Week Up For Success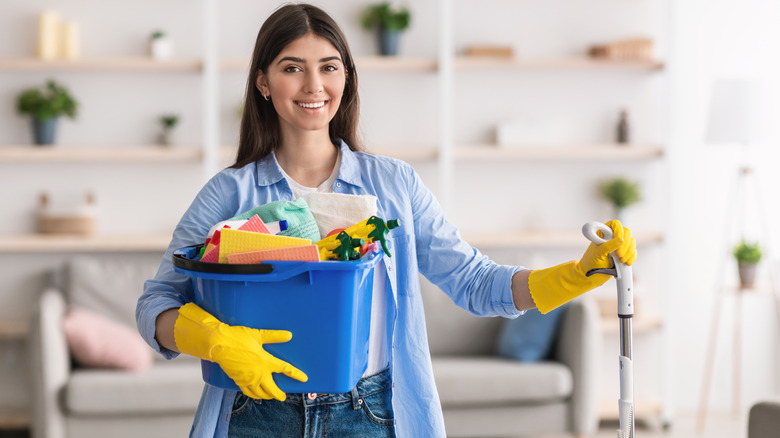 Prostock-studio/Getty Images
A new viral TikTok trend is making waves online, and it may just be the best way to set up your week for success. We all love a good refresh before the busy work week starts again, but you may be surprised to learn that the "Sunday Reset" is about more than just recharging. The weekly reset shows satisfying videos ranging from laundry tips to restocking the bathroom to kitchen cleaning hacks. But what happened to relaxing on Sunday and taking a break before the new week starts again? Is it possible to do both a reset on your home and recharge your energy before Monday?
Advertisement
If you've ever had a case of the Sunday Scaries, then you know that a lot of pressure is already put on that one day of the week. The feeling of dread that overcomes many of us as we think about Monday is enough to ruin a perfectly good day off. But what if we could offset the "scaries" with a clean reset? Finding a good Sunday Reset that fits your life best can make it possible to set yourself up for higher productivity and success during the week.
How to reset on Sunday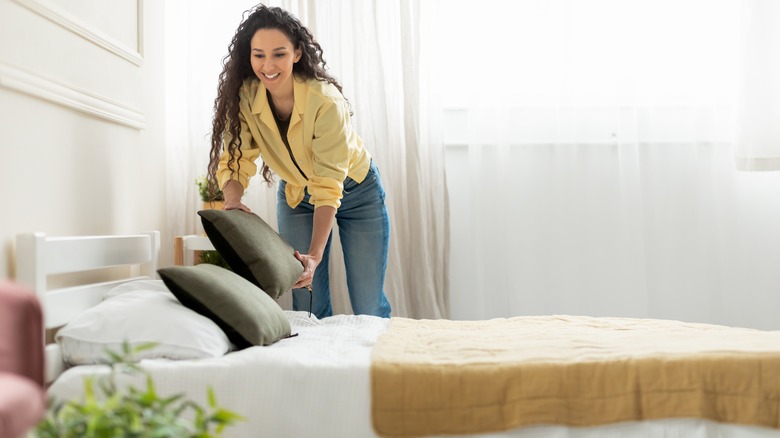 Prostock-studio/Shutterstock
Garnering over 1.3 billion views so far, the viral hashtag #SundayReset has become a popular trend for many reasons. Home care expert Bailey Carson explained to Reviewed that the Sunday Reset trend is about more than just cleaning — it allows you to "start the week with a fresh, clean home." The main idea behind the reset is to deep clean, declutter, and organize your space before the week starts again. Moreover, your Sunday Reset should be anything but stressful. It's meant to be a stress-reducing task that you can do at your own pace on Sunday to ensure a clean slate for the week.
Advertisement
Maybe you feel like it's impossible to keep up with laundry. Don't feel bad if you're unable to find time to wash, dry, and fold all the clothes throughout the week — setting aside a few hours every Sunday to clean and organize your wardrobe will ensure you have many outfit options for the week ahead. Or maybe you are able to keep the house fairly clean for most of the week, but deep cleaning and decluttering are left undone. Use your Sunday Reset to vacuum, dust, clean out the fridge, wipe down mirrors, restock items, and wash bedding.
In figuring out what you don't have time for during the week, you can plan for a Sunday Reset that best fits your lifestyle, paving the way to a successful week free of clutter and stress.
Advertisement
Simple ways to optimize your Sunday Reset
Monkey Business Images/Shutterstock
People on TikTok are showing off the variety of creative ways they're using the Sunday Reset trend. Restocking the kitchen is a popular task many people set aside for Sundays; they might declutter the fridge and pantry, go on a large grocery run, and meal prep for the week. But you don't need to follow their lead — just come up with your own routine and stick with it each Sunday. Light some candles, play music, or turn on your favorite podcast in the background while you get your decluttering on. Making a Sunday Reset list of important household tasks you want to get done is another great tip.
Advertisement
But what happens if your Sunday Reset becomes just another stressful chore, causing you to forgo much-needed relaxation before Monday? Finding that balance between rest and reset is key. Keep in mind that your Sunday Reset doesn't have to take up the entire day — plan for just a few hours of decluttering and deep cleaning on your Sunday. Once done, use the rest of your day to read a book, nap, or spend time with family. Your Sunday Reset shouldn't come at the expense of that much-needed quality time before the week begins; after all, the reset exists to set you up for success, not add further stress to the time you have to relax!