Goth Business Casual Is Spring's Moody & Surprisingly Wearable Trend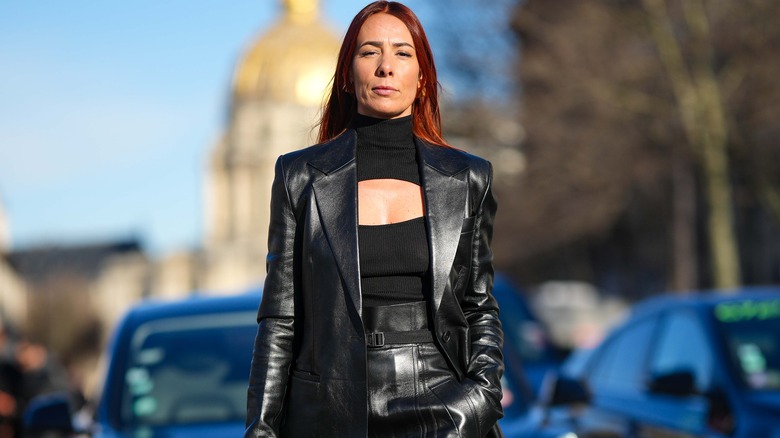 Edward Berthelot/Getty Images
Maybe it's the fact that all things '90s and Y2K are trending again, but one of the latest trends on social media is the goth aesthetic. For lovers of colors and prints, the goth aesthetic might be too oppositional to try out. However, like any trend that comes back into style, the goth trend has taken a turn to become the newest business casual look we all need. While we might have an idea of what the goth fashion scene looks like, the goth business casual trend is sleek, chic, and modern for any type of office. Whether you wear it to the office or not, the goth trend will become your new favorite spring ensemble.
The goth fashion trend is nothing new for those who have seen the latest "cores" on social media. Gothcore recently became one of the latest aesthetics to take over TikTok and Instagram and has gotten many hooked on how simple and stylish it can be. Like any trend, there are various ways to modernize it to fit your routine and style. There are simple ways to inject some basics to capture the essence of the goth business casual style. Even if you aren't a goth fashion fan, these trends may become some of your favorite new ensembles.
Leather is a must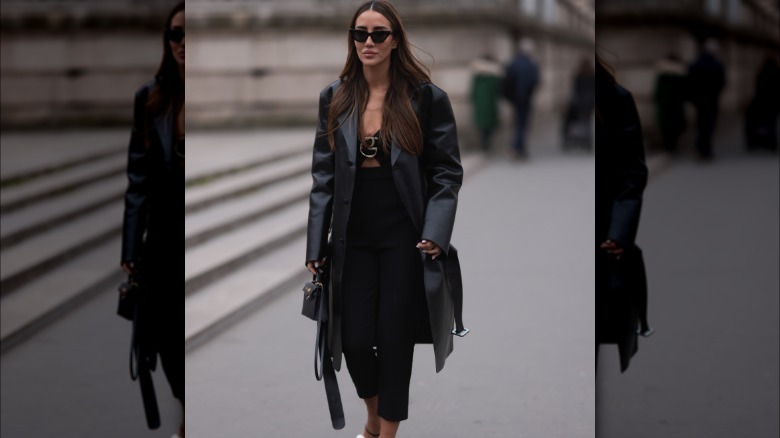 Jeremy Moeller/Getty Images
Anyone wanting to adopt a goth trend should know that leather is at the forefront of this fashion aesthetic. Leather pieces like coats, skirts, and leggings are the perfect pieces to incorporate into your wardrobe to give you the edgier and darker mood of a goth look while still remaining casual and professional enough to take into the office. If you're concerned about looking too edgy at work, pieces like a leather blazer or midi skirt are a perfect balance between chic and work-appropriate. Wearing leather on leather is another way you can modernize your typical business casual attire while still giving it a goth touch.
The right footwear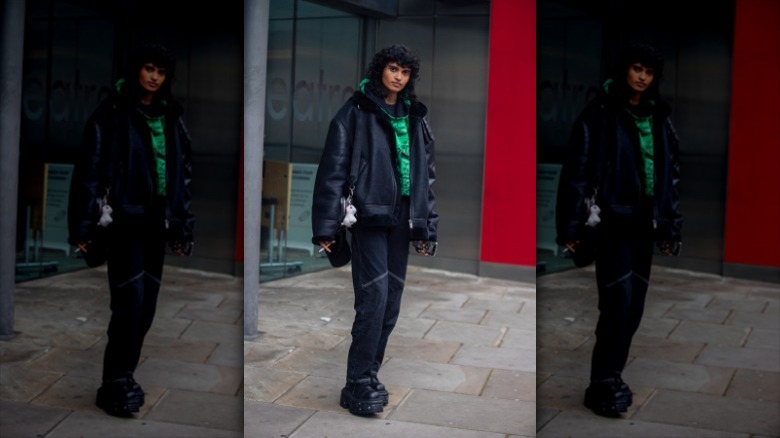 Melodie Jeng/Getty Images
You can't have an outfit without the correct footwear. To get your goth business casual look you'll need to have the right shoes that will give you the goth style without straying from the business casual dress code. Chunky boots are a perfect option for your footwear that's comfortable, stylish, and edgy. Add chunky boots with a heel for something more dressed up. Add more goth style to your boots by adding accents like buckles, studs, or belts to get more of the fashion you are looking for.
Metal accents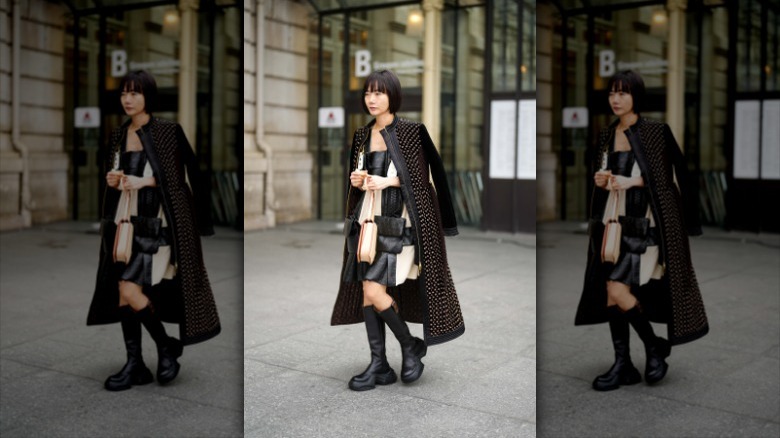 Edward Berthelot/Getty Images
Metal isn't just a goth staple, but it's also a contender for one of the most popular fashion trends of the year. Studs or spikes are some of the metal accents to look out for when picking out your pieces. Include these metal pieces into your shoes, belts, and other accessories to keep your outfit cohesive but still with a goth touch. If spikes and studs are too much for your wardrobe, you can always use other metal aspects like chains in your outfit to keep up with your goth look.
Monochromatic 'fits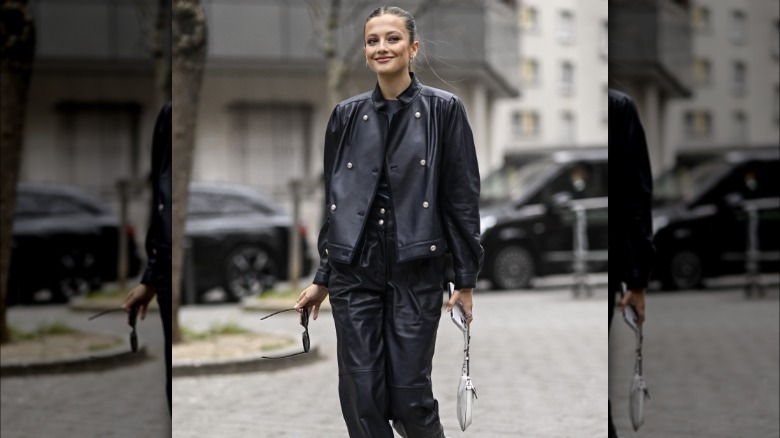 Daniel Zuchnik/Getty Images
It's no secret that the goth style calls for minimal color. When you imagine a goth look, most of the time the ensemble will be a monochrome dark hue. Translating this feeling into your business casual look is as simple as choosing an all-black outfit that can be both chic and goth. Pair your ensemble with a few black pieces that include blazers, jeans, or tops for a head-to-toe monochrome look that will give you a sleek goth style.
Mix your silvers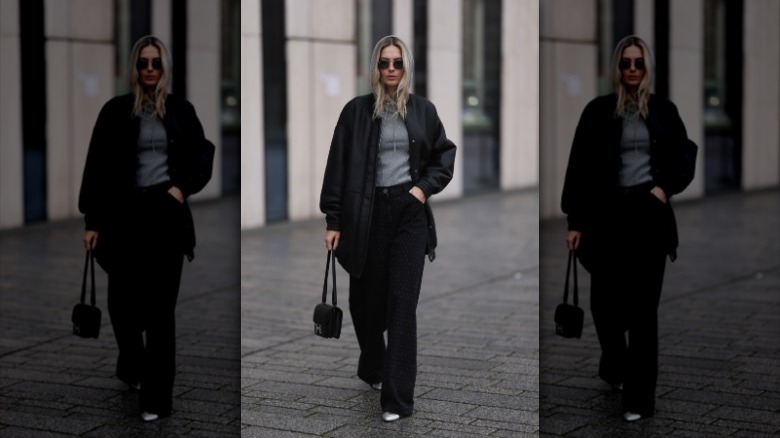 Jeremy Moeller/Getty Images
As we've seen, anything metal is sure to be a goth staple. Zero in on your silvers for a goth version of giving your look a pop of color. Silver bags, shoes, and other accessories are the best way to break up a monochrome outfit without taking away from the goth look. Even small details like silver buttons and zippers can give your look an extra cold touch. Silver and black are a combination that is sure to be your new favorite spring color palette.
Distressed and more distressed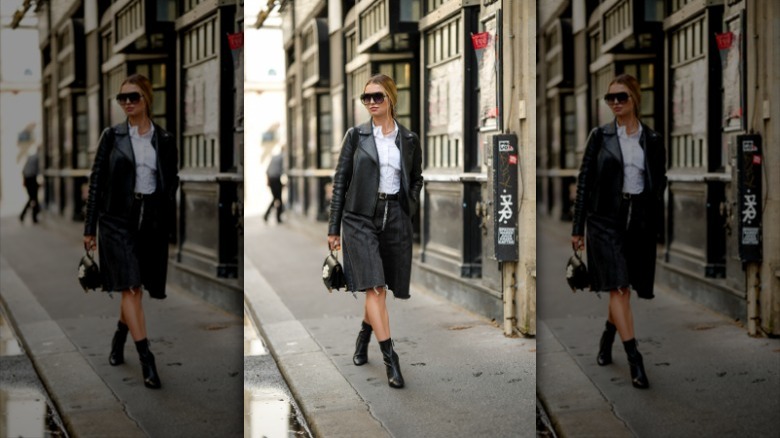 Edward Berthelot/Getty Images
If you wanted to add some texture and movement to your look, be sure to look at anything distressed. While distressed pieces are often seen as part of a grunge or biker look, they can be a great way of adding some interest to your goth looks. While distressed pieces aren't usually your go-to business casual items, you can always introduce subtle distressed accents in your outerwear or hems for a small but significant goth touch.
Velvet textures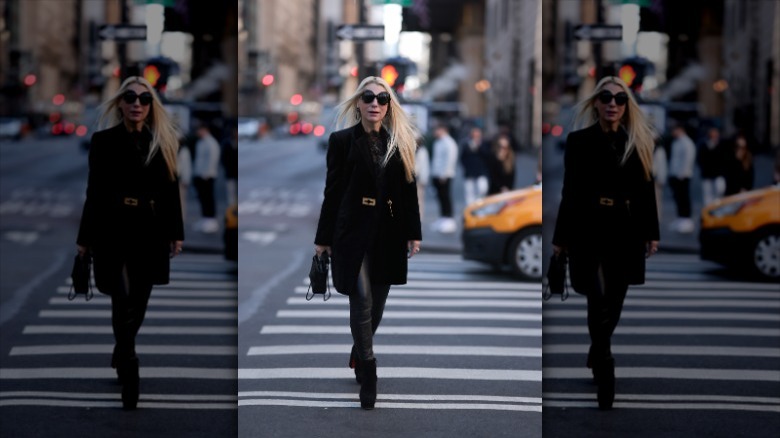 Jeremy Moeller/Getty Images
Going in head first on the goth business casual trend might be difficult if you're used to dressing up all the time. However, one aspect that might make this transition easier is a bit of a velvet touch. Plush velvet and other similar fabrics are versatile in that they can give you both an elegant and sophisticated feel but still introduce a goth touch in the right hue. Stick to your darker shades like purple, green, and black to get the goth look without sacrificing your style.