12 Types Of Shoes You Shouldn't Wear With Your Leggings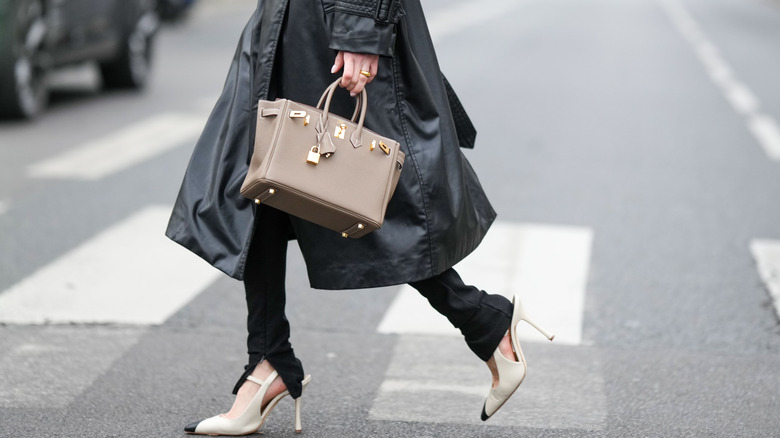 Edward Berthelot/Getty Images
Shoes are the metaphorical frosting on the outfit cake. They can instantly make or break a look. While you may be able to rattle off the best shoes to pair with your mom jeans or can 10 times out of 10 pick out the perfect shoes to wear with your wide-legged jeans, what about the footwear you reach for when you wear an outfit with leggings?
These athletic pants turned fashion statements are seen paired with all sorts of shoes these days, but some are most definitely better than others. To get the most out of these stretchy trousers outside of the gym, you need to perfect what you pick for your feet. Fashion has no hard and fast rules (we're big believers in wearing what you love!), but it's no secret that some shoes just aren't it when you've locked in a chic outfit with leggings. Here are 12 types of shoes you should never wear with your leggings, as well as what kind of footwear to try instead.
Closed-toe heels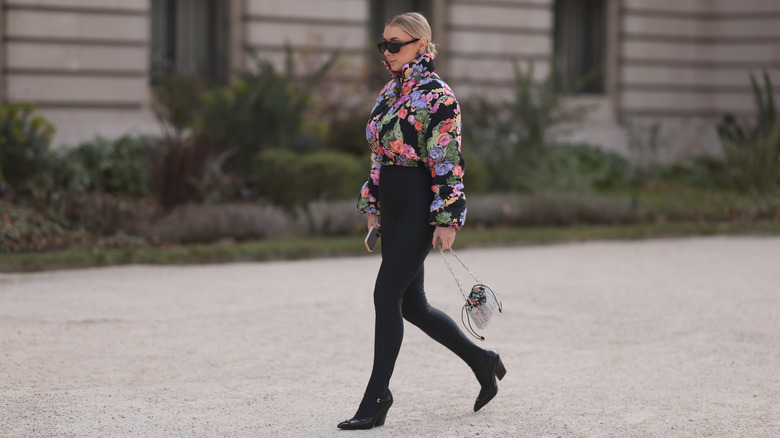 Jeremy Moeller/Getty Images
A closed heel can do a lot for an outfit, especially with a pointed toe. These shoes are skilled at providing the illusion of elongated legs, but when paired with leggings they aren't as talented. Because leggings hug the body and have a tapered fit, closed-toe heels can lead to slightly odd proportions. With no break in texture or color from the top of your leggings to the toe, any bulky sweater, blouse, or top can make the entire outfit feel top-heavy. Instead, try an open-toe heel for a refreshing change. A flash of your foot's instep or a peep of toenail polish will provide some separation between the look and you.
Wedge heels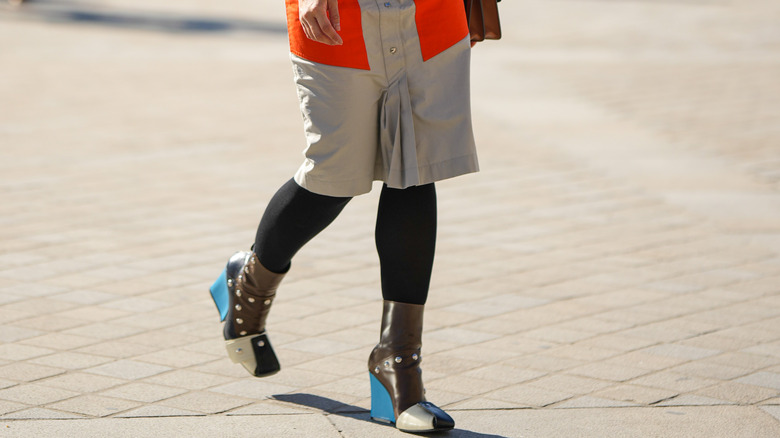 Edward Berthelot/Getty Images
Wedge heels have had it rough. While they were trendy for a while, they've since been relegated to the back of the closet. Give it a few years and they'll likely be in style again, but for now, they're not the most sought-after shoe on the street. If you want to curate a timeless wardrobe, invest in a good pair of block heels. Like a wedge, the extra support from a chunkier heel is far more comfortable than that of a stiletto but they look more contemporary. They'll also save you the headache of dealing with cyclical trends since they've been a staple in wardrobes for decades. 
Ankle boots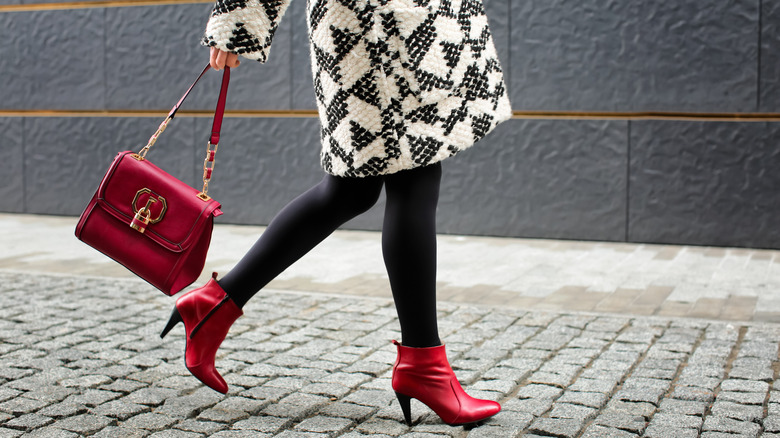 Africa Studio/Shutterstock
Ankle boots are another closet staple and aren't going anywhere, but before you zip up a pair with your leggings-focused outfit, we have a cooler option to consider. Knee-high boots provide an edge that ankle boots just don't have and can take the proportions of your outfit to new heights (literally). This cut and shaft height of boot won't cut your leg off at the ankle. It draws the eyes up and elevates the ensemble as a whole.
Strappy sandals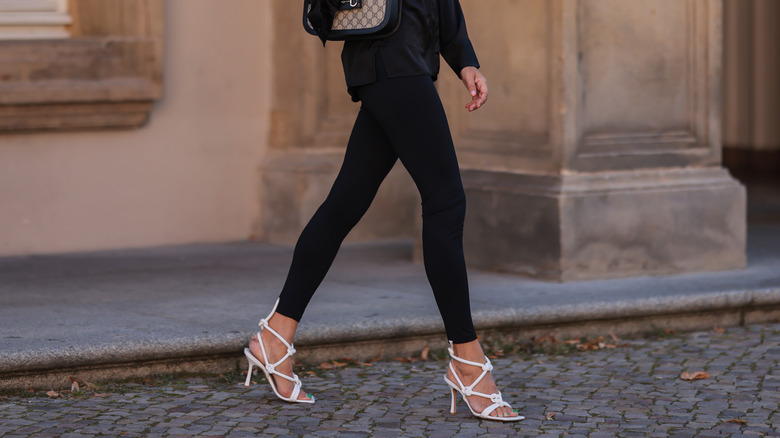 Jeremy Moeller/Getty Images
Strappy sandals are a popular pick when warmer days roll around, but it's not the shoe to wear with a leggings outfit. The intricacy of the straps often looks a little off-putting when contrasted with pants as basic as leggings. Instead, try sandals with thicker straps or trade in the tangle of straps completely for a one-strap slide for a cool athleisure look. A classic leather sole with one band around the instep or around the ankle is another chic pick, or if you're really feeling tons of laces, the more informal gladiator sandal works a dream.
Athletic sneakers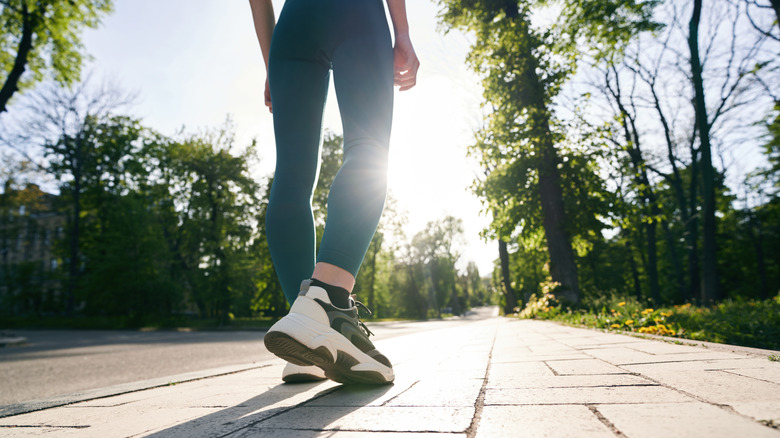 Yacobchuk/Getty Images
Why are athletic sneakers a no-go with leggings? From a fashion standpoint, it's not so creative. If you're off to the gym or just finished a run, tennis shoes are a totally logical pick. But if you're trying to infuse some pizzazz into your leggings outfit, it's time to think outside the box. Fans of comfort and sneakers alike don't have to toss this idea out the window. Try opting for a fashion sneaker that will have extra details. Whether it's a chunky sole, a textured upper, or some colorful laces, experiment with shoe choices that aren't your everyday pick for running or squats. 
Flip flops or thong sandals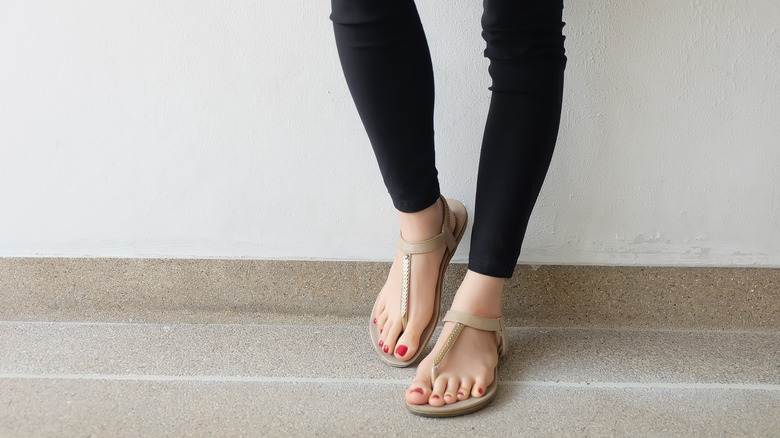 yayhastudio/Shutterstock
Angling for a casual #OOTD? Skip the flip flops if you're wearing leggings and instead try slides. Both provide the informal twist you want to maintain with an effortless leggings outfit, but slides are trendier. A cushy athletic pair will be on-trend but still comfortable. Want to bump it up a notch? Why not opt for leather slides with a big buckle for a fun statement? 
Rubber boots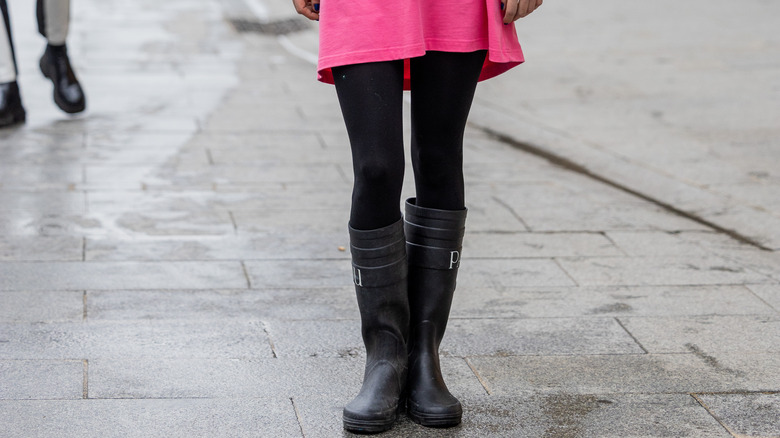 Christian Vierig/Getty Images
Unless it's pouring rain or you're out on a farm, there are better shoe options to wear with leggings over rubber boots. Though a lug sole and waterproof material is functional, combat boots or shoes made of plastic or PVC can provide more style than the clunky cloudy day classic. It can be tough striking the balance between utility and fashion, but a water-resistant shoe that's not as obvious as galoshes instantly elevates your outfit game while still providing some protection. Still want a rain boot? Choose something in a sleek silhouette or with an interesting heel or seam for a little pinch of sophistication.
Athletic slides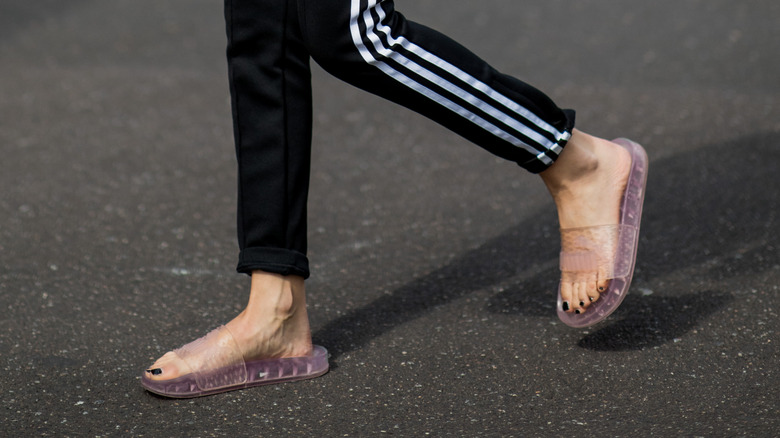 Christian Vierig/Getty Images
One of the most classic shoe styles you'll see paired with leggings are athletic slides, and understandably so. Leggings were practically made for the gym and other active uses, so it makes sense that people love pairing them with pool slides. Although they're pretty casual, slides have the ability to move up and down the spectrum of elevated. Instead of plastic or rubber soles, try leather or textile slides. To get rid of any sporty vibes associated with leggings and slides in general, swap these shoes out for flats. Ballet flats are a great choice, as are Mary Jane models with a chic strap that hugs the instep of your foot.
Slip-on sneakers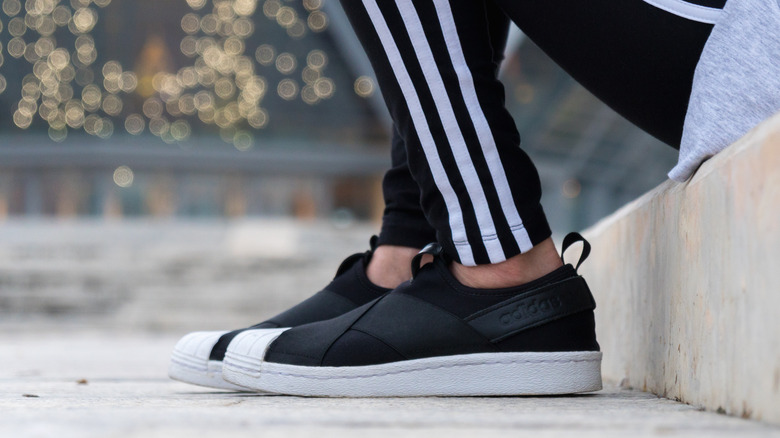 2p2play/Shutterstock
Going along with the theme of avoiding a sporty look, slip-on sneakers are another no-go when you're rocking a pair of leggings. Again, if sporty chic is your thing, go for it. If you're looking to swerve the athleisure trend, swap your sneaks out for loafers. This stylish shoe goes beyond office attire and adds instant polish to an outfit with leggings. For the best of both worlds (office glam and the laidback appeal of leggings), combine these pants with pieces you'd find at the workplace, like loafers and blazers.
Platform heels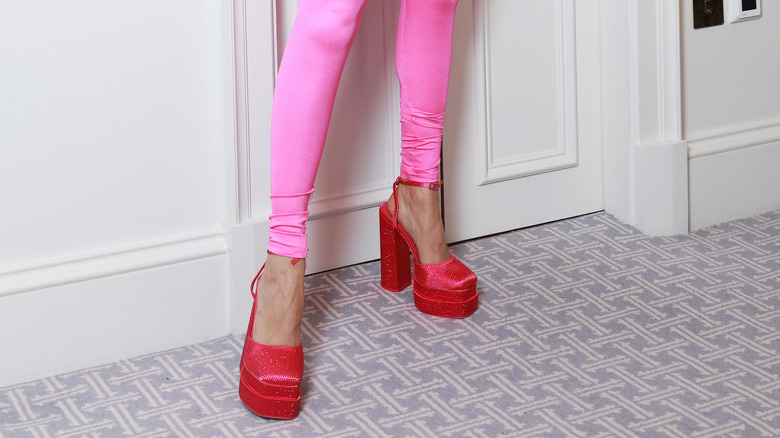 David M. Benett/Getty Images
Another shoe worth avoiding when you're wearing your best stretchy pants? Sky-high platform heels. When combined, you might feel like they're a little too over-the-top compared to the down-to-earth nature of leggings. If you're aching to try a more polished heel with your leggings, slingbacks should be your new fashion best friend. The small kitten heel that's typically fused onto a pair of slingbacks isn't as dramatic as a platform or stiletto, which makes it a perfect pairing. 
Stilettos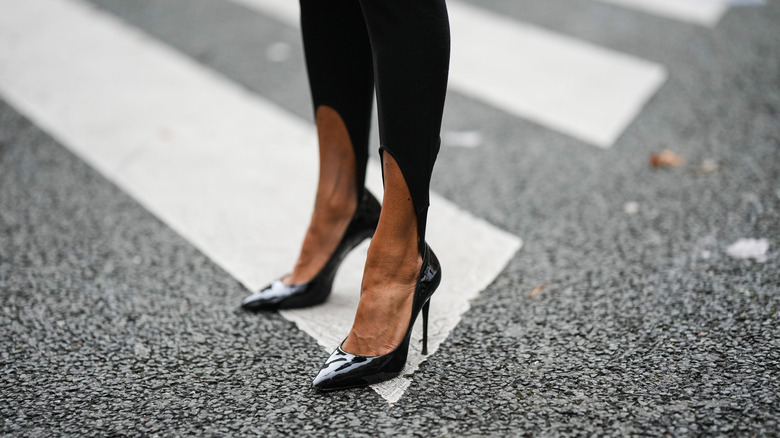 Edward Berthelot/Getty Images
Contrast is always fun when styling a cute outfit, but certain looks paired together can feel a little too extreme. Exhibit A: leggings and stilettos. On a scale of casual clothing and accessories, leggings sit at one end, and stilettos are on the opposite. When you're figuring out how to style leggings or are less confident about wearing ultra-thin heels, mules are a comfortable option that won't have you teetering. Whether you choose mules with a slight heel or something flat, they'll feel more cohesive with your leggings than those skyscraper-high heels you may have been thinking about.
Clogs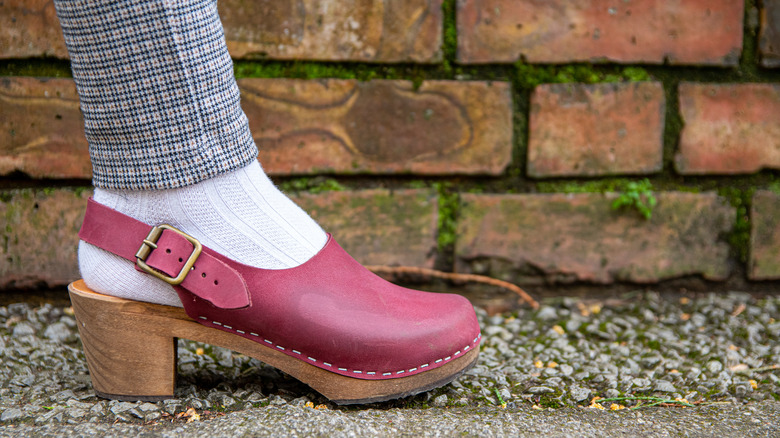 Timothy Kuiper/Shutterstock
Hailing from Europe, clogs have entered the mainstream as a chic choice for fans of Scandi style. While they're a pretty pairing with flared denim and loose-cut trousers, they're not a great fit with leggings. For starters, the rounded, closed toe doesn't do much for proportions. Clogs are also quite earthy and boho in appearance (depending on the type you own), and because leggings are already very casual, these shoes only make your outfit feel more informal rather than elevate it. Instead, opt for calf-high boots for a polished look.