Flat Iron Vs. Straightening Brush: Which Is Best For Your Hair Health?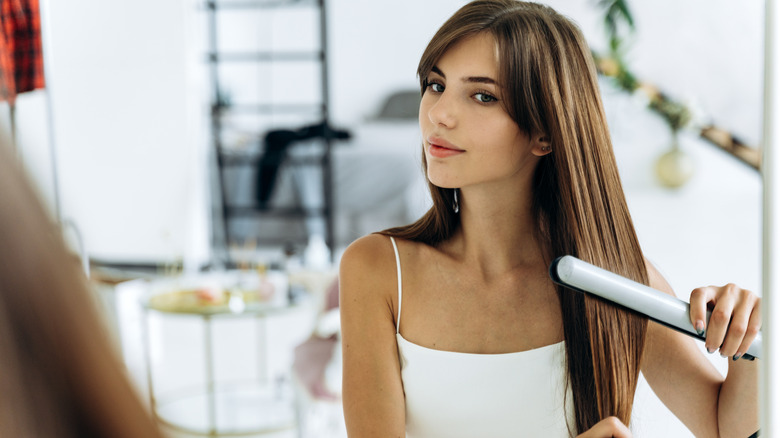 Sklo Studio/Shutterstock
Our hair has always been that one thing we can easily change about ourselves. And oh boy, do we go to town — be it coloring, straightening, curling, rebonding, relaxing, or even giving yourself those bangs you regret. For decades, human hair has been through it all. But one hairstyle we can't seem to get enough of is simple, sleek, straight hair. In the early 2000s, we saw our favorite Hollywood icons sport flat ironed straight hair, and we haven't looked back since.
Now, this may not come as a surprise to you, but not all of us have straight hair. Luckily, thanks to numerous hair tools and treatments, even the curliest of hair can now be straight and sleek. However, there is a catch: All of this straightening is done with heat, and heat is enemy number one when it comes to hair health.
This is quite the dilemma. We want that flawless, frizz-less, fantastically straight hair and none of the heat damage. We can't have it all, but with the right tools, you can lessen the blow, and we're here to help you decide.
Are flat irons the way to go?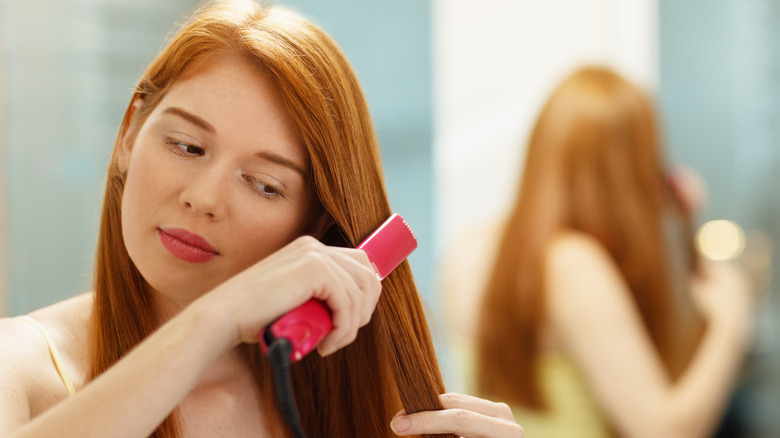 Diego_cervo/Getty Images
Flat irons, as the name suggests, are used to flatten your hair by reducing the appearance of volume. Shaped like a pair of tongs, it is a fairly easy tool to use. Its functionality lies in its structure: the two plates of metal or ceramic evenly compress the hair stands that are guided through them, producing frizz-free, evenly straight hair.
Though they promise evenly straight hair, daily or frequent use will be detrimental. The high heat settings on flat irons are designed to support any type of hair, thick or coarse, or both, however, if you have thin hair, you can say bye to both volume and shine. Heat damage will begin to show if you rely on your flat iron every day, there's simply no escaping it.
Yes, heat damage is bad, very bad, but here's why we just can't seem to let flat irons go. First off, they do so much more than just straightening, they reduce the appearance of frizz and you can switch up the straight hair with a curl or two by just twisting the hair strand around the iron, sounds complicated, but once mastered, there's nothing easier. Plus flat irons have been in the game forever, they have been improved to minimize damage to your hair, the only issue is the new and improved ones are also the really expensive ones.
Maybe all we need is a little brushing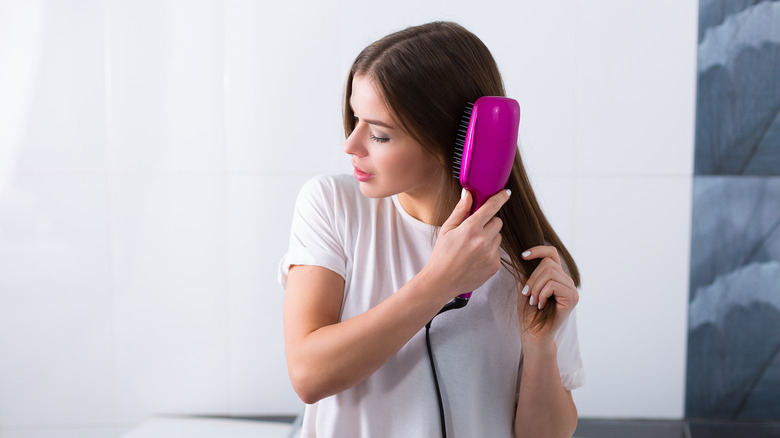 Tinatin/Shutterstock
Well, a little brushing with a straightening brush. Compared to flat irons, straightening brushes are fairly new to the game. They gained popularity for being easy to use, straightening was now as easy as brushing your hair. The bristles on the brush heat up and straighten as you guide it along the length of your hair.
Straightening brushes only work with thin hair as they have lower heat settings than flat irons. They're also not the most versatile tools out there; while a flat iron can produce curls, the straightening brush can only serve as a straightener.
Other than being an easy tool to use, what makes the straightening brush a better choice? Well, simply put, it guarantees some degree of hair health when compared to a flat iron. Having a lower heat setting, the straightening brush does less heat damage to your hair, furthermore, you don't have to be anxious about burning yourself.
Which one takes the win?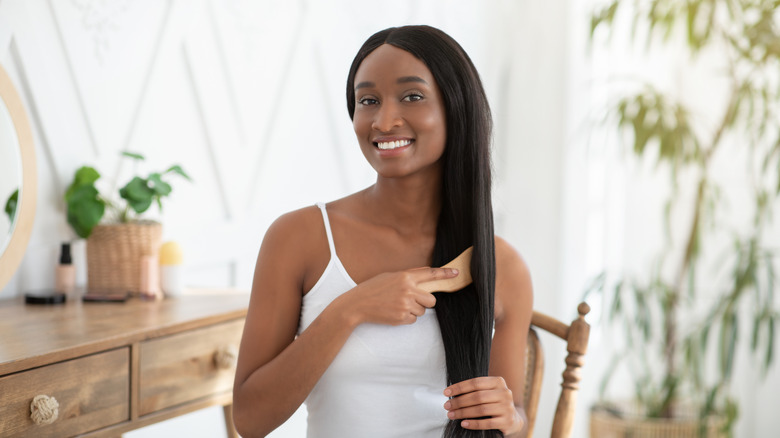 Prostock-studio/Shutterstock
Flat irons or straightening brushes, the decision is up to you. If you have thick, coarse hair that needs the extra heat, a flat iron would be your best bet. If you have thin, fragile hair that is a little extra sensitive to heat, a straightening brush is the tool for you.
Whichever choice you make, your hair health is not solely dependent on that. Yes, it is one part of the equation but we can't forget all the serums, oils, masks, and sprays that determine the shine and health of your hair. So, here are a few tips to secure healthy hair regardless of your choice of styling tool.
Always use a heat protection spray before applying heat to your hair.
Keep your hair moisturized, and apply a hair mask at least once a week. Make sure your scalp is clean, when taking showers, make it a point to not only wash your hair but also your scalp. Use a good shampoo-conditioner pair and massage your hair while in the shower.
It's important to remember that your hair health is not only determined by the tools you use but also by the care you give.