Highlighter And Contour Are Complete Opposites. Here's Why You Need Both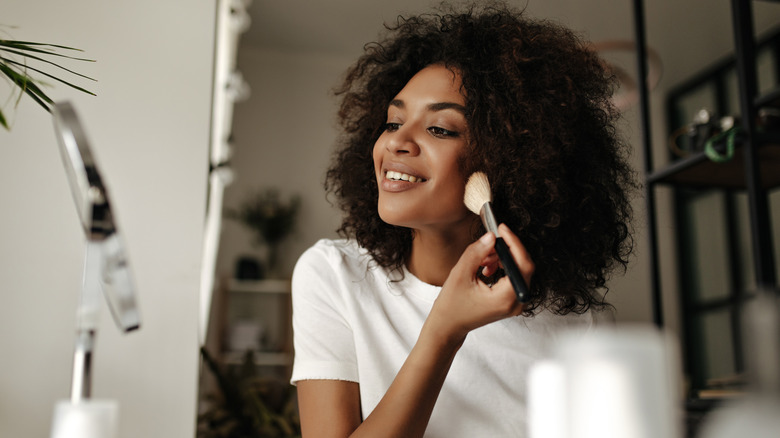 Look Studio/Shutterstock
Makeup is our greatest form of alchemy. Since ancient times, we have been figuring out new ways to decorate our faces in unique and interesting ways. Over the years, we have gone above and beyond to create the best looks for ourselves. Thanks to beauty gurus and popular makeup trends, we have tips and tricks immediately available at our fingertips. But even with all this information, what if it is still confusing?
Highlighting and contouring are essential for creating a flawless face. When done correctly, they can transform your appearance, giving you a sculpted look that showcases your best features. There are many ways to highlight and contour based on your face shape and what you are trying to accomplish. While they are often brought up in the same conversation, highlighting and contouring do very different things. To get the best results, it's important to understand what each technique does.
What is highlighting?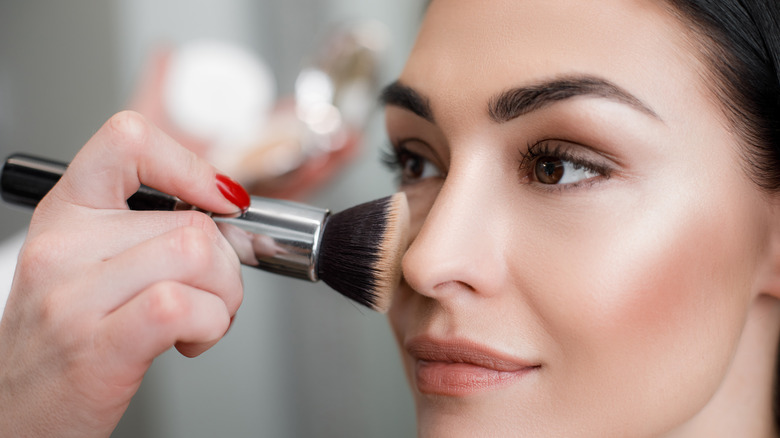 Olena Yakobchuk/Shutterstock
Highlighting is a great way to bring out the features you want to accentuate. According to Ipsy, the best way to highlight is to use a metallic product that is lighter than your skin tone. Highlighting products come in liquid, powder, or cream form. The goal is to have these features pop when the light hits them.
Placement for highlighter is key to getting the best results. When applying a highlighter, stick to all the areas of your face that the sun would naturally hit. This includes the cheekbones, bridge of your nose, chin, and forehead. Trinny Woodall, the founder of Trinny London, explains some of the many ways to use a highlighter. "[I]f you have a broad face, you can place it on your temples because it changes and gives your face shape and contour." Furthermore, once you get the hang of highlighting, you can begin coordinating your highlighter with blush and bronzer to add to the glow.
How to contour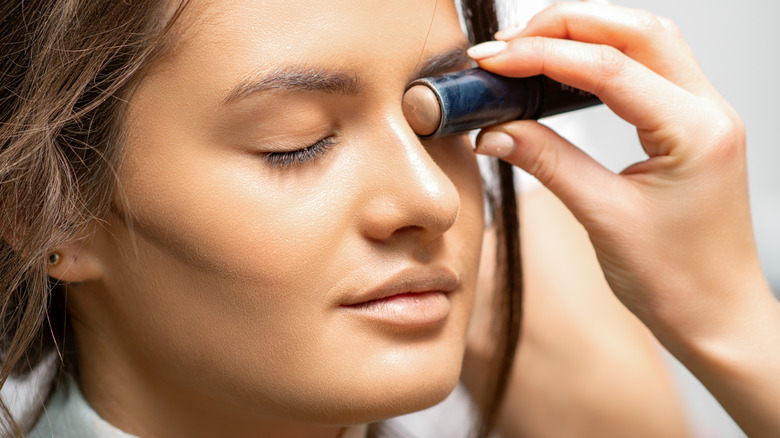 Okskukuruza/Getty Images
Contouring is entirely different from highlighting. The goal of contouring is to create shadows on the face. Unlike highlighting, contouring requires a cool-toned shade darker than your skin tone. Instead of bringing attention to certain features, contouring brings your features inward. "This is also a great technique to softly 'correct' features or slim areas of the face. You can even contour to enhance any areas to make them appear larger," celebrity makeup artist Melissa Hurkman adds.
There are many beginner guides to face contouring based on particular face shapes. Regardless of how you want to contour, most people place the contour in the hollows of the cheeks to create the illusion of higher cheekbones. It can also be placed on the jawline, sides of the nose, and forehead. There is a myriad of products for contouring, including liquid, powder, and cream bases, which can be interchangeable based on your preference.