Triple Barrel Wavers Are The Key To Achieving The Ultimate Beachy Look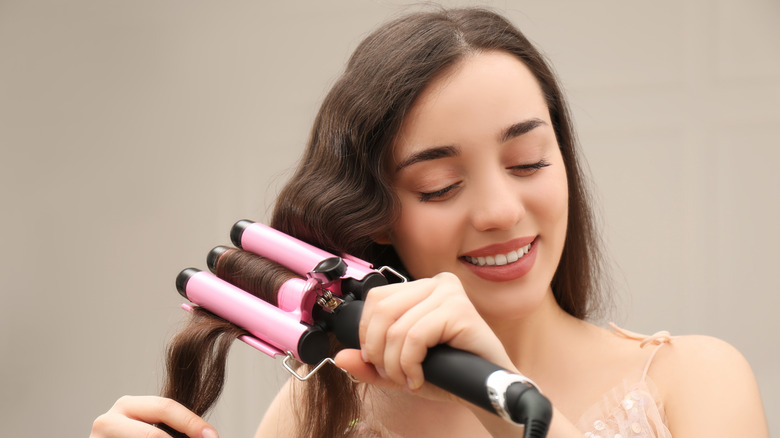 New Africa/Shutterstock
We may receive a commission on purchases made from links.
If you've been curling your hair with a traditional curling iron or wand for years, you know how difficult it can be to create the elusive beachy wave. Typical irons are perfect when you're looking for ringlets or a brushed-out blowout look, but when it comes down to pulling off free-flowing or precise Hollywood waves, the process is a bit hit or miss. Thankfully, there's a new tool to add to your styling collection that can give you the perfect waves every time, with little more effort than a flat iron.
Advertisement
Three barrel wavers might look intimidating at first glance, bringing back memories of the damaging crimpers of decades past. Still, you can rest assured that this hair appliance will keep you far from Lizzie McGuire's territory. Before heading to your nearest beauty supply store, it's important to know how to use these wavers and if they'll work on your hair type.
How do triple barrel wands work?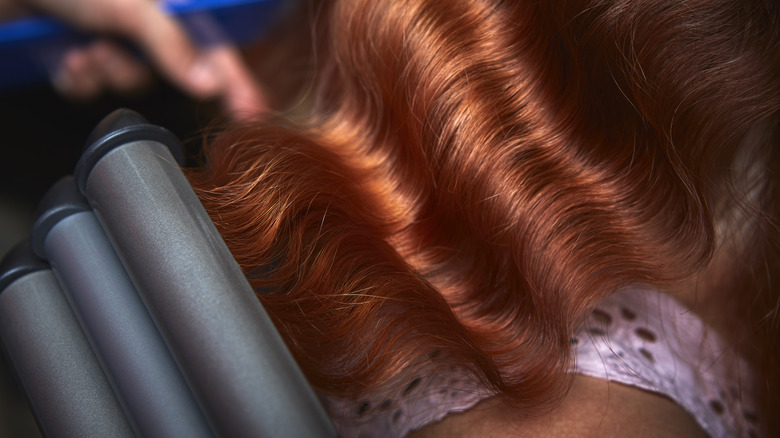 Photosebia/Shutterstock
When using a traditional curling iron, you clamp or grab the hair with your hand, then wrap it around a heated barrel a few times to create a curl. These curling irons come in all shapes, sizes, and materials — bubble wands, tapers, spring-loaded clamps — but the one thing they have in common is that they require the hair to do a full rotation around the barrel to create a ringlet shape, however large or small.
Advertisement
Wavers are similar in that they're heated appliances meant to add texture but work more like a flat iron or crimper. Instead of wrapping the hair around the barrel, you sandwich pieces between the plates to form the hair into waves. This means that there's no risk of entering ringlet territory with your look, and you'll get something that harkens back to Old Hollywood glamour that can then be shaken out or texturized to lean more natural than camera-ready.
What hair types work with this styler?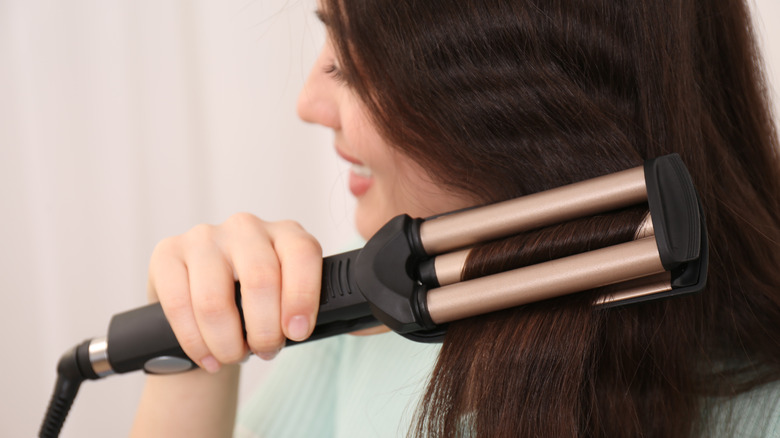 New Africa/Shutterstock
Unfortunately, this type of hair styling tool comes with a few prerequisites for hair type. Because it's used to create a more uniform look, you'll only see the commonly expected results if your hair is straight or has been blown out ahead of time. Using one of these wavers on curly hair could work to an extent, but it won't replace your texture with smooth waves. Just add a bit of bumpiness. It can, however, be used to enhance naturally wavy hair that's lost definition between washes.
Advertisement
When using a waver, it's also essential that your hair is long enough to fit between the plates. Three barrel wavers are relatively large, about the size of three curling irons strapped together. So you need enough length in your hair to see the texture without getting too close to your scalp and accidentally burning yourself. Because of this, it's best to stick with a traditional curling iron if your hair is shorter than shoulder-length.
The risks of a waver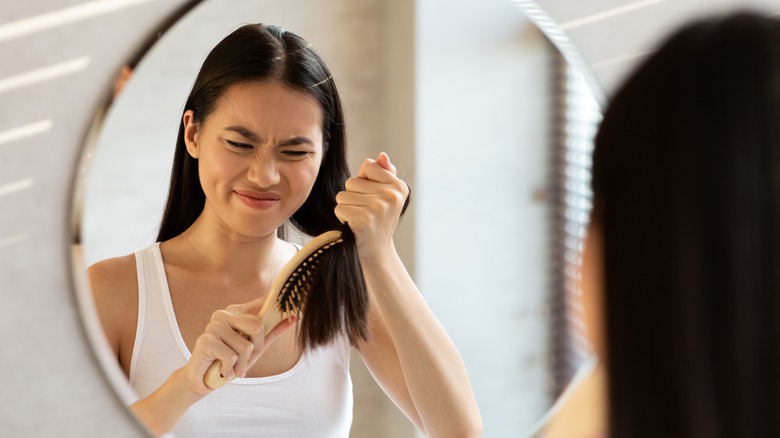 Prostock-studio/Shutterstock
As with any hot styling tool, there's the obvious risk of burning yourself, but when it comes to a waver, that risk is a bit higher. Because wavers have such a large surface area and are usually a bit cumbersome for most people to handle, especially on their heads, it's easy to accidentally bump your scalp, neck, or shoulders while trying to position the tool correctly. However, this risk can be reduced with careful handling and a few practice runs before bringing the waver up towards your scalp.
Advertisement
Another potential issue is heat damage, which is consistent with other hot tools. Just make sure you apply a heat protectant to each section of your hair before styling, choose a material that evenly conducts heat, like ceramic, tourmaline, or porcelain, and try not to overlap sections you've already styled. Moderation and protection are crucial to reducing heat damage — by following both rules, you can avoid breakage and dryness.
The benefits of a waver over a traditional curling iron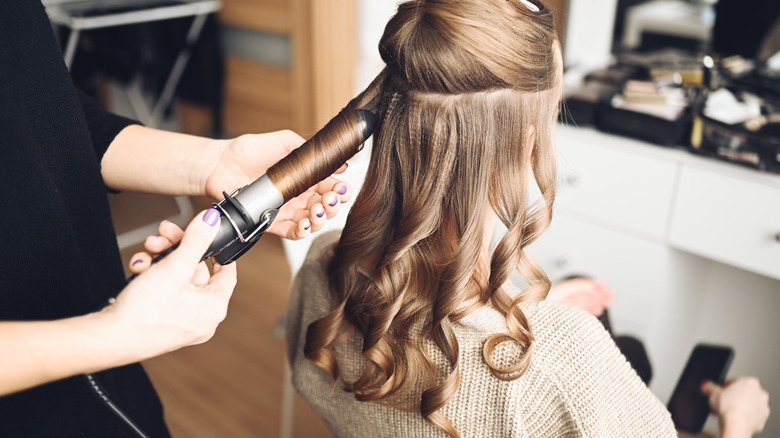 Alina Troeva/Shutterstock
A waver obviously wins if you're going for a beachy, undone look, but there are a few additional benefits as well. Because you don't have to wrap individual strands around a barrel, there's a lot less thought that goes into the process. Once you get the hang of the technique, it almost becomes automatic — no worry about switching back and forth between curl directions or fiddling with a clip on the iron.
Advertisement
The larger size of these stylers could also help you cut back on time because bigger sections of hair can be tackled at once. This, of course, depends on the length of your hair, the size of the sections you use, and how thick your hair is, but it could save you a bit of time while you're getting ready — a valuable commodity if you prefer a bit of extra shut-eye in the morning before work.
How much do wavers cost?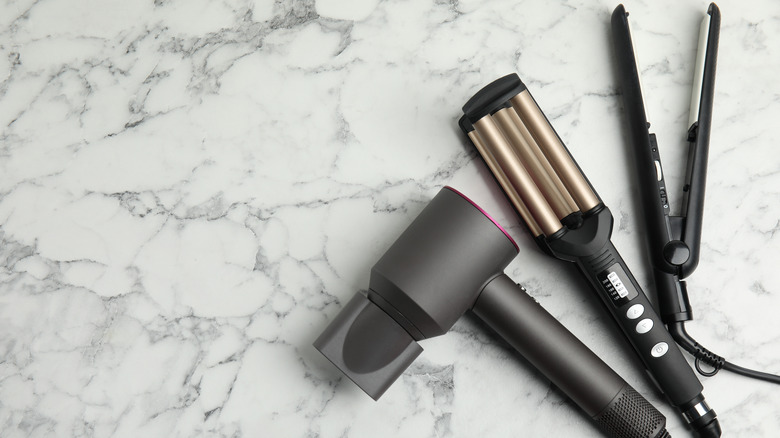 New Africa/Shutterstock
Just like blow dryers, curling wands, and flat irons, three-barrel wavers vary in cost depending on the brand and their quality. For the most part, they'll run you between $60 and $120, slightly more expensive than a typical curling iron, thanks to their larger size. If you're curious to try out this styling tool and want a cost-effective investment, look to options like Bed Head's Wave Affair Jumbo 3 Barrel Ceramic Waver or BaByliss Pro's Porcelain Ceramic Triple Barrel Waver, both under $70.
Advertisement
If you're still unsure and want a styler that allows you to try out a three-barrel waver while still providing you with other uses, there are products available with interchangeable heads, like Drybar's The Mixologist Interchangeable Styling Iron. These irons are usually more expensive, but they give you the functionality of multiple tools and the ability to experiment with other styles without making a throwaway purchase if you don't use one of the heads very often.
How to style your hair with a three barrel waver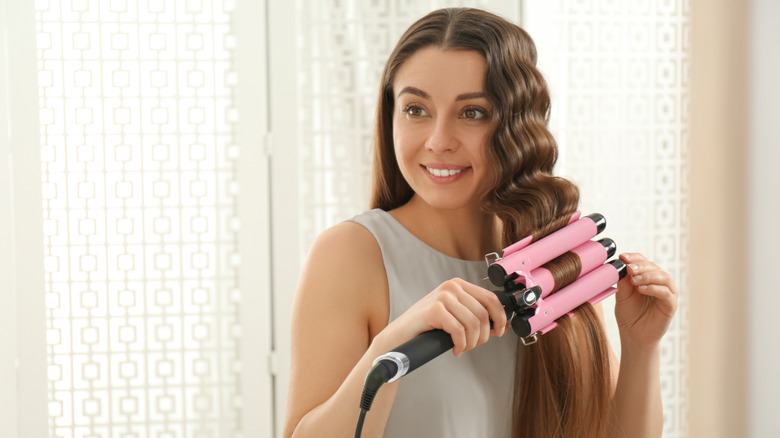 New Africa/Shutterstock
According to hairstylist Joseph Maine, the proper way to use a hair waver is more similar to a crimper than a curling iron. Start by sectioning off your hair into layers, especially if it's pretty thick, then position the iron at around 45 degrees. Sandwich sections of hair between the plates, hold for a few seconds, then unclamp and reposition your iron further down the strand. "Don't bend the hair once you've clamped onto it, because if you push the side of the clip, it can create a dent," Maine said in an interview with Allure. "You can hold the iron either right side up or upside down, and it'll create the same wave."
Advertisement
If you're looking for a less precise look, try to vary the size and starting point of your sections to bring in a bit of variety. Once you're done, shake out the wave to make it look more natural, then finish with a bit of hairspray or texturizing mist to give it that beachy feel and create a bit of extra hold.