Ballet Pumps Are The Underrated Classic Fit For Spring Wardrobes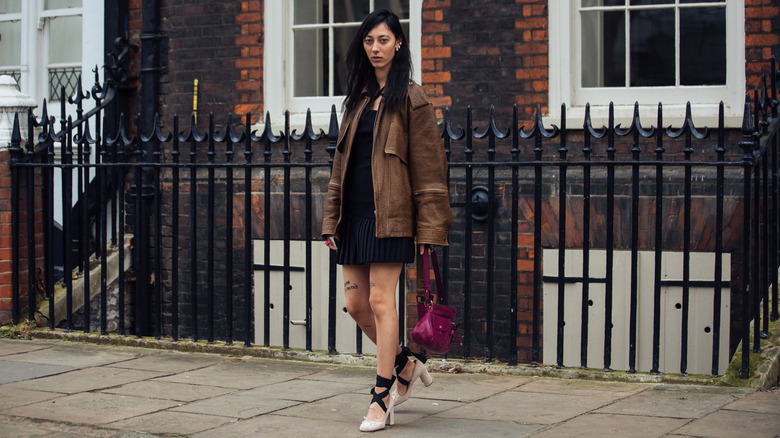 Melodie Jeng/Getty Images
If you're a fan of classic and timeless style, then you probably are already aware of the uptick in popularity of the beloved ballet flats. While many previous footwear trends have been all about being bigger and better, ballet flats cut some of that extra weight off of your feet. Although you can't beat the comfort of flats (especially when you're walking all day), there's a new version of this style that will make your look more sophisticated. 
Ballet pumps, or heels, are the newest shoe that's ready to take over as our new favorite going-out shoe. These feminine and chic heels are the answer for those looking to add a girly touch to their formalwear. Not only are consumers taking note of the beauty of ballet pumps, but various designers are starting to jump on the trend. Designers like Chanel, Dior, and Miu Miu are some of the fashion houses that have introduced ballet heels as some of the must-have trend pieces for spring.
Ballet heels work well with any style year-round — however, spring is the time when these heels can truly shine. Pairing them with denim, dresses, or skirts, these shoes can be a flexible piece no matter what style you decide to rock during the season. Whether you plan for an extravagant spring wardrobe or want to stick with a minimalist closet, ballet heels are a must-have to complete your looks.
Multi-strapped ballet heels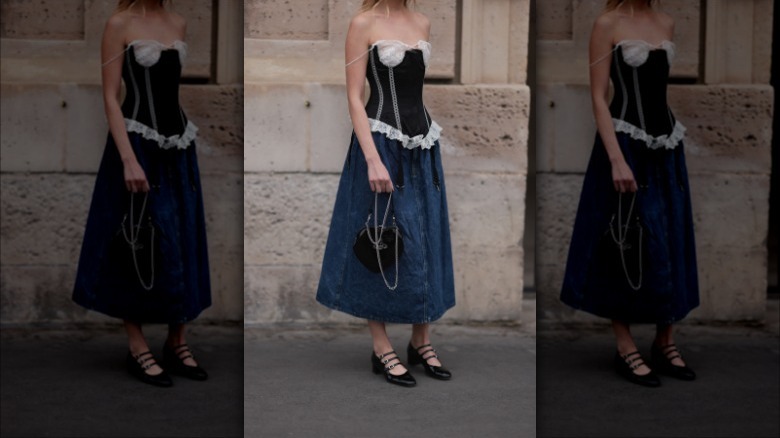 Jeremy Moeller/Getty Images
Just because ballet flats are trending, it doesn't mean that you have to stick with flat shoes. Capture the trend and give yourself some extra height by adding a heel to your ballet flats. A ballet heel with front straps is a perfect choice if you're looking to add a feminine touch to your dressier looks. Adding straps along the front of your shoe will give you the perfect aura of a ballet flat but with the height of a regular heel. This feminine detail is subtle enough not to distract from your look but noticeable enough to adore.
Bow-tied ballet heels
Nothing gets you closer to a ballerina-inspired ensemble than a few bows. This subtle detail is a classic way to add some of that same soft and feminine feel from the balletcore aesthetic. As we've seen, bows have become some of the most sought-after appliques in fashion, making it another trend you can incorporate into your look. With ballet flats, we are typically used to seeing the small bow at the tip of the shoe. However, when it comes to ballet pumps, you have the flexibility of using the bow in various ways. Many designers have opted to move the bow to the side or along the front, giving you a chic twist on a timeless shoe.
Ballet flats with a heel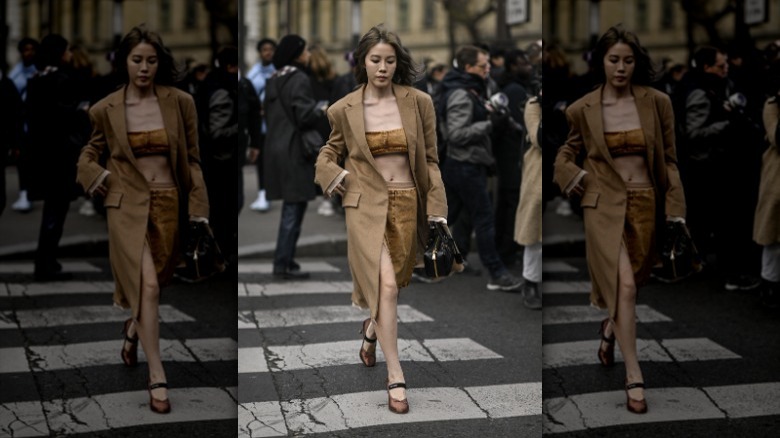 Daniel Zuchnik/Getty Images
Sometimes the look of a ballet flat is all you really need to complete your outfit. The problem occurs when you also need some extra height — something flats simply cannot give you. Designers like Miu Miu have solved this problem by giving us a heel with the complete look of a ballet flat. This iconic design is quickly going to become a favorite this spring season as more seek to combine the height of heels with the femininity of a ballet flat.
Embellished ballet pumps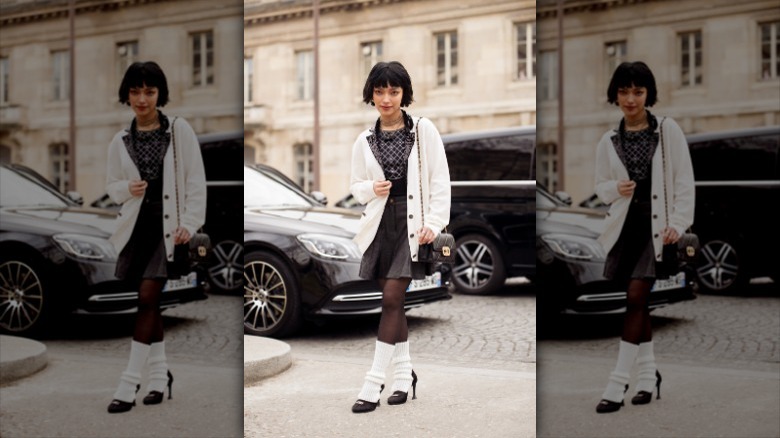 Raimonda Kulikauskiene/Getty Images
Ballerinas love a good glam moment. Give your ballet pumps some extra flair by adding gems and embellishments to your shoe. While ballet flats are typically simple in design, these pumps are all about adding some sparkle to your ensemble. You don't need to add too much embellishment to your heels. A simple addition of a rhinestone is enough to level up your heels and have you ready to go.
Classic ballet pumps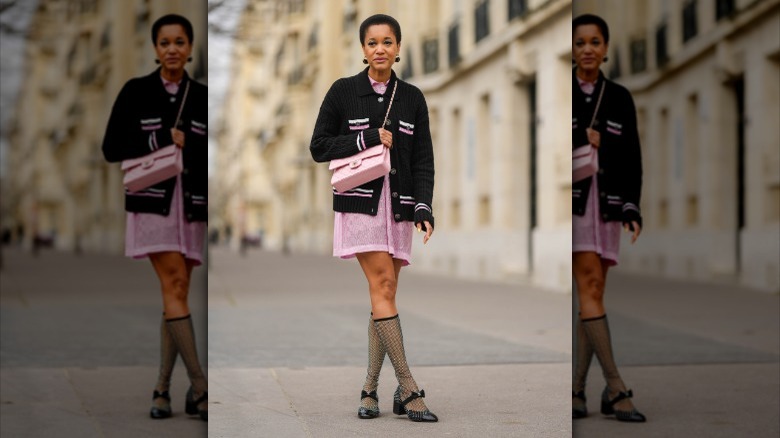 Edward Berthelot/Getty Images
While adding a unique touch is always a fun and creative way of making a trend your own, some pieces are simply too good to pass up. A black ballet pump is the best way you can introduce this trend into your wardrobe without any resistance. We all know that nude heels are some of the most iconic and timeless shoes you can have — but black ballet pumps are ready to take over. Like their flat counterparts, black ballet pumps are a great basic to add to your wardrobe that will serve you way past the spring season.
Duo-toned ballet pumps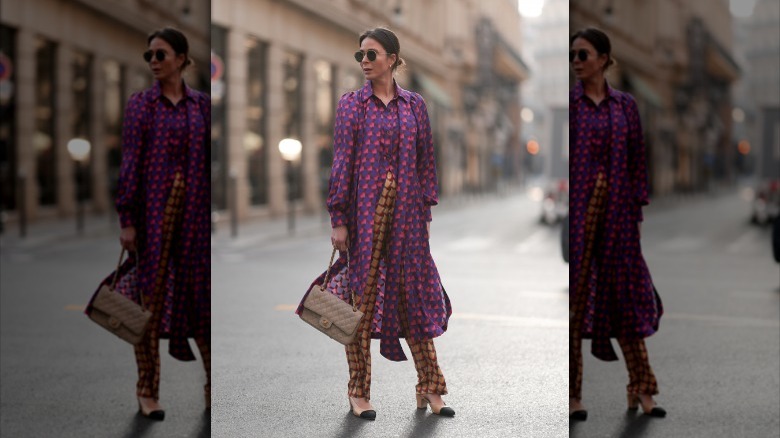 Jeremy Moeller/Getty Images
One of the most recognizable shoes is the classic Chanel duo-toned ballet flats. This iconic footwear is a simple and minimalist way of elevating any outfit in no time. Bring this same sophistication into your heels by reaching for a duo-toned ballet pump. These heels are an ideal way of bringing some of that same chic simplicity that symbolizes the flat into your heels. Add some unexpected color combinations for a unique twist on this new classic.
Colorful ballet pumps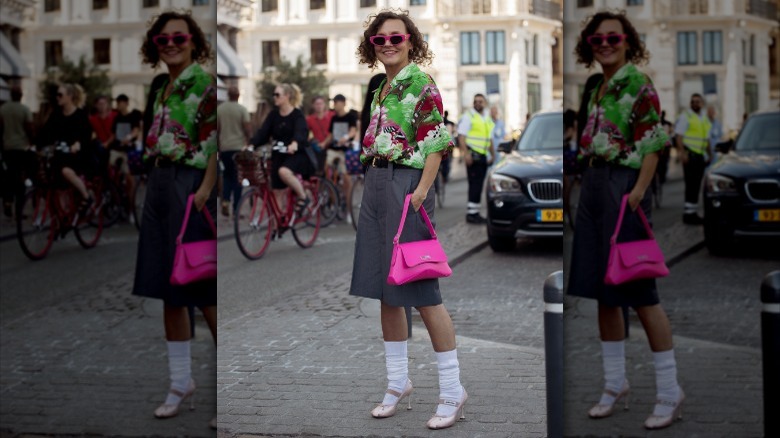 Raimonda Kulikauskiene/Getty Images
Speaking of color, there's no denying that this spring season is all about bright and bold colors. As we've seen with some of the trending spring colors like cobalt blue and lime green, this season is all about embracing color to its fullest. Bring this same energy to your heels for some much needed vibrancy to your outfits. Heels tend to appear in muted and neutral colors, but the ballet pump is the perfect opportunity of changing that idea. Mix your inner ballerina with your creativity for a show-stopping colorful ballet pump everyone will love.