20 Little Things To Do When You're Feeling Lonely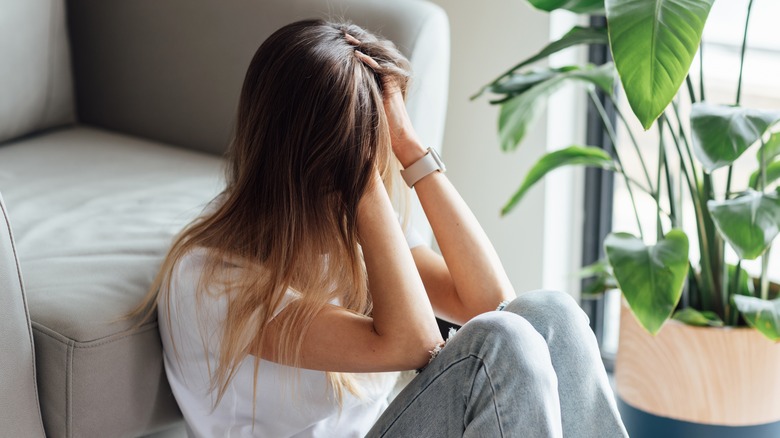 alinabuphoto/Shutterstock
It's normal to experience seasons of your life where you feel lonely. Even the most social individuals with tons of friends go through periods where they feel lonely. It's important to keep in mind that every season of life is temporary. Positive things can happen to you at any moment. Loneliness isn't the worst thing ever when you consider that you can use the time to get to know yourself on a deeper level.
Advertisement
Without worrying about the opinions of others or the influences of outside sources, you can really do a deep dive into your individual interests and tastes. Seasons of loneliness are actually ideal for folks who are trying to figure out who they are and what they really want out of life. After all, we only get one life! Instead of getting down in the dumps whenever you feel lonely, try doing one or two of these thoughtful little things to positively deal with loneliness and pivot yourself into a better headspace.
Send a text or call someone you trust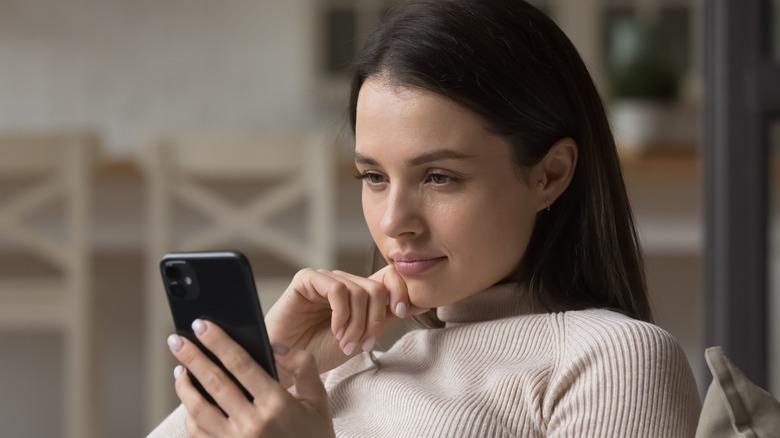 fizkes/Shutterstock
Instead of believing you're a burden or a nuisance, reach out to someone who's already in your social network or family. It can be as simple as sending a short text message that says, "Hey, how are you?" If you really need to hear someone's voice, don't hesitate to dial a loved one's number and give them a call because phone calls are one of the keys to deeper connections. It's easy to get into a rut where you start believing no one wants to deal with you. The truth of the matter is that people have chosen to remain in your life for a reason. The people who love you the most will always do their best to show up for you. 
Advertisement
Loving relationships are two-way streets. People who are emotionally mature are fully aware that maintaining healthy relationships and friendships isn't always easy or convenient. Sometimes, you have to get through the nitty-gritty of discomfort in order to be there for someone. Those who really care about you will be responsive when you send a text or give them a call. If they're unable to respond right away due to obligations or personal reasons, be patient in knowing they'll get back to you when they can.
Download and use a friend app like BumbleBFF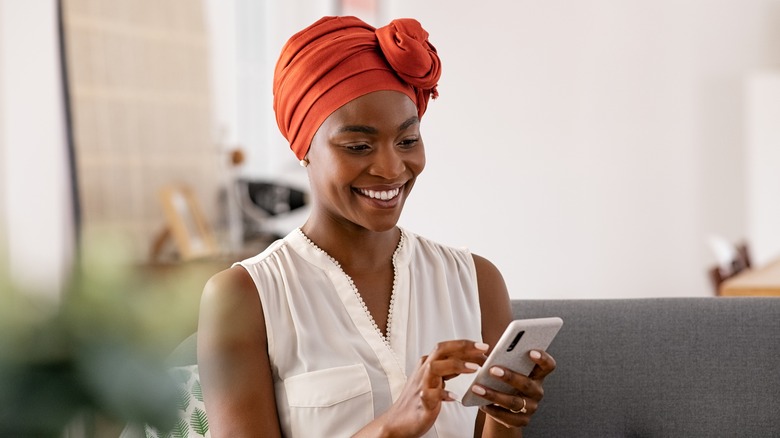 Ground Picture/Shutterstock
The good news about being alive in this generation is that we have so much technology at our fingertips. There are ways to meet new people through apps, even though this type of scenario didn't exist a couple of decades back. You're probably already aware of popular dating apps, like Tinder, OkCupid, and Bumble. People go out of their way to meet romantic partners on dating apps all the time. Fortunately, you can also use apps like these to meet platonic friends who share similar interests. BumbleBFF is one of those options, functioning in a similar manner to its dating app under the same download. 
Advertisement
Once you've downloaded BumbleBFF, you'll fill out your profile to reflect who you are as a person, your favorite things to do, and all of your hobbies. After that, you can get started swiping! Swipe left on anyone you wouldn't picture yourself hanging out with, and swipe right on anyone you can imagine becoming your next best friend. You can match with people based on their zodiac signs, their job titles, their political affiliations, their religious views, and more. If you're open-minded about personality traits as a whole, you can match with people based solely on the pictures they upload.
Spend time at a bustling farmer's market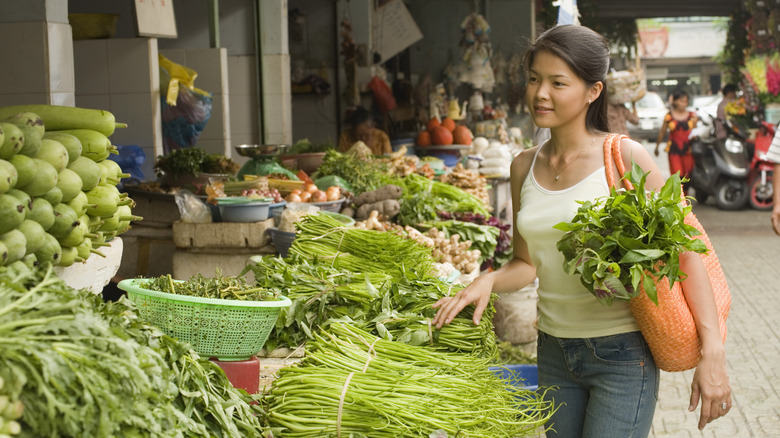 Jupiterimages/Getty Images
Do a little bit of digging to find out where and when farmer's markets will be up and running in your local area. Farmer's markets are a great way to spend open afternoons since these events are filled with many people from different walks of life. Farmer's markets are bustling with inquisitive shoppers and hard-working sellers who are all happy to communicate with each other. 
Advertisement
As you make your way through a farmer's market, you'll easily be able to strike up conversations with anyone selling products they're passionate about. You can find out how someone decided to get into the candle-making business at the beginning of your day. Later on, you can chat with someone about their homemade marshmallow brand. Before you finish up, consider purchasing a handmade crocheted dress or scarf from a talented designer. 
There are so many beautiful items you'll come across at a farmer's market, including woodcrafts, handmade jewelry, pottery, and painted portraits. There are also loads of mouthwatering food items you'll see, including freshly picked fruit, herbs, local raw honey, and canned preserves. Most people who set up shop at farmer's markets are conversational, business-minded, and entrepreneurial. These types of people are beyond easy to talk to when you're out and about.
Advertisement
Take your laptop to a coffee shop with free Wi-Fi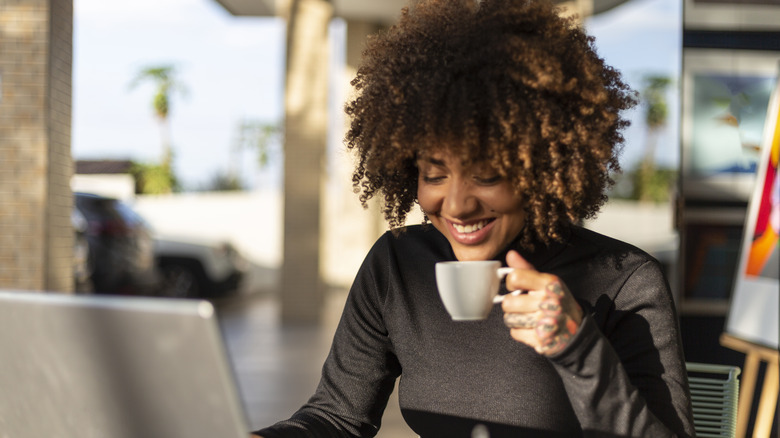 Anderson Coelho/Getty Images
You'll never feel completely isolated if you take your laptop to a local coffee shop that offers free Wi-Fi. Whenever you're spending time at a coffee shop, you'll notice different customers moving in and out after purchasing their drinks and food items. You'll also notice other customers like you who are posting up to work from home or get other artistic projects handled somewhere that makes them feel more productive than being alone on their couch. You'll also notice the different coffee shop workers bustling around to prepare orders. 
Advertisement
This is a fabulous idea for anyone who works from home and struggles with feelings of loneliness. Depending on your job, you can make sure you meet your work quota by getting your obligations handled somewhere different than inside your house. Some of the most popular coffee shops that offer free Wi-Fi include Starbucks, Panera Bread, and The Coffee Bean & Tea Leaf. A huge perk that comes into play when you become more familiar with a local coffee shop in your area is that you'll be able to join rewards programs. When you join rewards programs, you can stack up points to receive free food and drinks based on how many purchases you make. Rewards systems, free Wi-Fi, and comfortable social settings will chip away at your lonely feelings.
Advertisement
Indulge in some spa services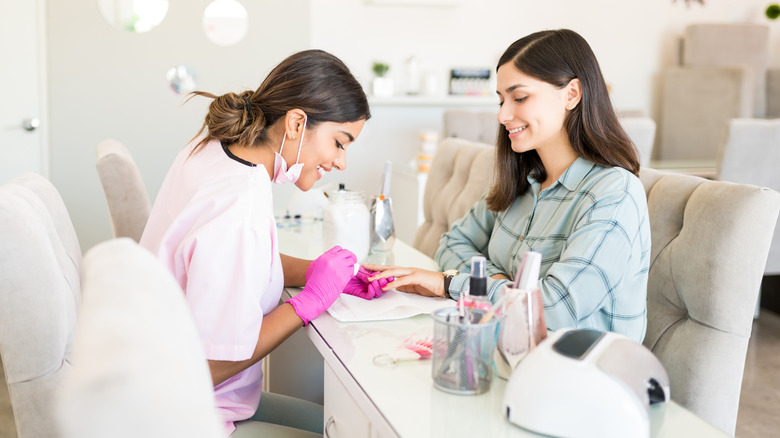 Antonio_diaz/Getty Images
Indulging in spa services is a wonderful way to break free of a lonely mindset. Whenever you get your nails painted during a manicure service, it's normal to start a conversation with the nail technician who's handling the job. When you're getting a massage, the masseuse might casually ask you questions about yourself in order to loosen you up and help you get into a more comfortable mindset. When you're getting a facial, you can ask the aesthetician how long they've been in the industry and if they enjoy what they do. It doesn't necessarily matter which spa services you pay into, you'll be able to socialize with the individuals who are helping you out along the way. 
Advertisement
People who choose to work in the spa industry tend to be very personable since they provide hands-on services that require physically close contact with their clients. There's no possible way for salon and spa workers to provide the bulk of their services from a distance. Since you're naturally spending time in someone else's personal space while they provide spa services to you, it's almost impossible to continue feeling as lonely as you were before.
Play video games that include chat features with other players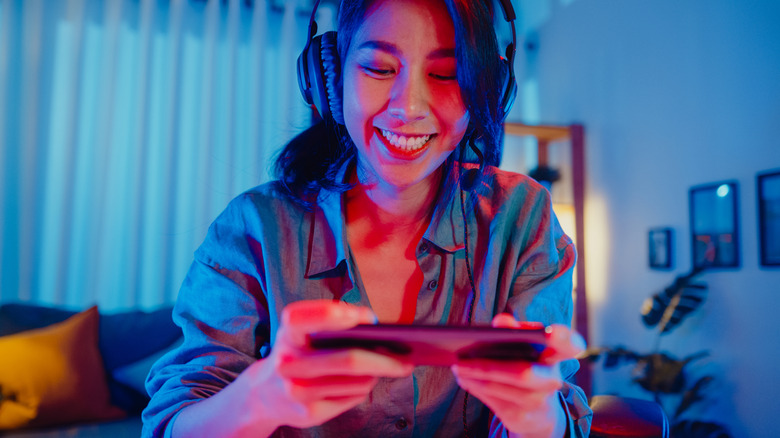 Tirachard/Getty Images
Whether you're into video games or not, video game play is a smart option to consider if you're feeling lonely at any point. These days, there are loads of video games you can play that include features that give you the chance to talk to other players. You'll be able to engage in interesting conversations as you go along depending on the games you choose. House Party is an option that went viral after the COVID-19 pandemic lockdown, and the game is free for users all over the world to download. Once it's downloaded, you can play with other random people at any hour of the day or night. 
Advertisement
Facebook Gaming is another great option filled with gaming content you can live stream. Connect with people who are already within your own Facebook network, or link up with other Facebook users who aren't directly on your friend list. Fortnight and Call of Duty are two other super popular games that include voice chatting capabilities. As long as you have a proper set of headphones, you'll be able to hear what other people are saying to better respond and communicate. Some of the devices you'll need to have in order to play these games include PlayStation, XBox, and Nintendo Switch.
Sit down with a talk therapist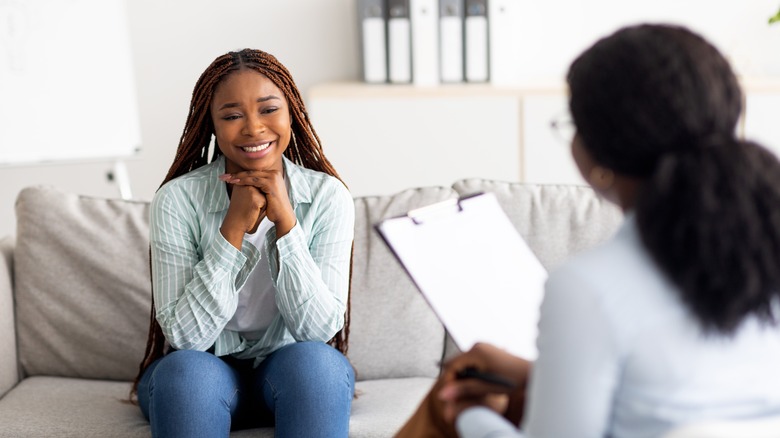 Prostock-studio/Shutterstock
There's no shame in feeling the need to sit down with a talk therapist during times when you feel lonely. It's important to get ahead of things if you've been feeling lonely for a while, or if you feel a bout of loneliness coming your way soon. Scheduling appointments with therapists isn't always the quickest thing in the world since they can get really busy with full schedules. If you have any inclination that you might need a therapist sometime soon, you should get an appointment on the books as soon as possible because you might not be able to actually meet with them for a week or two after making first contact. 
Advertisement
Even though therapists are professionally trained individuals who are paid to talk things through with you, it doesn't take away from the fact that they'll actually be there for you when you're experiencing difficult emotions. Talk therapists are especially wonderful for folks who struggle with feeling like burdening their loved ones. You might not want to vent about all your issues to friends and family members, but therapists have chosen to work in the mental health industry for a reason. They want to be there for their clients, and they want to make a positive impact.
Listen to a conversational podcast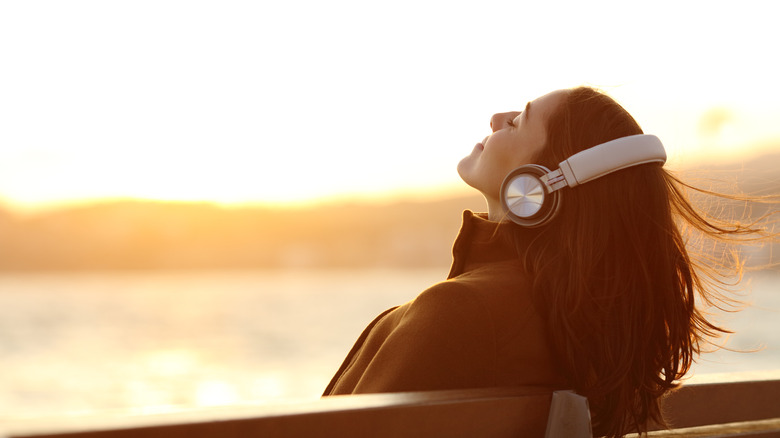 Antonio Guillem/Shutterstock
There are so many podcasts to consider if you're hoping to listen to one that provides a conversational vibe. It's beyond refreshing to listen to a podcast created by someone who makes you feel like they're talking directly to you. The best podcasters run their shows to make you feel like they're friends with you in real life! Some amazing podcasts to turn on include "The Sessions with Renée Paquette," "The Dishcast with Andrew Sullivan," and "Benjamen Walker's Theory of Everything." 
Advertisement
If you're into the subjects of self-improvement and self-growth, there are plenty of podcasts for you that cover those topics. If you're keen on learning more about the Law of Attraction, you'll be able to find an abundance of podcasts covering that topic, too. If you actually want to hear someone talk about the beauty of making new friends and how to go about it, you'll be able to find podcasts in that arena. Take note of how frequently new episodes are being released before getting too invested in a new podcast. Some shows release new episodes every month while others drop new episodes every single week. Some podcasts are daily, which means you'll always have something fresh to listen to every 24 hours.
Advertisement
Sign up for a gym membership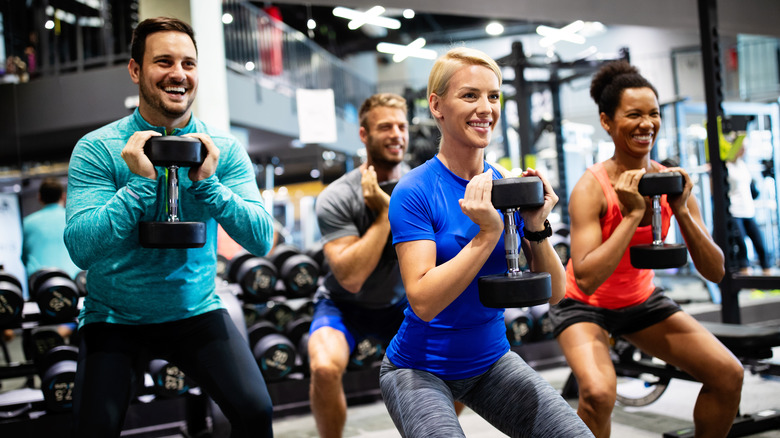 Nd3000/Getty Images
Signing up for a gym membership could be the best thing to do when you're feeling lonely. When you go to the gym, you're automatically surrounded by other people. Unless your gym is in a totally isolated area, chances are you'll be getting a workout in at the same time as others who are focused on achieving lifestyle changes and long-lasting goals. It's a great idea to surround yourself with people who prioritize fitness and nutrition since these types of people are typically also aligned with positive attributes like success and happiness. 
Advertisement
The more time you spend working out in the gym, the easier it will be for you to strike up conversations with others who use the same machines as you or show up to the gym in the same time slots you do. You can also get familiar with gym employees who work at the front desk whenever you're checking in. If you want to take it a step further, book sessions with a personal trainer who will guide you through different routines and regimens every time you show up. Meeting with a personal trainer will undoubtedly take away feelings of loneliness since they'll verbally encourage you and hype you up throughout the entire session you have with them.
Enroll in a class that interests you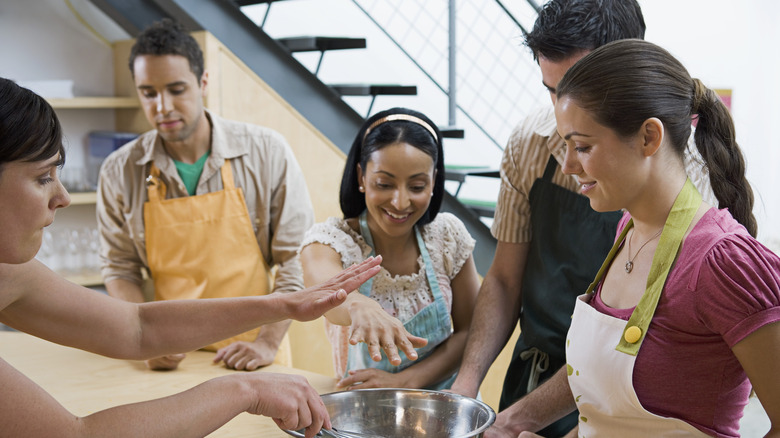 Jupiterimages/Getty Images
Think about types of classes that would interest you and bring value to your life. If you can enroll in a class that makes you happy, you'll have a better chance at meeting new friends by surrounding yourself with like-minded people. Cooking classes, art classes, language learning classes, and instrumental classes are just a small handful of ideas to consider. If there's always been something you wanted to learn, but you never had the chance to get started, now is the time to start diving in headfirst. 
Advertisement
When you enroll in different classes, it's difficult to feel lonely being surrounded by other people who care about the same things you care about. The instructor who's in charge of teaching your classes will automatically become someone you can bounce ideas off of and speak to on a regular basis. Your classmates will also automatically turn into people you can discuss the subject matter with before, during, and after classes are in session. If you've chosen to sign up for a French-speaking class, you can nudge someone sitting near you to find out if they'd want to study with you sometime. This is how friendships are born.
Connect with a group of like-minded people using Meetups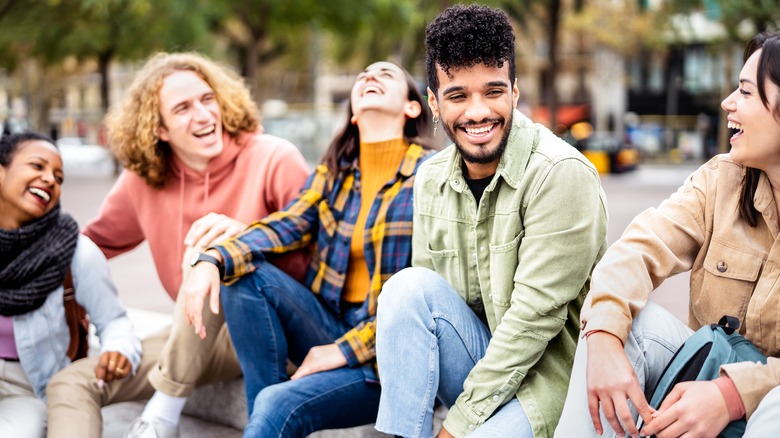 View Apart/Shutterstock
One brilliant course of action to consider if you're feeling lonely is connecting with a group of like-minded people using a website called Meetups. Meetups is a wonderful site that brings various people from different walks of life together. Depending on what drives you emotionally, spiritually, or financially, you'll find a group of people who are interested in the same subjects you care about. 
Advertisement
If you believe you might get a little overwhelmed by the idea of being surrounded by too many new faces at once, this might not be the best idea for you personally. Meetups are especially wonderful for people who aren't turned off by the prospect of meeting tons of new friends in one day. When you agree to join a Meetups group, you get a chance to sit down with loads of people who are equally excited about expanding their social circle and starting engaging conversations. Meetups can be focused on new album releases, book publications, spirituality, and so many other things.
Get involved with a political campaign or church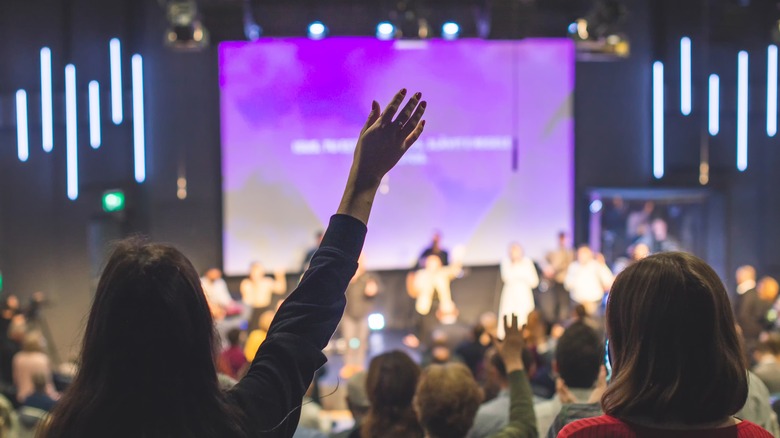 Pazargic Liviu/Shutterstock
Politics and religion are two very hot-button topics. Consider how seriously you take your views on politics and religion, and decide if you want these views to be a factor in any new friendships you create. If becoming friends with people who share political and religious views with you is something that sounds meaningful and fulfilling, your next step should be getting involved with a political campaign or church group. 
Advertisement
Tons of people think it makes the most sense to become friends with people you share political and religious views with since a lot of those views are deeply connected to your moral compass. It might be challenging to pursue a long-lasting connection with someone who you're constantly butting heads with about political or religious topics that you're passionate about. Do some research to find out if there are any political campaigns or rallies you can join. Check out your nearby church to see if there are any programs you can become part of.
Sign up for recreational sports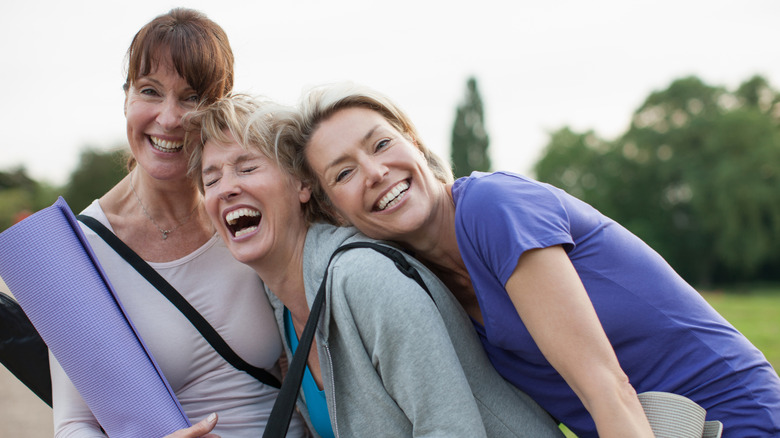 Tom Merton/Getty Images
Maybe you played a little bit of soccer in high school, or maybe you enjoyed playing volleyball in college. Maybe you never played sports at all, but you've always found them quite entertaining to watch from the sidelines. Signing up for recreational sports is a great way to put yourself out there and meet new friends who care about socializing and staying in shape. The best part about recreational sports is that no one who signs up considers themselves to be an elite professional when it comes to their athleticism. 
Advertisement
That being said, no one's going to judge you if you aren't in the best shape of your life. No one's going to make you feel terrible if your skills in a certain sport aren't completely up to standard. Recreational sports are designed for people to join together and have a good time. This isn't a time to worry about showing off how talented you are on a court or on a field. This is simply a time to connect with other people who are also willing to ditch their comfort zones.
Join a local volunteer program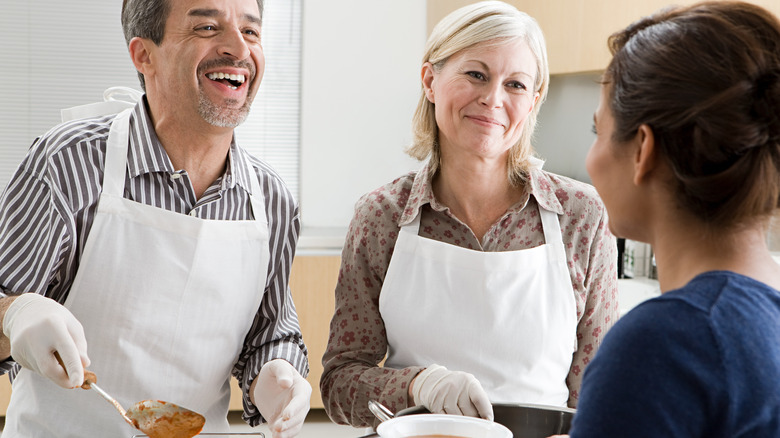 Image Source/Getty Images
There's something so fulfilling about doing volunteer work. If you've already done volunteer work at one point or another, then you probably already know how good it feels to help people in need. If this is something you've never experienced before, it's something you definitely don't want to miss out on. Joining a local volunteer program in the midst of feeling lonely is a fabulous way to surround yourself with other people. Not only do you get to interact with people in need who require some assistance and help in life, but you also get to interact with other people who are willing to volunteer their precious time. 
Advertisement
When it comes to narrowing down options for volunteer work, you likely won't have a difficult time finding places to donate your time. Homeless shelters, soup kitchens, clothing donation hubs, and crisis hotline call centers are just a few options to take into account. A huge benefit that comes along with volunteer work is that it helps you put things into perspective if you're ever starting to feel down about your current circumstances.
Join live streams of content creators who are conversational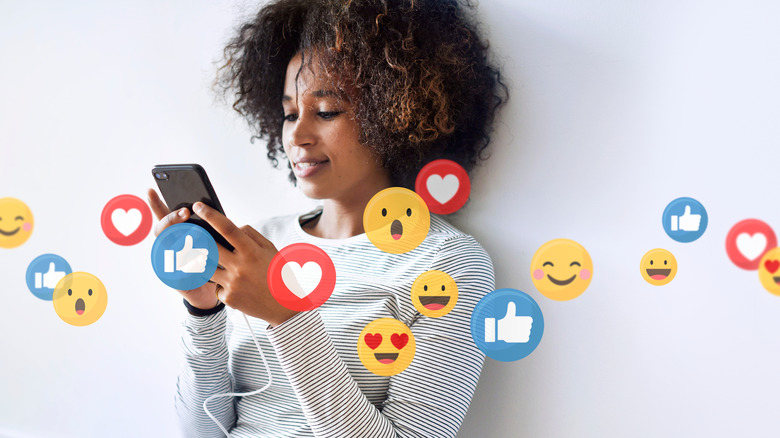 Rawpixel.com/Shutterstock
In the age of social media, there are plenty of ways you can join live streams from content creators who provide conversational dialogue with their followers. Once you find a content creator who you resonate with and relate to, figure out when they go live on their chosen social media platforms, so you can tune in and see what they've got going on. Content creators can go live on apps such as Instagram, TikTok, Twitch, and YouTube whenever they want to. 
Advertisement
If they want to make sure their fans and followers are able to tune in, they'll usually post an announcement beforehand letting everyone know when the live stream will begin. Joining these types of live streams makes you feel like you're having a conversation with your favorite content creator. They often reply to comments being dropped in their threads as they live stream. During live streams, content creators will tell a story, do their makeup, try on fashion hauls, talk about their plans for the evening, and more.
Unfollow social media pages that make you feel more lonely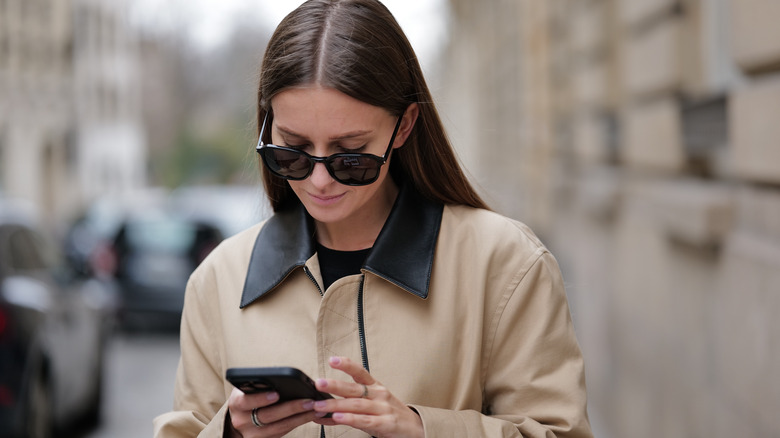 Edward Berthelot/Getty Images
As positive as social media can be these days, it can also be quite detrimental when it's not being used properly. If there are any social media pages that are making you feel more lonely, don't hesitate to unfollow and block immediately. Social media can bring a lot of positivity into your life if you aren't falling into the traps of jealousy and comparison. It's easy enough to fall into the trap of experiencing FOMO whenever you see groups of people doing things in social collectives that you feel isolated from. 
Advertisement
Scroll through the list of people you're following on different social media platforms, and analyze who no longer belongs there. The girl you talked to a few times briefly in college might not deserve a place on your friends list if her social media posts are always making you feel inferior and isolated. The guy you used to work with at one of your old jobs probably doesn't need to stay on your friends list if his social media posts are consistently reminding you of your loneliness.
Adopt or foster a pet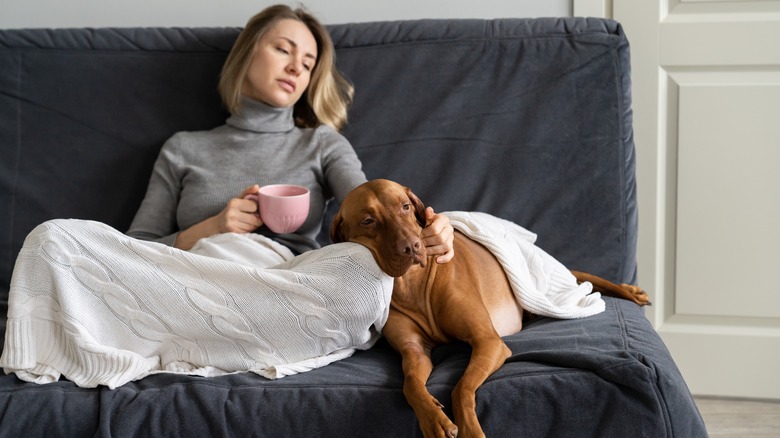 DimaBerlin/Shutterstock
Adopting a pet is a wonderful thing to do if you're feeling lonely. You might not be ready to adopt an animal on a permanent basis, but you can still start with the fostering process. If you're not ready to jump in with fostering either, you can spend time at animal shelters getting comfortable with pets you might be interested in. For people who are interested in low-maintenance pets, fish and reptiles don't require a lot of attention. 
Advertisement
Cats are also considered independent creatures since they don't need to be taken on walks or taken outside to use the bathroom. Small rodents, such as guinea pigs and hamsters, are also easy enough to take care of, as long as you make sure they don't get lost! If you have the energy and patience to take care of a pet that requires more maintenance, adopting a dog can be life-changing. Dogs are considered mankind's best friend for a reason. Dogs are beyond loving, loyal, cuddly, and sweet.
Show gratitude for the people you do already have in your life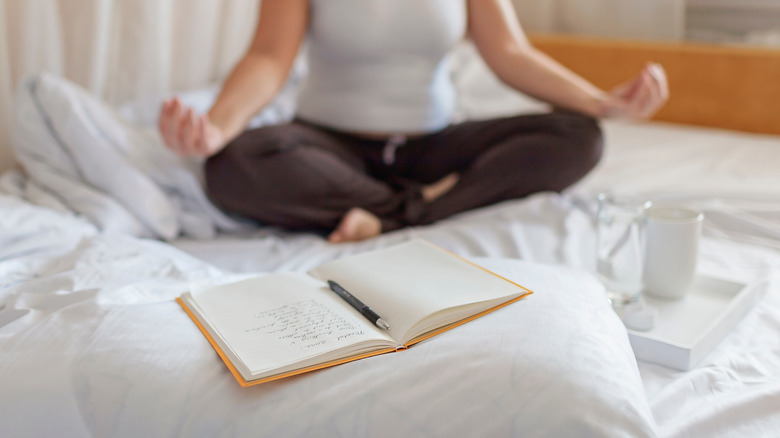 Maria Symchych/Shutterstock
Go out of your way to show as much gratitude as you can for the people you already have in your life. Chances are, you've successfully built a network of connections with trusted family members and friends you've spent time with throughout the course of your life. Even if you don't feel particularly close to any of the people in your social network right now, it's still vital to show gratitude anyway. 
Advertisement
There are many ways you can go about this, but the easiest way is to create a list highlighting all the wonderful memories you've shared with each person you can think of. Write down everyone's names, mention a blissful memory in history you shared with them, and reflect on how time with each person made you feel. Doing something like this reminds you that you're capable of experiencing amazing moments with people you care about. It also gives you a sense of encouragement to reach out to anyone you haven't spoken to you in a while based on the positive memories that are being dredged up.
Understand it's better to be alone than surrounded by the wrong people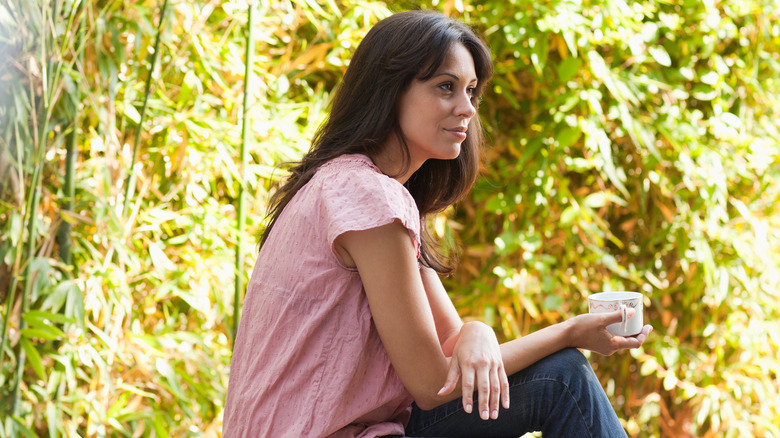 Sam Edwards/Getty Images
Most people can attest to the fact that it's better to be alone than surrounded by the wrong people. You're better off totally solo than in an environment with people who don't have your best interest at heart. At least when you're alone, you know you aren't going to do anything to intentionally hurt yourself. Being surrounded by people who don't have good intentions is very risky. These types of people don't care about nurturing friendships or taking care of their connections with trustworthiness, respect, and honesty. 
Advertisement
These are the types of people who will leave you high and dry if things aren't convenient enough for them. They're also the type of people who might secretly sabotage you or hate on you behind your back to others. When spending time with people you're hopeful about being friends with, you have to listen to your instincts and show discernment before telling too many secrets or becoming too vulnerable. In the meantime, remember that being alone is better than hanging out with people who are showcasing tons of red flags.
Remember that every season is temporary and fleeting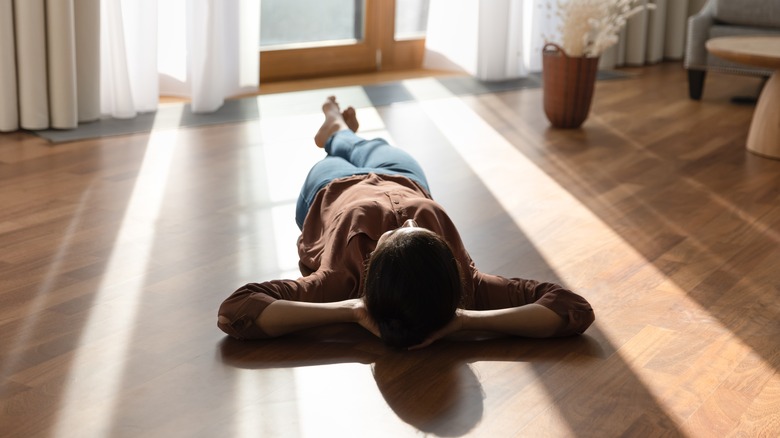 fizkes/Shutterstock
Keep in mind that every season is temporary and fleeting, including seasons of loneliness. With every high, there comes a low. With every low, you should know that another high is right around the corner. If you can remember periods of your life when you had a busy schedule and an exciting social life, then you should know it's possible for that to happen again. Just because you're in the middle of a dry spell and feeling lonely, it doesn't mean you're going to be stuck like this forever. 
Advertisement
There are four seasons in every year: spring, summer, fall, and winter. With each different season, the weather brings a change, including blossoming flowers, radiating sunshine, crunchy fallen leaves, and white glistening snow. The good news about humanity and friendship is that we're capable of going through way more than just four seasons in a year. Things can change at the drop of a hat, and something new can occur around every corner.
Acknowledge that you aren't alone in feeling alone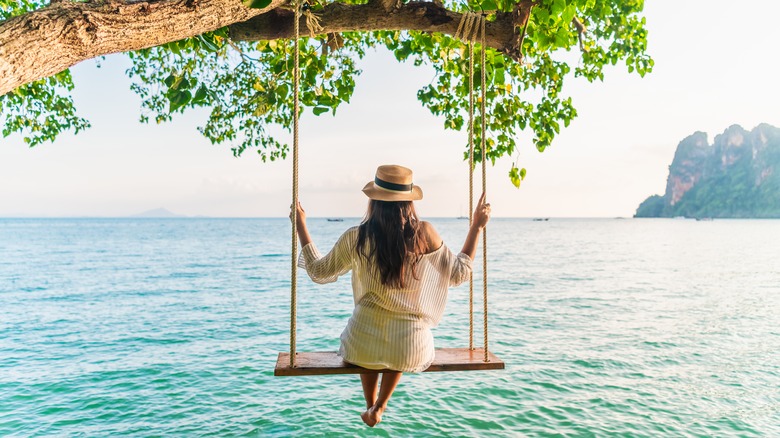 Day2505/Shutterstock
At the end of the day, it's crucial to remember that you aren't alone in feeling alone. Acknowledge that many other people in society today are struggling with feelings of loneliness. According to PBS, around 60% of adults have reported that they feel lonely on a consistent basis — that's more than half! Although it's sad to realize that so many adults are struggling with loneliness, you should also take solace in knowing what you're going through isn't peculiar or bizarre. 
Advertisement
If more adults had a better understanding of how everyone was feeling as a collective, it might be easier for people to open up to each other and connect on a deeper level. There's nothing weird about you for feeling lonely, and you're certainly not an anomaly. Just know that taking the necessary steps to put an end to your loneliness is vital if this isn't how you want to continue feeling forever.