The Benefits Of Using White Concealer Over One That Matches Your Skin Tone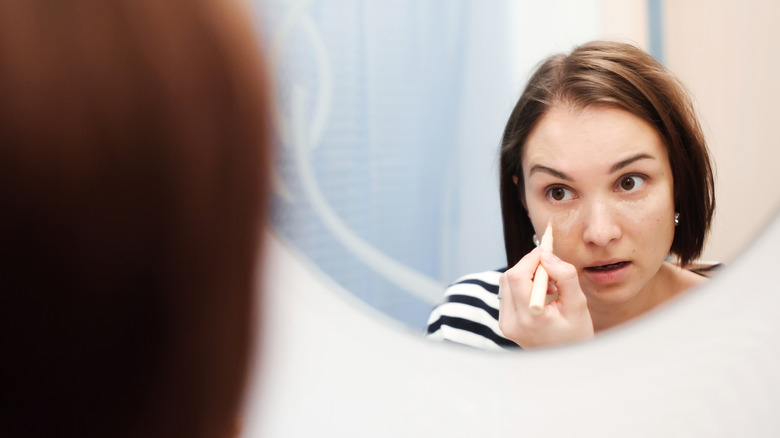 Dariazu/Getty Images
Choosing the right concealer shade for your skin tone might be one of the most tedious struggles in beauty. Between finding the right shade for brightening and another one for concealing, there's a lot that goes into getting the perfect concealer products for you. With various brands having different color ranges, finding the perfect one that can conceal your problem areas will come through trial and error — and that means time and energy. Thankfully, TikTok has once again stepped in to give us a much-needed hack to save both.
Advertisement
Beauty lovers on TikTok are now turning to white concealer instead of a shade close to their skin tone to get a flawless, bright finish. While white concealer might be frightening at first, given the concern of it creating a strong white cast on your face, it's a useful product that can create a great makeup look (and certainly removes the stress of finding the right shade of product). You still may not want to toss your regular concealer entirely, but white concealer might just earn a top spot in your makeup drawer. In fact, it can unify all the uses of other various concealer products — from skin-tone concealers to color correctors — and cut down on the clutter in your makeup bag.
White concealer is a more versatile option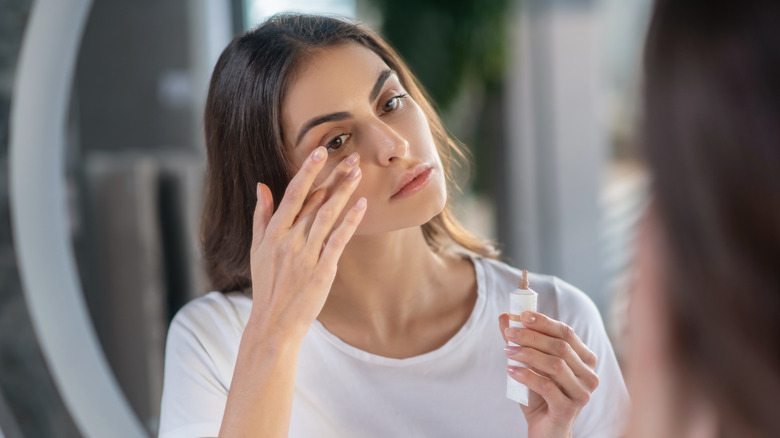 Zinkevych/Getty Images
A white concealer might seem confusing at first, but it can fulfill many roles in your routine. The first and most common way you can use this product is by concealing your under-eye area. Dark circles are a universal problem that almost never has a solid solution; even if you find the perfect concealer shade for you, it might not be enough to neutralize your dark circles. It can be a struggle to find the right shade that doesn't look too light but will still even out and brighten this eye area. White concealer can do both, as it helps with discoloration and will also brighten dark circles. So if you want to add more light and glow to your under-eye area, white concealer can be the easiest way to achieve this.
Advertisement
It can also stand in for your regular eye primer when it comes to bringing out the colors in your eyeshadow looks. If you're playing with vivid eyeshadow colors, apply white concealer underneath as your primer to help keep your eyeshadow in place and give it a pop.
Other uses of white concealer include covering blemishes and small wrinkles. Since this product will help brighten up areas, it's easy to conceal these smaller blemishes without needing to color match for a concealer. If you're going for a natural look and don't want to go through the process of finding the right shade, white concealer is a must-have in your collection.
Applying white concealer is just as easy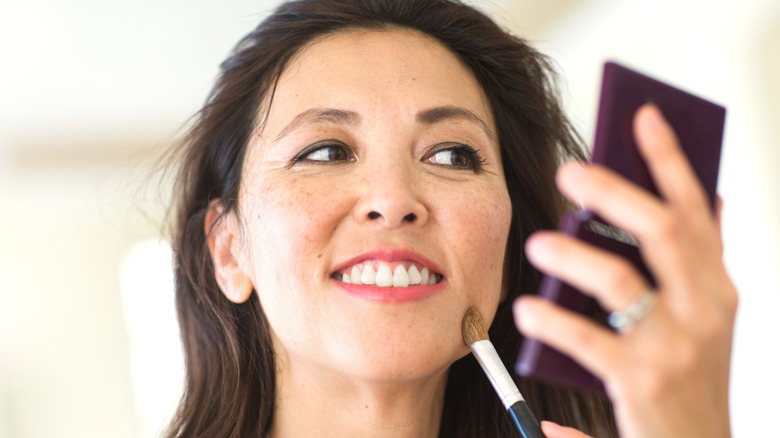 Digitalskillet/Getty Images
While it might seem intimidating at first, using white concealer is not as challenging as it may seem. Depending on what you are using it for, you can simply apply this product like any other concealer. If you plan to use it to prime your eyeshadow, dab the product onto your finger and blend it on your eyelids. Using your finger will make sure you have control over where the product lies. Let the concealer absorb into the lids before moving on to the eyeshadow.
Advertisement
For those looking to lighten up their under-eye circles, the application routine is the same as you would do with a skin-toned concealer. Apply your foundation first, and follow up with a few white drops of concealer. Always place your concealer over the foundation to get the best coverage and color match possible. Once you've applied your products, blend them in with a beauty sponge or brush until there are no remnants or streaks left over.
You can also opt to mix white concealer with your foundation if you want to lighten up your overall shade a bit. This trick can come in handy during the winter months when the skin tends to become paler. Instead of getting an entirely different shade of foundation, mix a few drops of white concealer with your foundation on the back of your hand until you get the desired shade.
Advertisement