7 Beachy Trends Fit For Your Next Vacation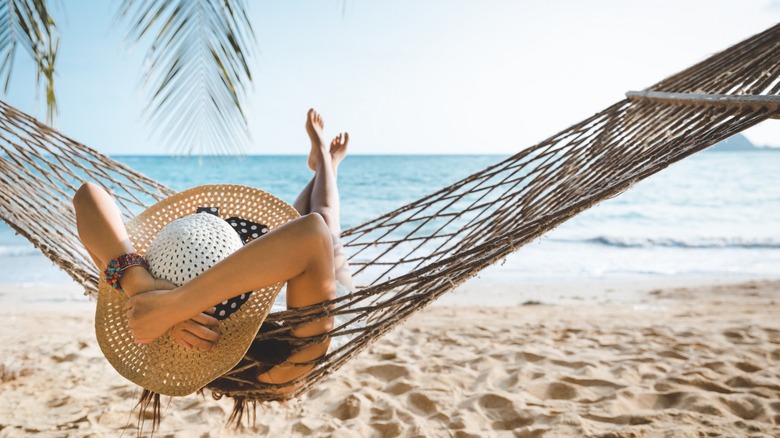 Peera_stockfoto/Shutterstock
Whether you're escaping the cold weather, or just need a little bit of you-time, a beach vacation is always a good idea. Unfortunately, packing for a trip is always stressful. Did you overpack? Under pack? Do you have enough underwear for the week? It all gets to be too much, so you end up throwing your swimsuit, denim shorts, and 14 of your best basic tank tops in your suitcase and calling it a day. Luckily, we're here to make packing a lot easier by offering you this year's latest beach holiday trends. 
Advertisement
Packing for a getaway vacation in 2023 is all about choosing bright colors and pieces with fun patterns, which totally makes sense (you're going to the beach, after all). To give you a more in-depth explanation (and make packing way less stressful), we've compiled a list of the seven beachy trends you absolutely need for your next vacation. Take a look! 
Eyelet
If you're planning a vacation and don't own at least one piece of eyelet clothing, you need to find one ASAP. Not only is it dainty and feminine, but eyelet is super breathable, so it's perfect for tropical vacations. Even if you're wearing long sleeves, you won't have to worry about overheating.
Advertisement
Crochet
Ivory crochet pieces have been a vacation staple forever, and thankfully, they aren't going anywhere anytime soon. The best part is its versatility; wear a crochet dress over your swimsuit as a cover-up, or add some heels and gold jewelry for an easy nighttime look. But don't feel limited to ivory; crochet is amazing in any color! We've especially been loving bright, two-piece sets.
Advertisement
Cutouts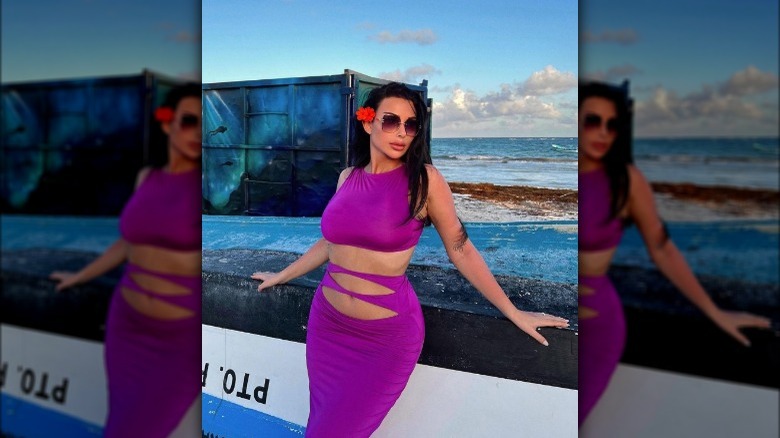 Instagram
Cutouts are an absolute must for beachy vacations, but this year, it's all about non-traditional shapes. Next time you're out shopping, look for a maxi dress with graphic cutouts at the waist. It's an updated take on the original maxi but is still just as beachy. Opt for a dress with a high slit to show off your sexy side.
Advertisement
Rainbow stripes
Rainbow at the beach? Yes, please! It's bright and lively — perfect for a day in paradise. Plus, rainbow colors are an instant mood booster, so even if the weather is gloomy, you'll still have a colorful day. If you wanna rock this beach trend, but a rainbow stripe dress or bodysuit is bold for your personal style, we suggest easing into it with a handbag instead.
Advertisement
Citrus shades
What better way to capture a beachy vibe than with stunning citrusy shades? Citrus green looks amazing on every skin tone and really encapsulates that fresh and fun summer feeling. It's the perfect color for a swimsuit, and a citrusy satin dress is a gorgeous choice romantic dinner by the beach.
Advertisement
Eye-catching ombré
Traditional ombré is always on-trend for beach vacations, but this year, add some more color to your wardrobe with multi-colored ombré pieces instead. Opt for bold, bright shades for a daytime look, and more muted tones for a romantic dinner by the beach. To really get yourself in the vacation spirit, consider a sunset-inspired ombré dress like the one in the photo above.
Advertisement
Jungle print
Cheetah and zebra prints are fun for vacation, but they can be a bit overwhelming, and if not done correctly, they can come off super tacky. This is why we suggest jungle print instead. It's more mature and very "White Lotus"-esque, so you can look like you just stepped off your private jet (even if you flew Spirit).
Advertisement