6 Up-And-Coming Swimsuit Trends You'll Want To Be Caught Wearing On The Beach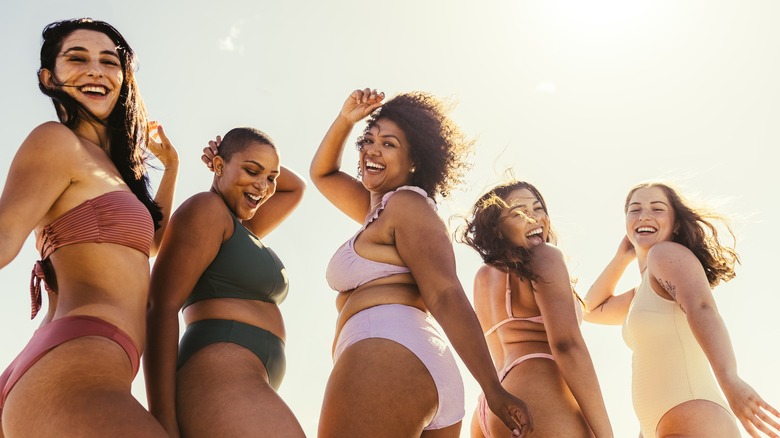 Jacob Lund/Shutterstock
Spring break is just around the corner, and summer is not long after that. This naturally means it's time for fashion-forward swimmers and sunbathers to refresh their swimwear collection to reflect the season's hottest emerging trends.
Advertisement
On the way out of favor are some pretty bold prints, like neon and animal-inspired patterns. Styles that flatter the figure are also on the rise this season, sending low-rise bottoms and bandeau tops firmly back into the niche market where they belong. Alternative fabrics are also making their way into the swimwear world, albeit with a decidedly retro vibe.
Sun-protective swimwear is also expected to continue its upward trajectory in popularity, as more and more people seek to prevent skin cancer and premature wrinkles with more than just SPF makeup. Wide-brimmed sun hats in all colors and styles are expected to be the dominant accessory poolside, and athletic types will no doubt opt for rash guards that offer more and better coverage against harmful ultraviolet rays. Practical considerations aside, this season's swimwear trends are all trending toward a sexy, feminine vibe.
Advertisement
High-cut bottoms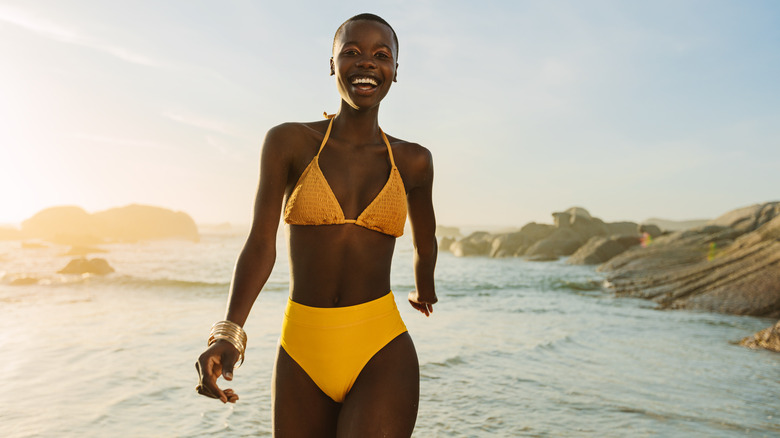 Jacob Lund/Shutterstock
Low-rise everything is blessedly "out" right now. In place of low-cut swim bottoms, are those that feature high cuts on the waist, legs, or both. Petite women, in particular, may opt for French-cut bikini bottoms, as those cut all the way up to the hip bone, giving the illusion of greater height and longer legs. High-cut waists are cut a more flattering silhouette for those who want a little help with tummy control.
Advertisement
Cool textures
This season, the name of the swimsuit game is all about dimension. For example, terry cloth is no longer relegated to towels and cover-ups. The touchable material is now popping up in plenty of swimsuit designs, giving extra depth to an otherwise ordinary bikini. Terry cloth swimwear also has the added benefit of being extra comfortable, which is always a plus. Then there are suits made using the metallic thread lurex, which gives off a sparkly, celebratory vibe. Both of these soft/sassy options are guaranteed to turn heads.
Advertisement
Ruffles
This season's choice embellishment is the swimsuit ruffle. Whether small in size or statement, ruffles are adding an extra layer of awesome to swimsuit style. These oh-so-girly embellishments are showing up in all kinds of spots on swimsuit designs, including the hips, straps, and bodices. Bows are also big on the scene, as well, so expect to see plenty of both in stores this spring. 
Advertisement
Supportive swimsuits
Some women want a little more support than the average bandeau or string bikini can provide. To that end, underwire is making a comeback in a big way to add a bit of much-needed lift to the swimsuit scene. It's also a relief to many women who don't need the cleavage boost, but for whom the support is non-negotiable. 
Advertisement
Block colors
Block colors are everywhere right now, so not surprisingly this trend is bleeding over into many swimwear lines. "There has been a global movement in 2022 and continuing onto 2023 that includes bright block colourways — greens, pinks, oranges and blue," co-owner and creative director of Fella Rosie Iffla told Elle Australia. "Neutrals remain strong — chocolate, terracotta and tan being the most popular." 
Advertisement
Bright and beautiful florals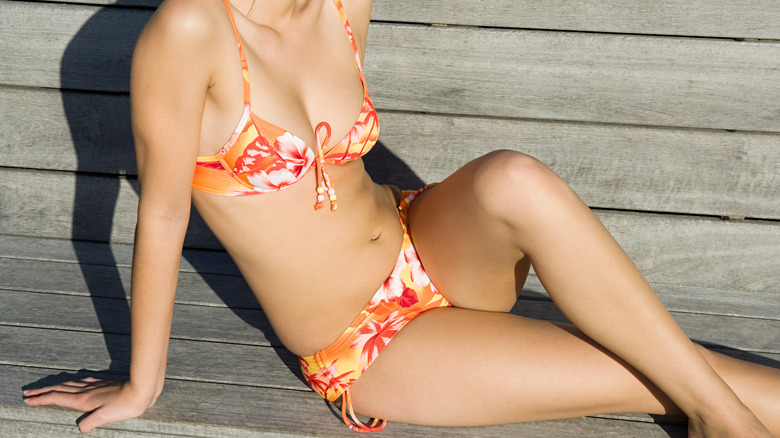 Image Source/Getty Images
Vibrant florals are showing up all over swimwear collections this season, in sharp contrast to the animal prints of years past. These colorful, seasonally appropriate patterns often give off a playful, retro vibe. So much so, in fact, that they could closely resemble swimwear donned by Grandma back in the '70s. 
Advertisement