Kabuki Brushes Are A Must-Have In Your Makeup Collection. Here's How To Use One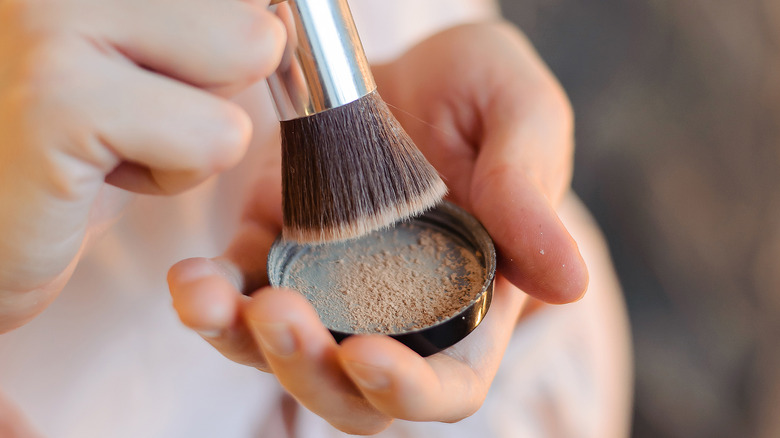 Marharyta Manukha/Shutterstock
Our beauty drawers are a wonderful trove of various makeup products and tools. Depending on how much of a makeup lover you are, this can be a grand collection. However, no matter how big or small your beauty collection is, you need to have a kabuki brush on hand. This round or flat brush filled with dense bristles is a necessity if you're looking to create a collection with items that are useful and will help you achieve your desired look. While plenty of makeup brushes out there fulfill various roles in your routine, there's none quite like the kabuki brush. These practical brushes came into the spotlight many years ago and continue to be a staple in many makeup vanities.
While you should always be selective and conscious when making beauty purchases, don't hesitate to invest in the necessities. Items like makeup brushes are not only used daily, but they're responsible for applying your favorite products. Your final beauty look will be only as good as the tools you use to achieve it. Items like a kabuki brush are a no-brainer when getting a flawless finish. While you may not know it by name, the kabuki brush has been used on some of your favorite makeup looks in the past. Make your life easier by investing in beauty tools that deliver the best application possible.
Why you need a kabuki brush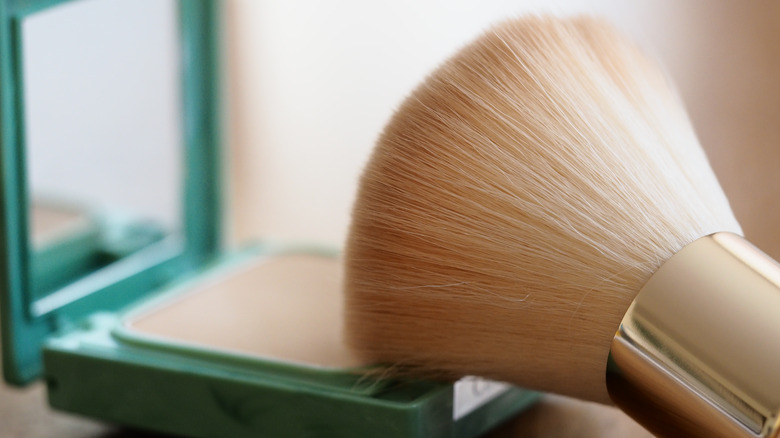 Anna Anatol/Shutterstock
If you've ever been to a performance and noticed the entertainers sporting intense or dramatic makeup looks, odds are they used a kabuki brush to achieve them. The dense structure of the bristles on a kabuki brush is perfect for applying powdered products. Typically used with setting powder, this brush will help evenly dust the product along your face. Unlike other makeup brushes, the kabuki brush will disperse the product in a way that won't concentrate the product in the area but rather lets you build up the coverage you want. If you tend to struggle with brushes that apply too much on the first contact, kabuki brushes are worth a try.
The kabuki brush has transformed over the years and now has various iterations that you can use for a multitude of purposes. Besides the usual round kabuki brush, there are also flat options, which can help apply liquid products. The flat kabuki brush is dense enough and shaped perfectly to help build your foundation coverage to what you desire. Like their round counterparts, the flat brush will help spread and evenly apply your foundation to get a smooth finish. Both the flat and round brushes will help to blend the product into your skin to get a flawless application, rather than a streaky finish. These brushes are made to help get a good blend of your products and avoid your makeup looking unnatural.
How to use a kabuki brush
hlphoto/Shutterstock
Regardless of whether you are using a round or flat kabuki brush, you need to use it properly to get the best application. If you're using a round brush for powders, swirl your brush in the product and tap off any excess product before applying. Apply your product in a circular motion to blend in the product without producing any streaks. 
With a flat brush, start by dipping the brush to pick up your liquid product. Dab the product around your targeted area and then proceed to stipple the product working from outside towards the middle of your face. Work with a small amount of foundation before building up your coverage. No matter if you're using powders or liquid, avoid using too much product from the beginning to avoid overapplying. 
Whether you are using a kabuki brush or not, you need to organize and clean your makeup brushes often to avoid picking up something other than makeup. Cleaning your beauty tools is vital if you want to avoid picking up bacteria and germs that can cause skin infections. As well, clean beauty tools will help give you a better application. The same diligence should exist when organizing and storing your makeup brushes. Keeping your tools neatly tucked away in the proper place will help limit the amount of dust and germs that can cling to your brushes. Caring for your brushes will help give you the best makeup look every time.