Are Vision Board Parties The New Book Club-Style Get-Together You'll Want To Host?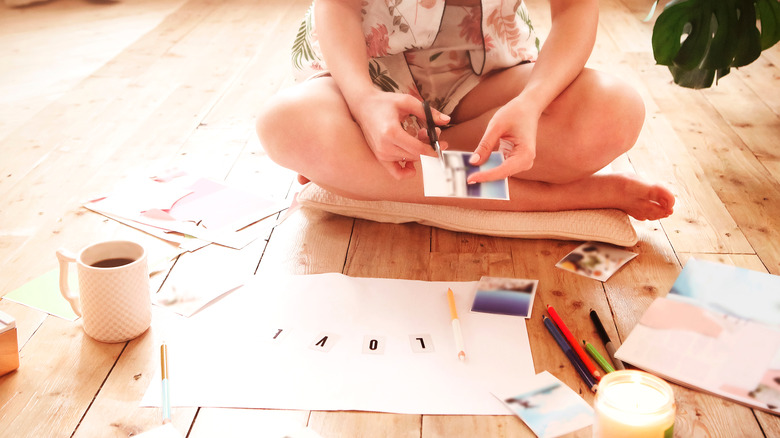 Dasha Petrenko/Shutterstock
By now, you've probably heard at least a few self-development influencers and life coaches talk about the powers of vision boards. While the scrapbook tool may not actually hold magical powers, it can still be an effective way to gain clarity on your goals and intentions for the future. And with the right mindset, a vision board really can help you build the life you crave. "Vision boards can be unsuccessful if you have the belief that they don't work. It's as simple as that!" Dacey Paul, a life coach and vision board instructor, told HowStuffWorks. "If you believe in the vision you created, then your dreams can be realized."
Part of what makes vision boards so appealing is the visualization aspect. In fact, visualization or imagining positive things that aren't yet real is often thought to set the brain up for success (via Mind Tools). A 2004 study published in Neuropsychologia even revealed that people were able to increase muscle strength just by imagining themselves exercising.
Visualizing your dream life can be a pretty personal thing, but putting together a vision board doesn't have to be a solitary activity. Vision board parties combine manifestation and good ol' socializing so you can set goals alongside your trusted squad. Here's how they work and why you might want to host one of your own.
How to throw a successful vision board party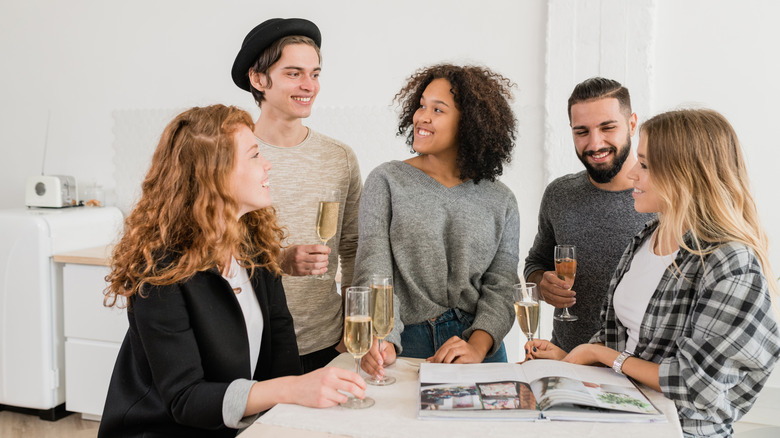 Pressmaster/Shutterstock
The classic vision board is made using cut-outs from magazines, images found online, and other materials that are pasted onto a board to make an inspiring collage. However, a vision board party takes this process and turns it into a social event to be shared. It's like a wholesome book club meeting, but instead of chatting about Prince Harry's memoir, you're discussing self-development and how you'll level up in the coming months.
Kimberly S. Reed, an entrepreneur and self-help author, explained the process to PureWow. "I always encourage people to have individual vision boards, but to have friends with them," she said. "You want to laugh, you want to share magazines, you want to be able to bounce ideas off of someone you trust." Reed noted that the ideal vision board party is "about 40 percent socializing to 60 percent independent work."
TikTok is full of ideas for making your party unforgettable. TikTok content creator Laura completed hers with charcuterie boards, bubbly drinks, and pages of inspirational photos. Influencer Amorray also showed off a range of materials at her bash via TikTok, including magazines, markers, and decorative washi tape. As for where to hold a vision board party, your own living room may be the comfiest place to get crafty with your besties, though larger groups typically require a larger space, as TikToker Greta used.
Choose your guest list wisely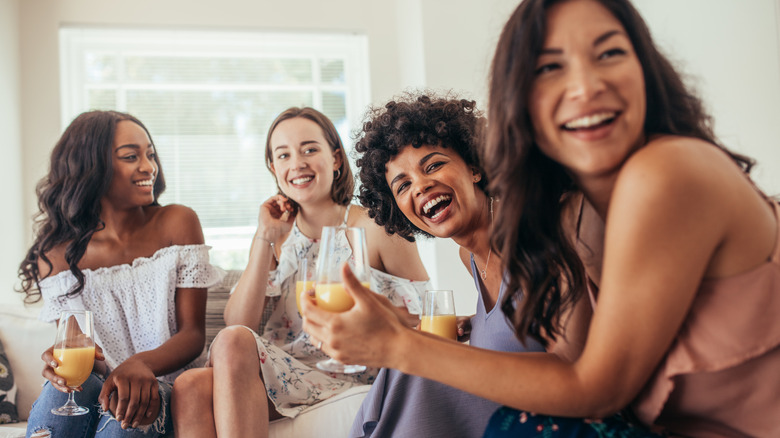 Jacoblund/Getty Images
While you may invite just about anyone to your birthday party or holiday shindig, you might want to put more thought into your vision board party guest list. Since you'll be bonding over future goals, it's best to invite friends who are optimistic and motivated — no negative Nancys who might spoil the fun. You should also invite a few friends who you look up to. According to a 2020 study published in the Journal of Applied Psychology, people are more likely to stick to their goals when they share them with people of higher status.
You can also throw an intimate get-together with one to three people to create one shared vision board. This can work as an at-home date night project with your partner, a brainstorming session with your team from work, or a bonding experience with your best friend. Just be sure to remain supportive of each other's visions, even if they don't perfectly align with yours.
Also, don't rule out your family, no matter how old they are. TikTok influencer Kayla Danielle went viral when she shared a video of her kid-friendly vision board party, filled with snacks, fizzy non-alcoholic beverages, and clip art books. With that being said, vision board parties may overall be taking over the standard book club get-togethers.