Why Liquid Foundations Are The Ultimate Choice For Mature Skin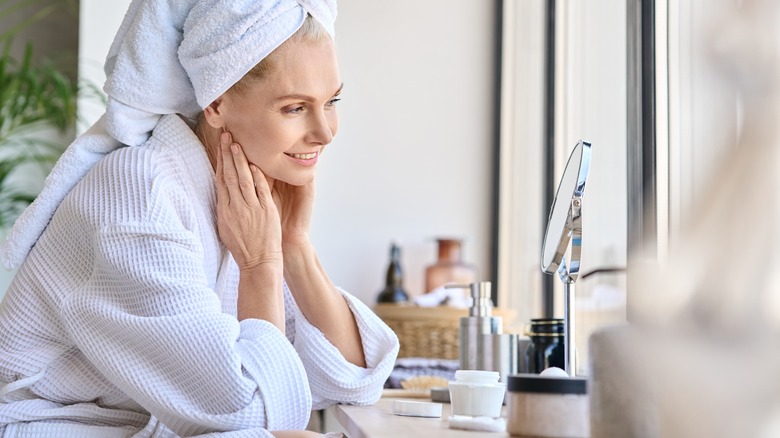 Ground Picture/Shutterstock
As we get older, our skin changes in many different ways. You may notice wrinkles, new texture, and age spots developing. One of the main reasons for this is that collagen production slows down as you age (via Vibrant Skin Bar). 
Collagen is a type of protein in your connective tissue. Its job is to keep your skin firm and flexible. Without it, your skin can't bounce back like it did when you were young, leaving wrinkles.
Hormones like estrogen also control how your skin looks. After menopause, your levels are lower, causing your oil glands to slow their production. Without those natural oils absorbing into your face, your complexion will lose moisture. When your skin is dry, your usual makeup routine may exacerbate the signs of aging on your face. No one wants to lose the youthful glow they once had, but they can keep it by simply switching out the types of products they use. The type of foundation you use can drastically change the look of your makeup, and experts agree that liquid foundation is best for mature skin because of its hydrating qualities.
Choose a hydrating liquid foundation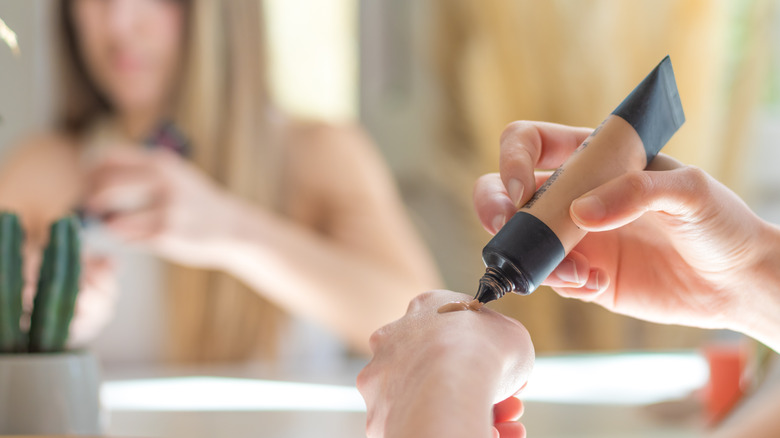 Pablo Vivaracho Hernandez/Getty Images
Foundation covers your entire face and can make or break your final look. Mature skin is unique because it needs enough coverage for age spots. However, it should be thin enough not to settle into fine lines and wrinkles. 
Out of all the foundation formulas, powder is the one you should absolutely stay away from. It's not good for mature skin because it's meant to absorb oil from the skin and set your other makeup products. As you wear powder foundation throughout the day, it'll settle into your fine lines and wrinkles, making them look more pronounced.
You should always use a liquid or cream foundation with mature skin. These formulas have more moisture in them, so they will help hydrate your dry skin after application. Instead of settling into your fine lines, they'll make your face look plump and youthful. 
The type of coverage you choose also affects how flawless mature skin can appear. A thick, full-coverage foundation may sound like a good idea to hide any age spots or redness, but this isn't the case. It's more likely to make the skin look cakey, so you should opt for a more lightweight formula instead.
The best way to apply liquid foundation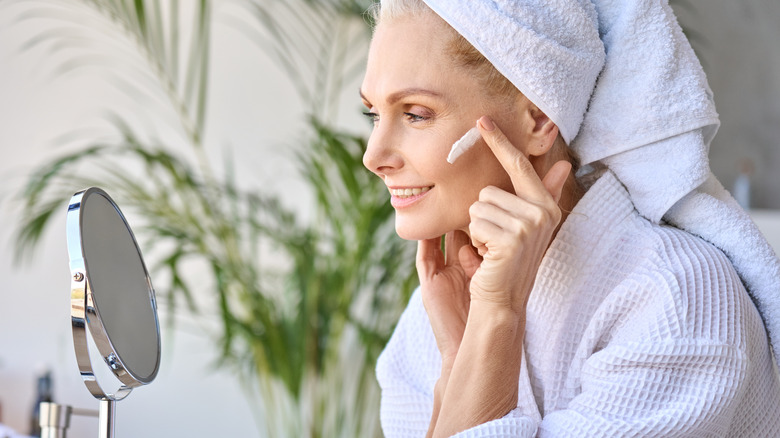 Ground Picture/Shutterstock
For the best results, you must prep your skin before applying any foundation. It all starts with your skincare routine. This is where you can add as much hydration to your face as possible to compensate for the oil your skin has lost. When creating a skincare routine for a mature complexion, you should use the moisture sandwich method. This is where you layer different kinds of moisturizers over damp skin. Then you need to use a primer to fill in any fine lines, wrinkles, and large pores. It'll also help your makeup stick so it lasts all day.
Now it's time to apply your foundation. A brush is the best tool you can use with liquid foundation because it helps you control the amount of product you put on your face and blends it evenly. You should always start with a small amount of foundation and add more if necessary. You don't want to use too much, or you risk looking cakey. Another way to prevent a thick layer of makeup from caking onto your face is by waiting to apply your concealer until after your foundation is done. It'll also help your skin look more natural with less product.