5 Styling Tips To Wear With Confidence If You Suffer From Hair Loss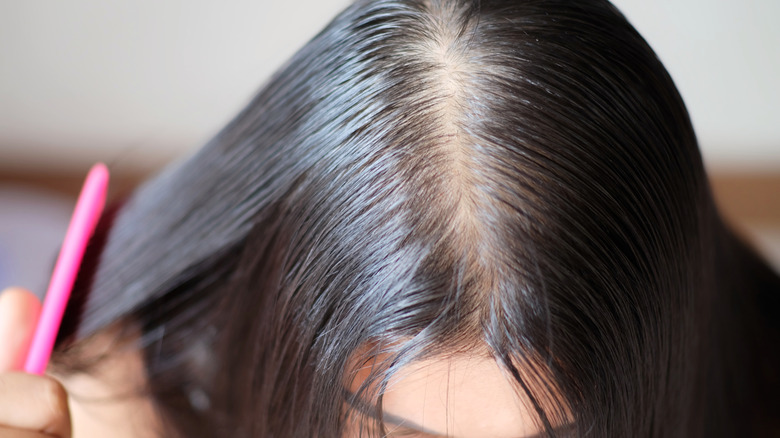 Alon Za/Shutterstock
Hair loss is never fun; you can no longer make a statement with a flip of your hair. Or, you will simply miss having a voluminous mane that gives you confidence. But fear not; there are plenty of hairstyles and styling tips for those of us with hair loss. It is not only men that suffer from balding — alopecia is a condition that affects both men and women. A variety of factors, such as hormonal changes, pregnancy, postpartum depression, and genetics, can cause this condition. And it is more common than you would think. So, you are not alone when it comes to losing hair.
Advertisement
From thinning hair to bald spots and everything in between, the solution lies in how we style our hair. You can settle for an easy comb-over or a low ponytail or make the solution more permanent with hair transplants. If you want an easy fix to hide your alopecia, we have five styling tips for you that'll do just that.
Doing bangs two ways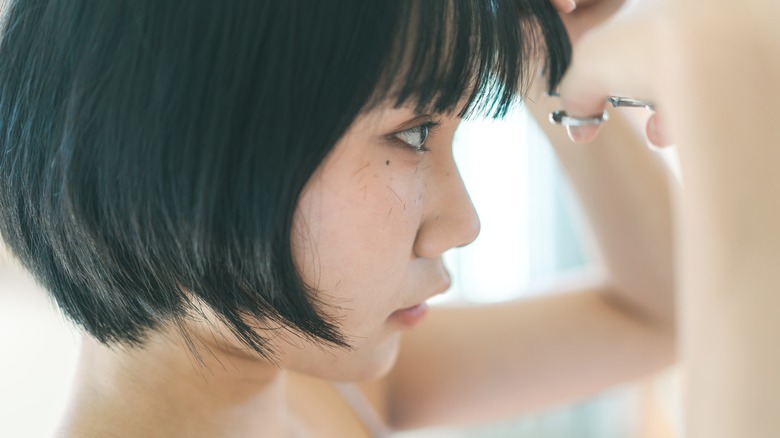 dodotone/Shutterstock
Hairstyles to cover alopecia are often considered for thinning hairlines. Your thinning hairline is most probably giving you a fivehead that you very much want to avoid. So, we recommend cutting bangs to cover your thinning hairline and your merciless fivehead. Bangs are allegedly not for everyone, but they are a good choice for anyone trying to cover alopecia at the front of their head. So, go ahead, be brave, and get yourself those bangs.
Advertisement
When it comes to bangs, there are two ways to go about it if you are looking at it as a solution for your alopecia. You could either give yourself straight bangs that sit on your forehead equally, or you can give yourself the side-swept option. You can style your bangs with a low pony or even a bun, and if you are not ready to take those scissors, you can settle for side-swept bangs. For this, you must leave a lock of hair from the front before tying the rest in a ponytail or a bun. Comb the lock of hair sideways for side-swept bangs. With the help of this hairstyle, you can now cover your alopecia and fivehead.
The side part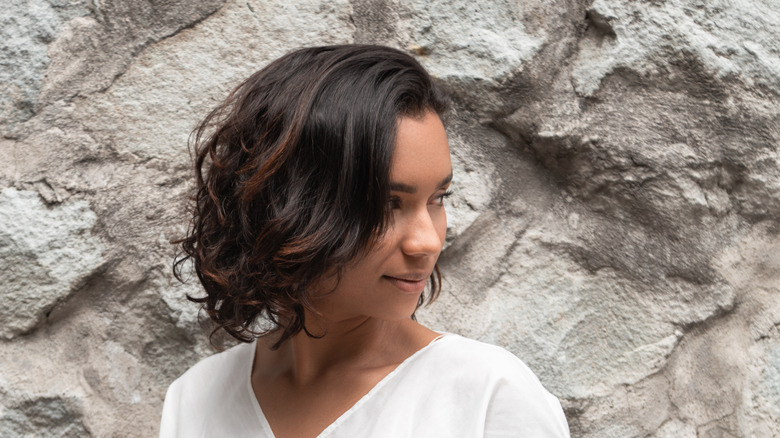 Alejandro Cajas/Getty Images
The widening of your center part is pretty common when it comes to alopecia. And the best tip we have for you to cover this area of your head is to simply opt for a side part. Side parting your hair is easy and takes zero time and effort. All you have to do is part your hair sideways instead of going for that center look. You can style your hair while it's middle-parted, and after you're done styling it, you can part it down the side. Not only does this allow you to hide your widening center part, but it also helps your hair look more voluminous.
Advertisement
If you really want to go for that voluminous look, we recommend applying a volumizing spray and blow-drying your hair while it hangs upside down; then, you can flip your hair and part it sideways. The good news is that most facial features can rock this hairstyle, so you should have nothing to worry about.
Layers to lessen the loss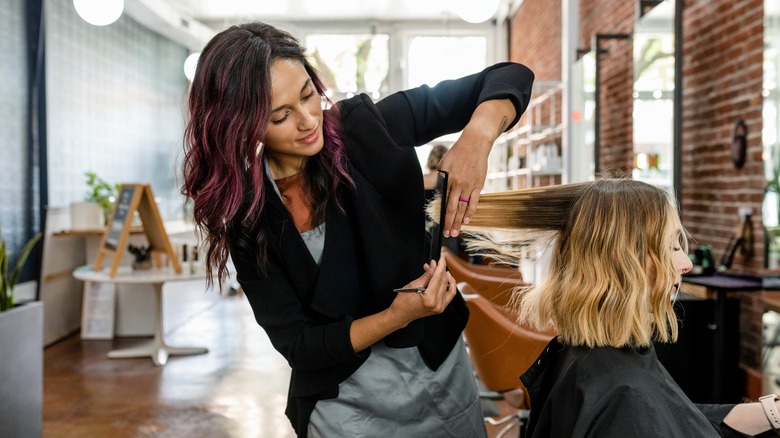 Rawpixel.com/Shutterstock
If you want to go for that fun look while trying to cover up your hair loss, we suggest you get layers. Layers help accentuate your face while adding volume and a bit of jazz to your hair. But when it comes to alopecia, it provides a solution for thinning hair around your temples. Layers around the front portion of your head help you frame your face, but it also helps to hide the thinning hair on the sides of your head. 
Advertisement
If you give yourself layers for the sole purpose of covering your alopecia, we recommend letting your hair down to let the layers cover up the sparse areas. This style provides a sense of flow to your hair; essentially, they excuse your bald patches as they are not as rigid as straightly cut hair. Since the layers add a sense of volume, your hair will look bouncier, and no one will suspect your alopecia.
A top knot is your top choice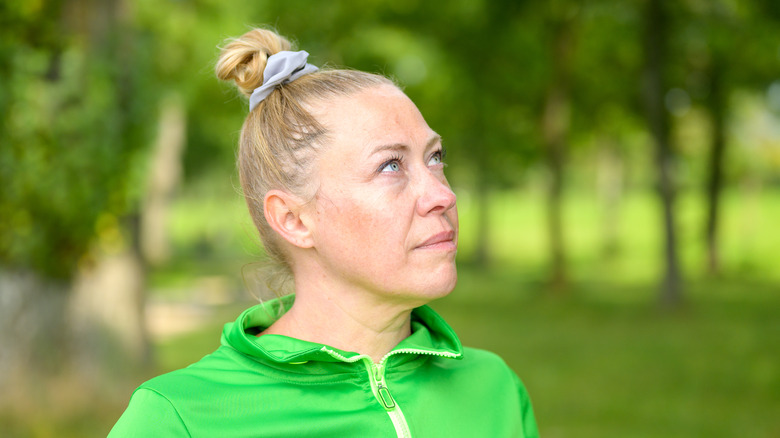 Mheim3011/Getty Images
If you have a bald spot on the crown of your head, a top knot should be your top choice when it comes to covering it up. In order to do a top knot the right way, make sure you comb your hair or blow dry it while it's upside down, then collect your hair and pile it onto the crown of your head to cover up that bald spot. 
Advertisement
When styling your hair into a top knot, there are so many different ways you can go about it. You can opt for the messy knot or try out a chic, clean look; whichever one you choose, ensure you secure it with a hair tie or a clip, and remember to hairspray both the bun and the hair strands at the bottom of your head. We recommend avoiding hair ties as they damage hair, so remember to use a claw clip that will give you both style and unimpaired hair.
Go shorter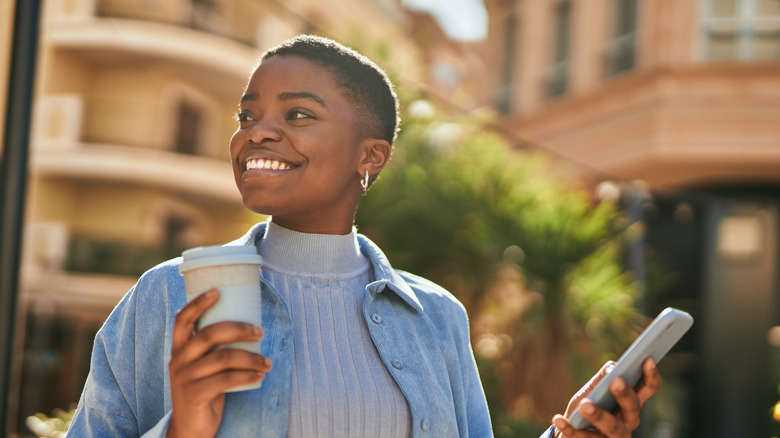 Desizned/Shutterstock
All of us can agree that short hair is much easier to maintain than long hair. Alopecia is also caused due to the stress our hair goes through from us relentlessly brushing and tugging the life out of it. Knots form much easier in long hair than in shorter ones, so with the former, you won't have to resort to harsh methods to detangle those stubborn knots. This will, in turn, help avoid unnecessary hair loss.
Advertisement
Your hair is easier to maintain if it's short, so you can easily adapt a hair care routine that'll help with your alopecia by opting for shorter hair. If you want to cover your alopecia while recovering from it, you can style your hair into a short straight bob or curly bob. The short bob styling technique will give the illusion of volume with its equal-length hair locks.
From hair thinning at the front of your head to the widening center part to hair thinning at your temples to hair loss on the crown, we've covered all the styling tips that'll help you cover your alopecia and save your confidence.