Here's How To Handle The Bra Situation When Wearing A Dress With Cutouts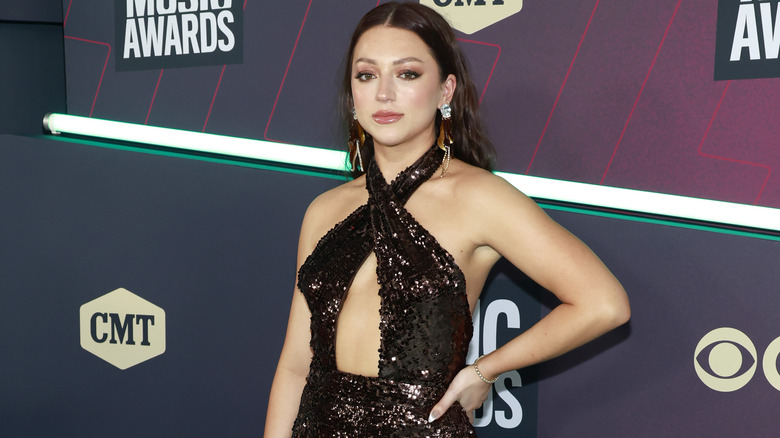 Emma Mcintyre/Getty Images
We've all seen cutout dresses take the runway by storm, and they aren't going anywhere anytime soon. Whether you want to show a little skin or a lot of it to make a bold statement, there's likely a cutout dress out there for you. However, one of the biggest problems that comes with sporting one of these ensembles is finding a way to get the support and lift you need. Because of the cutouts, wearing your everyday bra might not be an option if you prefer to hide your undergarments.
However, the bra dilemma has led to the rise of several potential solutions in the cutout dress era. One option that has been around for ages is the strapless bra. This wardrobe staple can not only be helpful when you want to wear a cutout dress, but also in any situation where you don't want your bra straps showing — think midi dress or slip dress. If your strapless bra still shows through the cutout dress you want to wear, you might want to consider a sticky bra. Similar to pasties, a sticky bra is designed to cover all of the right areas and gently adhere to the skin beneath your dress. 
The location of the cutouts in your dress will likely dictate what type of bra you wear — if you choose to wear one at all. That being said, there are several options to choose from, and the list doesn't begin with strapless bras and end with sticky ones. Of course, pasties are always an option if your cutout dress will leave you showing a lot of skin. However, you can give yourself coverage and create shape with body tape, too.
How to use body tape with a cutout dress
Lovingly referred to as "boob tape" by some, body tape can help you do everything from covering up certain areas to creating lift and support. Again, the location of the cutouts in your dress will determine where you can apply the tape. That being said, there are some strategies that can help you make the most of this solution.
"I like to go straight through the nipple, to give lift, as my base strip," beauty and fashion editor Stephanie Montes told Byrdie. "Then if I want to go in more for cleavage, I'll put a strip on the outside [of the breast] and push inwards."
If you do choose to go with body tape with your cutout dress, just remember not to rip the tape off at the end of the day. Instead, saturate the tape in oil (baby oil works just fine) and let it sit — you should be able to gently peel it off after a few minutes.
Alternatives to body tape to consider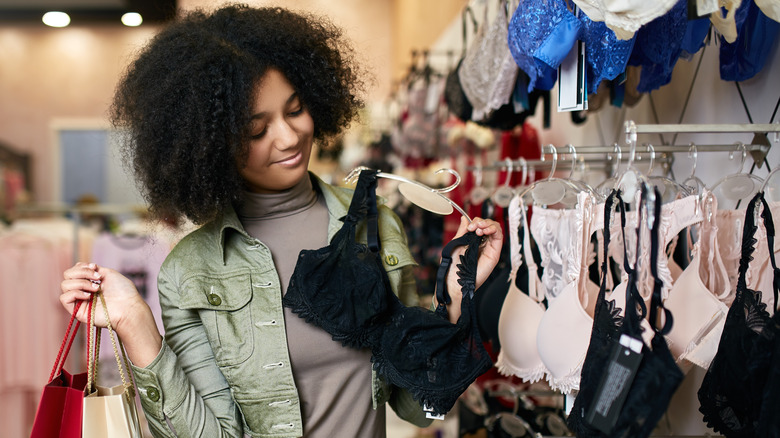 Artiemedvedev/Getty Images
If you don't think pasties will be enough with your cutout dress but don't want to deal with body tape, you still have other options. A plunge bra, for example, could be the solution you're looking for if your cutout dress also happens to feature a plunging neckline. Their U-shaped design can help you keep everything in place while showing off a little skin.
Another solution you may want to consider is a convertible or adjustable bra. These bras are specifically designed with straps that can either be removed or adjusted accordingly to suit your ensemble. Depending on the style of your cutout dress, you may be able to wear one without showing any straps.
Finally, don't rule out the bralette — it just might be the solution you didn't know you already had in your closet. This hybrid bra can give you just enough coverage and lift without the discomfort of an underwire. Additionally, bralettes have become so trendy that it won't be a big deal if you can see them underneath your dress — some people have even started sporting them on top of their outfits as statement pieces. When it comes to this versatile piece of lingerie, there's no wrong way to wear it, which might turn it into one of your favorite pieces of clothing.