Midtone Blushing Is The Makeup-Artist Approved Hack To Make Your Look More Dynamic
TikTok is bursting at the seams with beauty hacks, with the #makeup hashtag accumulating almost 400 billion views at the time of writing. This category is filled with tips, tricks, and makeup lovers showcasing their artistic flare to the world. Some of the most well-known makeup hacks that got their rise to fame on TikTok include the glazed donut look, glass skin, clean girl makeup, and soap brows. These trends started gaining traction on the platform and led to global recognition. However, it doesn't end there. One of the most recent hacks, known as "midtone blushing," has started to rise in popularity. But what is it exactly? 
Advertisement
Midtone blushing is a technique that combines various products to achieve a very natural-looking blush, which has even been touted by Kylie Jenner herself. These are just two of the many reasons why the look is rocketing in popularity. So, how can you achieve the look?
What is midtone blushing?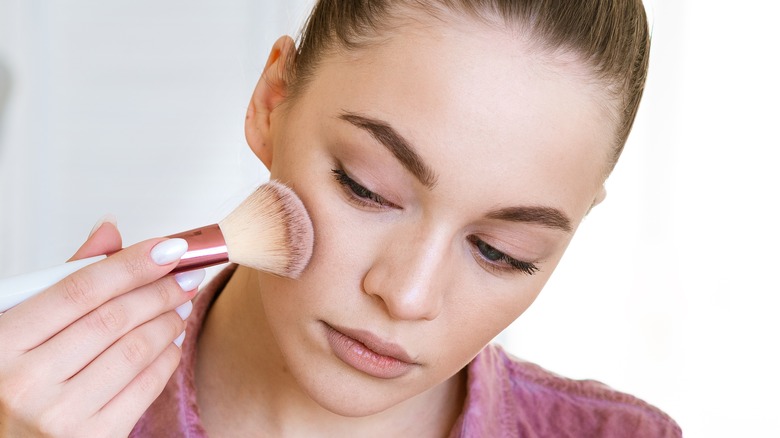 Pereslavtseva Katerina/Shutterstock
Midtone blushing is one of the latest TikTok trends to rise in popularity, and it is quickly gaining traction on the platform. The look aims to create a natural-looking blush by blending two tones of blush together and placing them in specific areas around your cheeks. The result? If done correctly, the blush should appear as a natural flush that combines the tones of both your blush and lighter undereye, giving you a subtle pop of color. So, if you're looking for a natural yet stunning blush technique, then you're in the right place. Thankfully, it is relatively easy to achieve, and with practice, you should be able to master this popular hack.
Advertisement
Several beauty gurus have already tried the look on the platform, and it has been receiving lots of positive feedback. As of writing, the technique has received over 12.7 million views, indicating its growing popularity. Now, we'll show you how to achieve a perfect midtone blush.
How to achieve a midtone blush
Once you get the hang of it, creating a midtone blush is relatively straightforward. First, you need to select the products you're going to use. You'll need your base blush (aka the everyday blush you'd usually apply) to start the look. You will also need a light brightening powder and another blush that is lighter and more muted than your original blush — however, still within the same color range. For example, you may want to go up a few shades lighter from your original. Likewise, you should also make sure that you use the correct brush for your product.
Advertisement
Now for the actual hack. To begin the look, you want to start by applying your blush how you normally would, for example, on the apples of your cheeks. Next, you want to go in with your brightening powder. Apply it under your eyes and work outwards to the edges of your face and down the side of your nose. One good way to look at it is to imagine your applying an under-eye mask, but with powder. To finish the look, go in with your "midtone" or lighter blush and apply over the top of the brightening powder, blending it in with your base blush. After you have blended the three products, you should have achieved a gorgeous midtone blush. You could even try combining this with other TikTok hacks like microhighlighting, especially if you want to add an extra glow to your makeup.
Advertisement